United Kingdom Mozart, Mendelssohn, Sally Beamish and Beethoven: Academy of Saint Martin in the Fields / Joshua Bell (violin and director). Queen Elizabeth Hall, London, 12.11.2019. (CSa)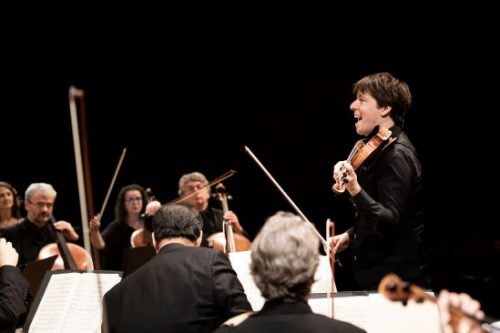 Mozart – Symphony No.25 in G minor, K.183
Mendelssohn – Violin Concerto in E minor, Op.64
Sally Beamish – Hover (UK premiere)
Beethoven – Symphony No.5 in C minor Op.67
Mozart, Borodin and Dvořák: Academy of Saint Martin in the Fields Chamber Ensemble, (Joshua Bell, Harvey de Souza [violin], Robert Smissen, Fiona Bonds [viola] Stephen Orton, Will Schofield [cello], Lynda Houghton [double bass], Stephen Stirling, Timothy Brown [Horn]). Wigmore Hall, London, 15.11.2019.
Mozart – Divertimento in B K.287
Borodin – String Sextet in D minor
Dvořák – String Sextet in A Op.48
By 1958, when Neville Marriner founded his now famous chamber orchestra, the Academy of St Martin in the Fields, the fields which had surrounded Saint Martin's Church since the Middle Ages were long gone. Earlier this week, the late Sir Neville's now internationally famous ensemble celebrated its 60th birthday at a sparkling gala in London's Queen Elizabeth Hall under – or more accurately along with – the 18th-century bow of its current Music Director, violinist Joshua Bell. In her short essay Playing for Pleasure, Marriner's daughter – the historian Susie Harries – wrote that her father selected a small collective of 'top quality players' because he wanted 'energy in the sound, but not weight … a precision that was liberating rather than restricting, and spirit without pomposity or aggression.' Freed from the tyranny of domineering conductors, the orchestra operated 'as a collective' with Marriner in the role of referee rather than dictator, leading from the first desk.
Bell has occupied that role since 2011, and in collaboration with his small force of 50 superlative musicians, continues in that tradition. Now 52 years old, Bell has been recognised as one of the world's leading violinists since he made his debut at the tender age of 14 with Riccardo Muti and the Philadelphia Orchestra. Dressed in his uniform black shirt and slacks, and sporting a fine head of hair, Bell cuts a boyish figure. After a deep bow, he took his place on a piano stool to the right of the orchestra's leader Tomo Keller and pivoted towards the orchestra. Raising his bow arm to bring in his musicians, and then gesturing and swaying rhythmically with his upper body, he simultaneously guided while playing his 1713 Huberman Strad. Although seated cheek by jowl with his colleagues, the sound he elicited from them was as brilliant, vital, and cohesive as any achieved from the rostrum.
Sporting festive buttonholes or corsages of red or white camellias, band members marked the opening of the gala concert with a radiant account of Mozart's Symphony No.25 in G minor. The syncopated first movement Allegro con brio bubbled with urgency, while the stately Andante provided the opportunity for a more subdued conversation between violins and bassoons. A grave-faced and formal Menuetto could not long conceal Mozart's – or the ASMF's – underlying playfulness, cut short by a dramatically intense and turbulent finale.
Standing at the front of the platform, Bell doubled as soloist and director in Mendelssohn's Violin Concerto in E minor. From the moment of the violin's ravishing opening melody, Bell played with heart-breaking purity of tone, while adopting an iron hand in velvet glove approach, never once descending into sentimentality. A cadenza composed by Bell was woven artfully into the second theme, while the glorious 'song without words' Andante was soulful, but unsweetened. The orchestra's gossamer light rendition of the third movement Allegro molto vivace demonstrated that even in the work's complex passages, instrumental coordination can be achieved without a conductor.
In the concert's second half, Sally Beamish, formerly an ASMF violist and now their composer-in-residence, introduced Hover, her own moving composition in memory of Sir Neville. Referencing her deep sense of personal loss and Marriner's 'grace, elegance and hawk-like supervision of the orchestra', Hover is inspired by 'the dapple dawn-drawn falcon' of Gerard Manley Hopkins's poem The Windhover. The piece, ecstatic, sad and mysterious, immediately took flight. Two oboes wheeled, soared and hovered above a plaintive Scottish lullaby introduced by a solo viola, sustained by joyous interjections from horns and swelling portamento passages from the strings.
Any lingering sense of sadness was banished with a resolute, triumphant performance of Beethoven's Fifth Symphony. The relative compactness of the auditorium complimented this small-scale presentation and the Queen Elizabeth Hall's intimate acoustic greatly enhanced the orchestra's brilliantly direct account. From the first fateful hammer blows of the opening Allegro con brio, to the blazing Allegro finale, Bell and his players provided a fitting memorial to Sir Neville, and music-making of which he would have been proud.
Bell struck a second time last week, on this occasion at Wigmore Hall, playing first violin as part of the Academy of Saint Martin in the Fields Chamber Ensemble in an imaginative programme of Mozart, Borodin and Dvořák.
The first movement of Mozart's Divertimento in B, scored for strings and two horns, was written in 1777 by the 21-year-old composer as a commission for the Countess Antonia Lodron. Essentially formal in style, the lyrical Allegro was played briskly with courtly grace and wit, whereas the players managed to capture something darker in substance in the Adagio. Here, Bell's clarion clear playing rang out over Harvey de Souza's muted second violin and Robert Smissen's viola. The two cadenzas which punctuate the final rapid Allegro were designed to show the prowess of the first violin, probably Mozart himself, and Bell did not disappoint.
The second half of the recital began with Borodin's String Sextet in D, an uncompleted piece in two movements, and so short that the audience was asked to stifle any applause until Dvořák's String Sextet in A had concluded. Borodin's scampering Allegro followed by a sweetly lyrical Andante evoked the sound world of Mendelssohn, but one with a distinctly Slavic tinge. It provided a perfect platform from which to launch the gently rocking first movement of Dvořák's proudly Bohemian work. Here the six players melded to produce a delectably ripe sound. After a foot-tapping Dumka and thrilling Presto, the Sextet's final movement – an Allegretto chock-full of Czech melody – brought the evening to a triumphant close.
Chris Sallon
For more about the ASMF click here.