Germany Saint-Saëns: Lisa Batiashvili (violin), Christian Schmitt (organ), Staatskapelle Berlin, Daniel Barenboim (conductor). Philharmonie, Berlin, 12.11.2019. (MB)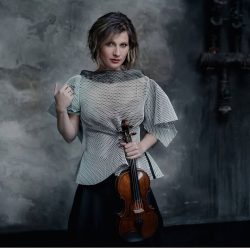 Saint-Saëns – Violin Concerto No.3 in B minor, Op.61; Symphony No.3 in C minor, Op.78, 'Organ'
In preparation for the Staatsoper Unter den Linden's new production of Saint-Saëns's Samson et Dalila, to be directed by Damián Szifron and conducted by Daniel Barenboim, of which more in due course, Berlin is hearing more of the composer's œuvre than might generally be expected. I shall be reporting not only from the opera but also from a chamber concert at the Apollo Saal for piano and harmonium. In the meantime, here were two orchestral works, also conducted by Barenboim.
For the first — to my mind, the most successful — of the works, the Third Violin Concerto, Barenboim and the Staatskapelle Berlin were joined by Lisa Batiashvili, whose performance proved to be nothing less than outstanding. A heightened sense of expectancy from orchestra — not least ominous timpani — and soloist alike had the first movement off to an excellent start, its promise fully repaid. Not only did Batiashvili offer as darkly focused a line as one could wish for, the way in which it was spun made one eager for more. The darkness of key — for various reasons, B minor is not so common for strings — registered from all concerned, brass as much as strings. There was plenty of Mendelssohnian light too, though, added to which I heard an intriguing sense, born perhaps of common Mendelssohnian roots, a common key, and the conductor's identity, of affinity with Elgar.
The slow movement came very much as response: contrast, yes, but necessary rather than arbitrary. The violin's lovely siciliano duetting with woodwind could hardly fail to delight with such all-round excellence of playing. Not that it was all sweetness and light: there were beautiful, meaningful shadows cast too, yet within appropriate bounds. Above all, it sang. There was, moreover, a fine sense of difference, of particularity, of key, both in work and performance. There may be no harmonic shocks here, but there were plenty of harmonic surprises, so long as one listened. Batiashvili's closing harmonics proved both of this world — Saint-Saëns is not really a composer for transcendence — and yet suggestive, not unlike Berlioz in L'Enfance du Christ, of a childhood longing for something beyond.
A passionate violin cry managed to cut through even the noisiest of coughing and chatter to silence — eventually — the audience for the finale. Stylish and propulsive, this was a finale in more than name, Barenboim's often unremarked excellence as an accompanist – how could it be otherwise, given his decades of experience at the piano? — as crucial as the soloist's musicianship. All concerned seem to relish its post-Mendelssohnian loveliness. Was there also a hint of the operatic world, of kinship with Berlioz and even, as presentiment, Puccini, however coincidental? There was, wisely, no straining at non-existent depth, this fine performance emerging all the better for it, taking the concerto for what it is rather than for what someone else might prefer it to be.
Barenboim has a long history with the 'Organ' Symphony, having recorded it a good number of years ago in Chicago. Here he conducted it from memory — and it showed, given with all the care and first-hand acquaintance Barenboim would offer Beethoven or Schubert. Hand on heart, I cannot say it is a work that entirely convinces me, but it has plenty of interest; indeed, not unlike Liszt, to whom he clearly owes much here and to whose memory the work is dedicated, Saint-Saëns can be of considerable interest in his (relative) failures too. The performance, though — to a certain extent, listening too — is in many respects an opportunity to put the case for the defence. Barenboim and his orchestra certainly did that, from a perfectly judged opening string crescendo and diminuendo — expectancy once more — to the showmanship and resonance of the close. A rapt quality to the second section of the first movement — the second movement of four, if you prefer to consider its form more traditionally — once again brought Elgar, even Mahler, to mind; for what a string section this is! Barenboim often did little, but one could tell that the orchestra was doing what he required. By letting the music speak so 'naturally' — whatever hard work that may mask — Barenboim and his players assented to the truth voiced in the composer's memoir, École buissonnière: 'Music is something beyond a source of sensuous pleasure and keenly-felt emotion … He who does not derive absolute pleasure from a simple series of well-constructed chords, beautiful only in their arrangement, is not truly fond of music.'
Harmony, then, afforded its 'own' pleasure; yet when Barenboim actively conducted the music, taking it by the scruff of its neck, it might almost have been Wagner. For the second of Saint-Saëns's prescribed two movements opened with all the urgency of a new dramatic act, the Presto part of that opening section reminding us, as so often with Barenboim and this orchestra, that clarity and litheness need entail no sacrifice to depth of tone. If you are trading one for the other, you should probably find another trade. The organ chords (Christian Schmitt) and piano arpeggios of the movement's second section certainly had impact, although — and this has nothing to do with the quality of the performance — I could not help but reflect how Liszt would have been excoriated, had he written anything quite so vulgar. Counterpoint, at any rate, proved clear and directed, and the sound was quite magnificent.
Mark Berry