Switzerland Tüür, Sibelius, Tchaikovsky: Pekka Kuusisto (violin), Tonhalle Orchestra Zurich / Paavo Järvi (conductor), Tonhalle Maag, Zurich. 31.10.2019. (JR)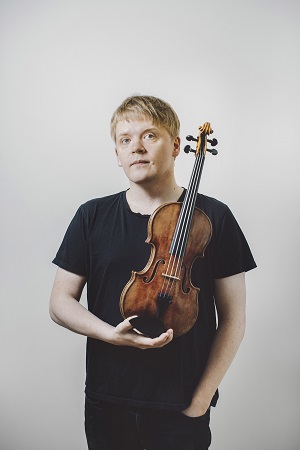 Tüür – Sow the Wind for orchestra
Sibelius – Two Humoresques for violin and orchestra Op.87; Four Humoresques for violin and orchestra Op.89; Two Serenades for violin and orchestra Op.69
Tchaikovsky – Symphony No.6 in B minor Op.74, Pathétique
Järvi and Estonian composer Erkki-Sven Tüür are lifelong friends; I believe they went to school together. Tüür started his musical life as leader of a progressive rock band and uses a broad spectrum of compositional techniques. I am not normally a friend of nepotism on stage, but this collaboration, founded in Pärnu, certainly works.
Tüür's works may not be cerebrally challenging, but they have a wide appeal and are easy on the ear for audience and orchestra alike. This multi-layered noisy 18-minute long piece rather outstays its welcome but keeps the orchestra engaged by having most of the huge forces required playing for most of the time. Several rows of the stalls had to be sacrificed for the work. It was commissioned by the Orchestre de Paris (whilst under Paavo Järvi's command) and the Vienna Symphony Orchestra back in 2015. Tüür develops a fragment of breezy notes into an apocalyptic storm (he was born and still lives on a tiny island in the Baltic Sea). Percussion is high profile, especially the rock band set of drums. Many influences could be heard, from Sibelius, through Messaien to Charles Ives. Orchestral pianist Peter Solomon gave a splendid bravura contribution. Järvi had his work cut out keeping time, the percussionists in particular counting the bars and following his clear downbeats.  The piece was well received. Tüür is the orchestra's 'creative chair', also known as 'composer-in-residence'. Zurich is going to hear a lot more Tüür before the season is out, including a concerto for accordion in March.
The charismatic soloist (not 'artist-in-residence' but 'artist-in-focus') for the Sibelius miniatures was young Finnish violinist Pekka Kuusisto, who was a big hit at the Proms this year. He likes to talk to the audience and has the gift of a stand-up comic reminiscent of Nigel Kennedy. He explained that Sibelius was a good violinist but failed the audition for the Vienna Philharmonic, as he was too nervous; thankfully, he then took up composition. He retained a love of the instrument however; his violin concerto was the only concerto he wrote. His Humoresques and Serenades are little known and minor gems. These charming miniatures made for a delightful interlude in the programme, sandwiched between two heavyweight works. Kuusisto played a short piece by Sibelius, Water Drops, composed when the composer was just eight years old, but then brought the house down with a Finnish polka, including some spectacular harmonics playing.
I heard Järvi conduct the orchestra in Tchaikovsky's Fourth Symphony just a week ago, a blistering performance which blew the audience away. Järvi's rendering of the Sixth Symphony was not quite in the same league; perhaps the orchestra was tired after playing the symphony both the night before and at lunchtime. There were some untidy smudges (beginnings and endings) and some ensemble problems; the orchestra are still getting used to their new maestro's conducting style, though his beat is crystal clear. The performances of all the Tchaikovsky symphonies are all being recorded, so one wonders whether the orchestra would not have been more relaxed without the pressure of knowing that any errors would need to be edited.
There were some fine individual performances, I highlight Mike Reid's clarinet and Matvey Demin's flute. Järvi admitted to being influenced, subconsciously, by his father's performances of this symphony; it shares much of his father's energy and drive.
Paavo has perhaps a lighter touch at times than his father, and there was certainly an elegant sway in the slow movement. Tempi were extremely fast, especially in the first movement. The orchestra kept up – just. Järvi worked his orchestral players hard, almost not stopping between movements; after the ending of the thrilling third movement, when many incognizant with the work's structure think the symphony has finished, the audience were so stunned that no one applauded and Järvi launched straight into the final movement.
The orchestra's sound under their new chief conductor is beginning to change. Under David Zinman they were polished and warm; under Lionel Bringuier's brief interregnum they were developing a lusher sound. Now they are adding bite in the brass and a weight in the strings to bring them up to a higher level. As my esteemed Seen & Heard colleague in Geneva, Antoine Lévy-Leboyer, commented after the performance, in three years Järvi and the Tonhalle Orchestra Zurich will make a very fine combination. I second that.
John Rhodes