United Kingdom Puccini, La bohème: Orchestra and Chorus of Opera North / Renato Balsadonna (conductor). The Lowry Theatre, Salford Quays. 12.11.2019. (RJF)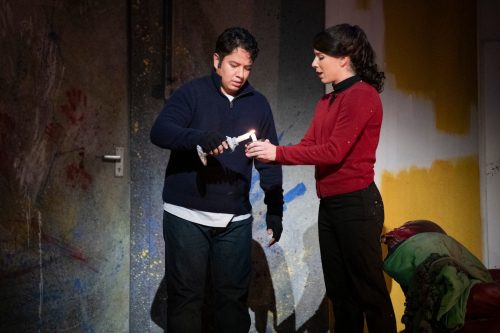 Production:
Original Director – Phyllida Lloyd
Revival Director – Michael Barker-Caven
Costume and Set designer – Anthony Ward
Cast:
Rodolfo – Eleazar Rodriguez
Mimì – Lauren Fagan
Marcello – Yuriy Yurchuk
Schaunard – Henry Neill
Colline – Emyr Wyn Jones
Musetta – Anush Hovhannisyan
Benoit, and Alcindoro – Jeremy Peaker
Parpignol – Stuart Laing
Opera North often brings some exciting and different repertoire on its tours. This time there was a significant difference to the usual three offerings over the five nights in that two such, Giulio Cesare and Martinů's final opera The Greek Passion, each having only one playing, whilst the third, Puccini's ever popular La bohème having three, with double casting in the major roles. The claim was made that all of those mentioned as singing in whatever cast, none was less than international standard.
The oft-seen performances of this La bohème production, first seen in the mid 1990s, was soon under way in the rather unimaginative, sparse set of Act I. It soon became obvious that of the two principles, the claim of international standard certainly applied to Australian Lauren Fagan as Mimì and who recently represented her country in the Cardiff Singer of the World competition. She sang with lustrous even tone across her voice's tonal range, whilst acting the part in a totally convincing manner throughout. She was the star of the evening including a spectacularly acted complete collapse as she entered the student's apartment in Act IV. By her side Eleazar Rodriguez's  voice seemed overwrought at times and not having the vocal weight for lyrico spinto roles. I suggest his voice would be more appropriate in bel canto and a perusal of his experience revealed the likes of Don Ottavio in Don Giovanni and Tamino in The Magic Flute. As it was, we were not to hear such phrasing opportunities, as he always seemed at full vocal stretch and which may also have accounted for his wooden acting. Yuriy Yurchuk, a Ukrainian baritone, had the necessary weight of vocal tone, albeit a little on the lean side, However, he did not give the impression of involvement in his role, rather going through the motions. Emyr Wyn Jones's Colline seemed to have little involvement in Act IV whilst his farewell to his overcoat lacked some basso sonority vocally. The Act IV goings on are not enhanced by having the under employed – by Puccini that is – Schaunard (Henry Neill) dressed as a woman, albeit showing a fine bit of leg; it demeans Puccini's music and the composer's feeble attempt to give the role more specific meaning.
I have referred to the sparse set of the student garret. It is not bettered by the Act II Café Momus scene and was poor compared with other productions I have seen in provincial theatres, albeit the children were fully committed and involved in a manner which was a joy to see. The Act III scene, at an invisible customs post was a non event, and then it was back to the student garret for the very poignant death of Mimì and which allowed a full appreciation of Anush Hovhannisyan's Musetta, another Cardiff singer contestant, in her case Armenia. In my view she was let down in the Café Momus scene by the production. In this final act she could, and did, show her vocal and acting skill to the full. In this latter respect she took full advantage of conductor Renato Balsadonna's grasp of Puccini's timing and melodies. He has learned much, I suspect, during the years he spent working with Sir Antonio Pappano, a Puccini specialist of the first grade, for the Royal Opera at Covent Garden.
In summary, this production is past its best and while the name La bohème puts backsides on seats, as it did on this evening at The Lowry, it hardly does the reputation of Opera North justice.
Robert J Farr