United States R. Strauss, Wagner: Emily Magee (soprano), Stuart Skelton (tenor), Ain Anger (bass), San Francisco Symphony / Simone Young (conductor). Davies Symphony Hall, San Francisco. 15.11.2019. (HS)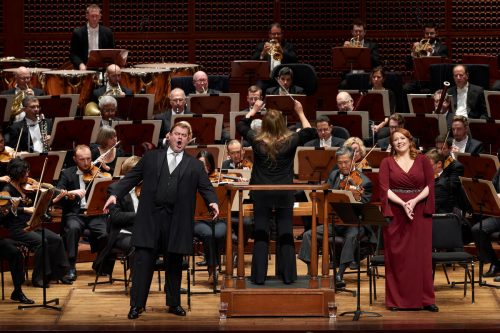 R. Strauss — Metamorphosen
Wagner — Die Walküre Act I
Opera in concert puts the focus squarely on musical values. With singers freed from stage sets and costumes, and the orchestra released from its opera-house cellar, every detail can be savored. And, Lord almighty, were there things to savor in Davies Symphony Hall when the San Francisco Symphony unleashed an extraordinary first act of Wagner's Die Walküre. 
A rapt (if not quite capacity) audience hung on every nuance. Simone Young's assured, supple, and vital conducting drew playing of specificity and sonority from the orchestra. But most impressive were the singers, especially tenor Stuart Skelton.
This was not the Australian singer's first go-round with this orchestra. In 2014 he delivered a memorable Peter Grimes in a semi-staged production of Britten's opera under music director Michael Tilson Thomas, and he recorded Mahler's Das Lied von der Erde with Tilson Thomas way back in 2008. As fine as those outings were (and a Siegmund in the Metropolitan Opera's most recent Ring), nothing prepared me for the model heldentenor glory on display this time.
Big, rich sound? Check. Rock-solid intonation and articulation? Check. Control of dynamics to shade phrasing? Check. Beauty of tone from fortissimo to pianissimo? Yes, that too. Insight into the character's situations and motivations? Of course.
His first utterance, as an exhausted Siegfried collapses after fleeing his fearsome enemy Hunding, went from clarion to subdued in a matter of seconds. His tentative connection with the woman of the house, whom he learns is Hunding's wife (sung by soprano Emily Magee), grew gradually along a natural arc, culminating in spine-tingling held high notes of 'Wälse, Wälse.'
The formal confrontation with Hunding (voiced with licorice-scented richness by Estonian bass Ain Anger) crackled with held-back energy. The lyrical highlight of the score, 'Winterstürme', began with a breathtaking pianissimo on the opening phrase. The tension dropped away in phrases that pulsed to a climax. Through it all, including the big moments that conclude the hour-long act, Skelton's energy never flagged, the voice as fresh and powerful as it was at first.
As I reveled in all this, it occurred to me that this must have been what it was like to hear Lauritz Melchior live. I do not make that comparison lightly. All those attributes are what made Melchior the greatest Wagner tenor on record. I have heard some great artists sing this role live, from Peter Hoffmann to Jonas Kaufmann and Plácido Domingo, but never quite like this.
Magee might not have matched Skelton for vocal power, but the American soprano held her own with a plush texture, satiny sound, and a strong enough companion to the tenor's intensity. Anger's Hunding, voiced with seamless tone from bottom up, was more staunch than menacing, but Wagner's score sufficiently outlined that aspect of the character.
For her part, the Australian conductor Young fashioned a knowing tapestry of Wagner's leitmotifs and singular phrases. The opening galloped with urgency and a welcome sense of wildness. The pace flowed with a natural gait throughout.  The final pages ramped up with gathering intensity to a smashing finish.
Solo moments stood out when individual instruments carried the melodic line (even with several of the principals, including concertmaster Alexander Barantschik, taking the night off). Of special note were Aaron Schuman's trumpet renderings of the sword leitmotif and cellist Peter Wyrick's emotionally gripping love music — both alone and leading the section in one memorable interlude. Clarinetist Carey Bell and oboist Eugene Izotov contributed fine moments as well.
As a sort of prelude, the first half brought a ravishing Metamorphosen by the 23 solo strings. Richard Strauss's post-World War II elegy for Munich, written when he was 80 years old, benefited from Young's fluid direction. Conducting without a baton, she luxuriated in the composer's sonorities, deeply chromatic but unapologetically beautiful harmonies, and expertly wrought counterpoint. Cellist Wyrick and violist Yun Jie Liu emerged as stars, as well as violinist Nadya Tichman in the concertmaster's chair.
Harvey Steiman