United Kingdom Love and Betrayal in the Baroque – Music by Handel, Vivaldi and Locatelli: Karina Gauvin (soprano), Tafelmusik / Elisa Citterio (violin/director). Milton Court, London, 24.11.2019. (CC)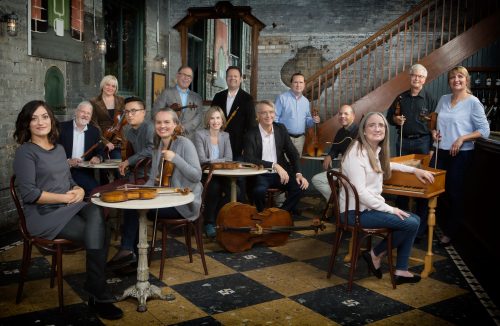 Handel – Concerto grosso in B flat, Op. 3/2; Guilio Cesare: V'adoro, pupille; Agrippina: Overture; Non ho cor che per amarti; Alcina: Ah! mio cor!; Lotario: Scherzo in mar; Rinaldo: Overture; Furie terribili
Vivaldi – Ottone in Villa: Sinfonia; Farnace: Qual'usignolo che Innamorato; Ercole su'l Termodante: Amato ben; Concerto for Two Oboes in C, RV 534
Locatelli – Concerto grosso in E flat, Op. 7/6, 'Il pianto d'Arianna'
This was the last concert of a mini tour that took in Basingstoke, Bristol, Brugge and London. Tafelmusik, under its new music director Elisa Citterio, is one of the finest of currently active Baroque ensembles, as its recent release on Tafelmusik Media (entitled Vivaldi con amore) confirmed. Touring is part of Tafelmusik's lifeblood: so far in its history, the ensemble has visited more than 350 cities in 32 different countries over its lifetime; they perform at Versailles every other year. Another aspect of their activities was an artist residency at Manchester's Royal Northern College of Music.
Music Director since July 2017, Elisa Citterio heads an ensemble of the very highest calibre. Those who can, stand, do, antiphonal violins surrounding the excellent harpsichordist, Charlotte Nediger. The Handelian strength of the opening and the robustness of the finale of the Op. 3/2 Concerto grosso were balanced by the plaintive oboe of John Abberger in the slower portion of the piece.
Canadian soprano Karina Gauvin is something of a force of Nature. The programme was carefully planned to move towards maximum emotion and virtuosity at the close, but how stately and pitch-perfect was 'V'adoro, pupille' from Giulio Cesare, which opened the evening, vocal embellishments later on perfectly judged.
Wonderful to have such a variety from Vivaldi's output. Bracing hardly covers the Sinfonia to Vivaldi's opera Ottone in Villa, the violin exchanges between Citterio and violinist Julia Wedman spectacular. Yet there was an elegance here, too.
Gauvin is just as strong in Vivaldi as she is in Handel. The excerpt from Farnace requires expert trills and repeated notes, and what a joy it was to hear them performed with no sense of strain, just pure expressive intent. Here, we heard how firm Gauvin's lower register is, as well. But perhaps the highlight of the first half was the aria from Ercole su'l Termodante, exposed unisons between voice and violin perfectly managed. No higher praise can be lavished on Gauvin that to place her in the same bracket as Maarten Engletjes's astonishing Vivaldi Nisi Dominus, RV 608 at Ton Koopman's Baroque Itinéraire Festival in 2016 (review).
A joy to have the first half rounded off with a vibrant account of the two-oboe Concerto, RV 534, often delightful and notable for the expert terracing of dynamics from the ensemble as well as the eloquence of the soloists, John Abberger and Marco Cero.
The second half capitalised on the first: there was a real feeling of development, and, as a result, of the audience investing in the process. It was daring to begin with one of the most emotionally raw works of the Baroque, a piece of the utmost genius: Locatelli's Concerto grosso, 'Il pianto d'Arianna'. Basically a cantata for violin and orchestra, it showcased the remarkable talents of Citterio, who evoked all of the depth this piece contains. Locatelli's writing is daring – it starts off like an accompaniment in search of a melody, before we realise that the attention is on the shifting harmonies, which eventually cede to an energy-driven, active section heralding the solo violin's soliloquy. Poignant hardly covers it, with Tafelmusik taking the dynamic down, hypnotically, to the regions of what must have been pppp or thereabouts. Unforgettable: raw pain laid bare.
The rest of the evening was taken up by Handel, two overtures (Agrippina and Rinaldo) showing how Tafelmusik is capable of the tightest ensemble while projecting the true power of this towering music. Gauvin's superb trills again came out for the Agrippina excerpt, 'Non ho cor che per amarti' (superbly judged dotted rhythms too, and beautiful interactions with the pair of oboes), while the sheer power of the line 'Oh dei! Perchè?' from 'Ah! mio cor' (Alcina) was remarkable. Gauvin knows how to have an audience eating out the palm of her hand – she achieves this through perfect congruence with the music and text, and the result is gripping. In 'Scherzo in mar,' Gauvin's perfectly placed high notes were a joy (her voice is miraculously free), but the sheer drama of 'Furie terribili' from Rinaldo was utterly remarkable, an expression of pure dramatic force. Gavin and each member of Tafelmusik lived every note.
One encore in response to the justly deserved cheers: more Rinaldo, aa piece Gauvin confidently claimed everyone would know: 'Lascia ch'io pianga', interior, hushed, yet utterly electric.
The good news is that Tafelmusik's next recording is entitled A Handel Celebration. Watch this space.
Colin Clarke
For more about Tafelmusik click here.