United Kingdom Ginastera, John Adams, Stravinsky: Yuja Wang (piano), Los Angeles Philharmonic Orchestra / Gustavo Dudamel (conductor). Barbican Hall, London, 18.11.2019. (CC)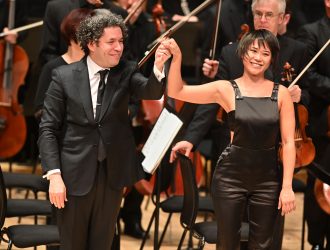 Ginastera – Variaciones concertantes (1953)
Adams – Must the Devil have all the Good Tunes? (2019, London premiere)
Stravinsky – Le Sacre du Printemps (1911-13)
The Los Angeles Philharmonic under Gustavo Dudamel kicked off its 2019 Barbican Residency as one of the Barbican's International Orchestras Partners in some style (other activities include an open rehearsal on Wednesday morning, November 20, plus masterclasses). Melded to this is the conjoining of the orchestra with Yuja Wang, herself enjoying a Barbican Artist Spotlight throughout the current season.
The inspired inclusion of Ginastera's 1953 Variaciones concertantes to go with the Adams had the consequence of a preternaturally long first half (some one hour and twenty minutes, including no fewer than three encores from Wang). Ginastera's piece is a fabulously inventive work in his 'subjective nationalism' mode. His harmonies are sometimes derived from the open strings of a guitar (imitated perhaps by the harp at the beginning, accompanying the finely expressive solo cello theme from Robert DeMaine). Soloists had a chance to shine, not least the solo clarinet as well as that cello. When that cello opening returned, it led naturally to a double-bass solo (Christopher Hanulik); there and everywhere, there seemed to be a master orchestrator at work. The piece brought out all of the LAPO's strengths; the sense of adventure was palpable, as was the resonance with the musical material. A fabulous way to open the residency.
If John Adams can be something of a variable composer (sometimes it can feel as if he likes his own voice a little too much and overworks material), he found just the right balance in the London premiere of Must the Devil have all the Good Tunes?. This, in effect his third piano concerto (the other two being Century Rolls of 1996 and Eros Piano of 1989), is directly inspired by the playing of Yuja Wang (Adams has cited her lyrical side as the impetus for the contrasting central section). Flanking that expressive core are two sections marked 'Gritty, funky' and 'Obsession/Swing' respectively. From the sheer grit of Wang's left-hand attack, with its superb staccato, it was clear this was to be a gripping account. Plateaux of calm counterbalanced the extroversion – and were the bells a church reference to the idea of the Devil getting those tunes? (the quote is often attributed to Martin Luther). With its tauter construction and addictive, occasionally quasi-minimalist rhythms, this is a fine piece. It could hardly have asked for a better performance, with both Wang and the orchestra on top, glittering form. With Wang, one expects encores. There were three this time: most fascinatingly, a wonderfully inventive, decidedly American piece by Michael Tilson Thomas (You come here often?) before a Toccatina by Kapustin (of whom we really need to hear more – Hamelin made good strides in this direction but they need to be picked up by others, so top marks for repertoire choice) and finally, the Schubert/Liszt Gretchen am Spinnrade, which lost a touch of momentum. A great set of encores, though (worthwhile stating because of the orchestra's choice post-Rite).
So to The Rite of Spring, that great masterpiece that so often morphs into a showpiece for visiting orchestras. As it happens, Dudamel's reading is deeply considered; its most impressive aspect was actually the way he shaped the interpretatively tricky Part II. Conducting from memory, Dudamel led a Part I that was mostly notable for the detail one could hear rather than its pagan earthiness. Louder passages were indeed loud but perhaps not as energising or indeed frightening as they could be; instead it was the power of the few still moments that resonated, and the way one could hear Stravinsky's layering techniques, the woodwind choir absolutely perfectly calibrated as a unit. In fact, rarely have I heard a performance that points forward quite so clearly in time towards Birtwistle's Earth Dances and its use of layering. When it came to Stravinsky's 'Sacrificial Dance,' it was as if the entire Los Angeles performance had led up to that point; Dudamel was relentless, allowing forth a savagely determined outpouring of pent-up energy. A remarkably intelligent reading, this was most impressive; the orchestral brilliance and virtuosity almost goes without saying. But to have it saddled with such depth is unusual indeed.
So, why, oh why, play Souza as an encore? The Liberty Bell, bright and brash, perfectly despatched but utterly misplaced. If only the Stravinsky had been left to resonate on in our ears …
Nevertheless, this was a firm confirmation of the LAPO's current, world-beating stature.
Colin Clarke