United States The Met: Live in HD – Puccini, Madama Butterfly: Soloists, Chorus and Orchestra of the Metropolitan Opera / Pier Giorgio Morandi (conductor). Broadcast live to Cineworld Basildon, Essex, from the Metropolitan Opera, New York, 9.11.2019. (JPr)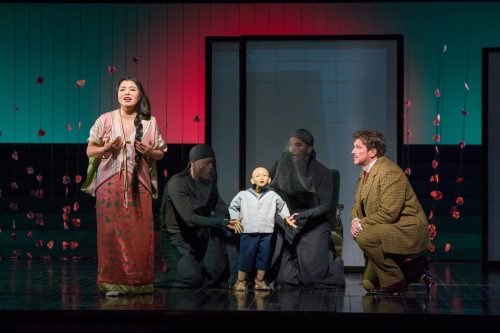 Production:
Production – Anthony Minghella
Director and Choreographer – Carolyn Choa
Stage Director – Paula Williams
Set designer – Michael Levine
Costume designer – Han Feng
Lighting designer – Peter Mumford
Puppetry – Blind Summit Theatre
Cast:
Cio-Cio-San – Hui He
Suzuki – Elizabeth DeShong
Pinkerton – Bruce Sledge
Sharpless – Paulo Szot
Goro – Tony Stevenson
Bonze – Raymond Aceto
Yamadori – Jeongcheol Cha
Kate Pinkerton – Megan Esther Grey
Commissioner – Bradley Garvin
Live in HD Director – Habib Azar
Live in HD Host – Christine Goerke
This Madama Butterfly was the only opera directed by the late Anthony Minghella and is familiar from the English National Opera where it was first staged in 2005. It will be revived there again in February with Natalya Romaniw in the title role. For all her wonderful qualities Ms Romaniw is not of Asian descent and that reignites my discussion of casting issues I considered in depth in a recent The Mikado review (click here). Here at the Met, at least Cio-Cio San (Butterfly) – albeit still not Japanese – was sung by Chinese soprano Hui He. The only other Asian amongst the principal singers – and appropriate for their role – was Jeongcheol Cha from South Korea. I will not labour this point, but 'ethnically correct' casting seems to matter elsewhere in theatre and movies but opera in general – Otello apart – is apparently exempt. Also, perhaps best left for another time is Madama Butterfly's depiction of powerful men exploiting female vulnerability, sex tourism, as well as, Pinkerton lusting after a 15-year-old.
What Minghella's Madama Butterfly gains by being put on at the Met is that – by being sung in its original Italian – much more of its tender lyrical beauty is revealed compared to singing Puccini in English. In this production, as ever, there are some stunning images right from the start: before we hear any music, we see a young Japanese bride – representing Butterfly herself – slowly appear and move down the steeply raked stage with her kimono trailing crimson sashes. Veiled figures bind her waist with them ready for the wedding and then the music begins.
In the opera house Michael Levin's box-like set has a mirror which rises to provide extended depth and interesting perspectives to the stage pictures, most of which was lost in Habib Azar's otherwise exemplary – often widescreen – direction for cinema audiences. Closeups focussed in on a naturalistic approach to the interaction between the characters which the late Anthony Minghella wanted. This was seen in a few moments of archive footage of the elegant filmmaker when this production was first put on at the Met in 2006 with Cristina Gallardo-Domās and the late Marcello Giordani (and these current performances are dedicated to the both Minghella and Giordani). The vastness of any auditorium – and especially the Met I suspect – makes intimate moments difficult to see while in the cinema it finds the best possible medium in which to be presented. It all helped to make this production's blend of Japanese and Western theatre even more emotional than I have found it before.
Butterfly's entry as her wedding party arrives was as wonderful as ever. Their rising over a distant horizon and moving downstage is still a riot of sumptuous colour in Han Feng's costumes. From this moment on we could focus on the drama with stunning effect. There is a pivotal moment when Act II opens and we see a happy Butterfly serving tea to her husband Pinkerton. This contentment is short-lived of course and one of the stage's ever-present sliding screens takes him away. Some furniture goes too, probably to pay the bills, and all she is left with is the chair that Pinkerton sat in and, of course, 'Sorrow', their son. In that moment we appreciate how fleeting Butterfly's true happiness was and that her tragic end is inevitable. On a large screen the Bunraku puppet 'child' – too small for any normal opera house – really comes to 'life'. Its three puppeteers from the Blind Summit Theatre can be easily ignored and so convincing were Sorrow's reactions that I almost believed I saw different expressions pass across the face of the little Japanese doll in its sailor suit.
There is some interesting use of puppetry elsewhere such as the ballet during a poignant introduction to Act III between a miniature version of Butterfly and a human soloist as Pinkerton. Together they re-enact the couple's brief romance and anticipate its tragic outcome. Ending the opera is another powerful image when Butterfly is seen with the crimson sashes – which were wound around her at the beginning – extending from her body like flowing blood.
This Madama Butterfly revival was to feature Plácido Domingo, but we all know what has become of him, at least with regards to performing in the US and, now it seems, at the 2020 Tokyo Olympics. He was replaced by Paulo Szot with his altogether different slant on Sharpless. As the Consul, Szot – with his forthright baritone voice – was clearly an honourable man who was powerless to intervene in what Pinkerton gets up to and has difficulty hiding his disapproval. Nonetheless, Sharpless appeared more than ever to be the opera's conscience and showed a true concern for Butterfly. Equally Elizabeth DeShong was the faithful servant, Suzuki, who clearly never believed for an instant that Pinkerton would return but could never bring herself to upset Butterfly. DeShong struck exactly the right balance of deference and concern whilst singing with a quiet strength.
Domingo had left the cast several weeks ago but when the original tenor succumbed to illness Bruce Sledge stepped in with only a few days' notice to sing his first Pinkerton on stage anywhere. As an official 'cover' Sledge had been involved in some earlier rehearsals for this production but he could not have expected to get this chance in front of cinema audiences watching throughout the world. The good news is that he let no one down; however, it is astonishing that – even with such short notice – a more established Pinkerton could not have been found. Despite Sledge's considerable experience he was visibly nervous and singing correctly took precedence over his acting which was rudimentary to say the least. Sledge also has a robust voice – as many appearing at the Met tend to have – and although his Pinkerton was effectively and passionately sung with a pleasant heroic lyricism, I suspect his future career will involve more Wagner than it does Puccini.
Another singer to suffer from nerves it seems was Hui He as Butterfly and she took several minutes to get an initially unruly soprano voice mostly under control. Once she did it was a performance where a singer fully embraced the character they are portraying and Hui He's Butterfly metamorphosed into someone rather more defiant than vulnerable. That Hui He is many years older than Butterfly is supposed to be never mattered in the slightest as in the end her identification with the role was so complete. With excellent stamina Hui He poured forth some wonderfully exciting sounds from a large voice ideal for Puccini. When she sang 'Un bel di' her faith and longing were tangible and her eventual suicide – after a heart-breaking cry of despair – was deeply affecting.
There were no weak links and Tony Stevenson (Goro), Raymond Aceto (Bonze), Jeongcheol Cha (Yamadori) and Megan Esther Grey (Kate Pinkerton) all made strong impressions even though Puccini gives them little to do. There was good work from the chorus and – as heard through the cinema loudspeakers – Pier Giorgio Morandi led an impressive orchestra in a reading of Puccini's score that had lots of tension, much passion, and a wonderfully instinctive feel for ebb and flow.
Jim Pritchard
For more about The Met: Live in HD click here.