United Kingdom Tom Dale Company's Step Sonic: The Place, London, 14.11.2019. (JO'D)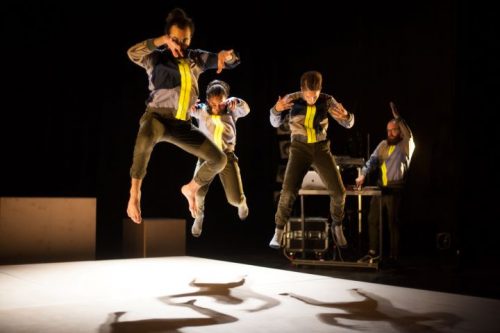 Production:
Choreography – Tom Dale, Eleesha Drennan, Jamaal Burkmar
Lighting – Jamie Platt, Richard Statham
Costumes – Cristiano Casimiro
Sound design/Composer – Jo Wills
Performers – Jemima Brown, Rose Sall Sao, Juan Sánchez Plaza
'A new type of dance music/music dance,' claims the flyer. 'Shotgun microphones, custom made instruments, plate reverbs and amplified boxes': all are visible, through faint haze, when the lights go up on Step Sonic. To one side of the stage is the mixing desk where composer and sound artist, Jo Wills, will stand, as crucial to the performance as the three dancers.
'I wanted to see how much mileage there might be in dancers becoming the sound source for the music,' explains choreographer Tom Dale in the programme notes to what he describes as an 'experimental work at this stage'. Tapping, scratching, banging, sweeping, slapping with their bodies, Jemima Brown, Rose Sall Sao and Juan Sánchez Plaza produce these sounds. Jo Wills manipulates them as they occur.
It is an interesting concept, which results in interesting effects (heightened by Jamie Platt's lighting and Cristiano Casimiro's costumes). The dancers are the sound. Using the surfaces of the amplified boxes, Rose Sall Sao and Juan Sánchez Plaza engage in a tense 'dialogue of hands'. Sitting in front of the microphones, all three dancers employ breathing and organs of speech to make plosives, fricatives, and affricates. Eventually words form, a repeated chant: 'Can you trust in me?'.
Despite the possible influence of Arthur Pita and Hofesh Shechter, in terms of its choreography the piece is sometimes thin. This is particularly true of a post-applause coda. The relationship between the digital and the human is still being brokered. As if to compensate, Part 2 (Three Solos by Three Choreographers) contains work more recognisable as 'dance'. Rose Sall Sao and Juan Sánchez Plaza even blossom, as dancers, in Eleesha Drennan's Resonance of Air and Jamaal Burkmar's Escape.
Seen through more haze, and in chiaroscuro, Sall Sao appears trapped in a circle of light wearing what looks like a combination of fencing mask and motor veil. To the sound of ultrasonic bat recordings and music by Julia Kent, this Edwardian figure breaks free from circle and mask to occupy the surrounding space with expansive movement before returning, changed, to the place from which she started.
Juan Sánchez Plaza scurries on to the stage to take refuge by a carefully positioned chair and lamp. Fearful at first, he removes his kimono-style jacket to dance, upright, tall, fleet-footed and flexible, in flowing see-through top of dark blue and loose trousers of brown and gold. Recorded music by Janelle Monae gives him confidence and allows him freedom of expression. Yet if this dancer also undergoes change, he returns from the dance more fearful, more twitchingly uncertain.
Prior to Tom Dale's Surge the stage fills with haze. Clouds of it seep out into the auditorium. This is for the sake of the digital effects (designed by Barret Hodgson) that are the main focus. Angled light (by Richard Statham) creates shifting vertical and horizontal planes of smoke. Dramatically backlit in their midst stands Jemima Brown, slight and androgynous, the dancer perhaps best suited to the digital. Music by Ital Tek and Amon Tobin suggests the cataclysmic, yet Surge is one of those pieces which is never more effective than during its opening moments. What the dancer does in this solo, once the haze clears, is not an addition to what she did in Part 1. It is only a reprise.
John O'Dwyer
For more about The Place click here.