United Kingdom Handel, Purcell, Charpentier, Honoré d'Ambruis, Lully and Rameau: Sandrine Piau (soprano), Lea Desandre (mezzo-soprano), Christophe Dumaux (countertenor), Marc Mauillon (baritone), Lisandro Abadie (bass-baritone), Les Arts Florissants / William Christie and Paul Agnew (directors). Barbican Hall, London 8.12.2019. (CSa)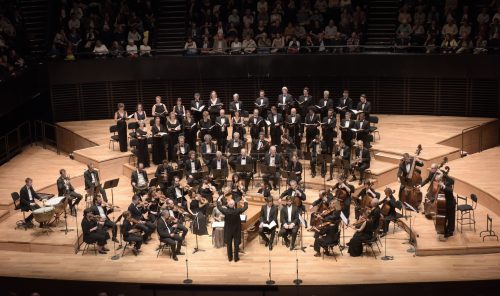 A Baroque Odyssey is how conductor, harpsichordist and scholar William Christie chose to describe this joyous birthday shindig for Les Arts Florissants, the Paris based ensemble of singers and musicians he founded 40 years ago. The rich and varied programme was also the summation of a life's work. Assisted by his multi-talented co-director Paul Agnew and joined by a clutch of fine soloists, Christie embarked on a wondrous journey through a terrain of 17th-century English and French choral and operatic works – the ensemble's particular specialism. Some arias were familiar landmarks, particularly to those die-hard fans in the audience already acquainted with Christie's extensive discography, and some less so. Yet a combination of freshness and meticulous authenticity made each piece on the programme a veritable voyage of discovery.
The two halves of the programme, geographically divided between England and France, began propitiously with a brass and kettle drum fanfare from Handel's Atalanta, followed by a stirring and crisply articulated 'Zadok the Priest'. Next came some ravishing Purcell – extracts from his Ode for St Cecilia's Day 1693 and melancholy but enchanting 'Welcome to all the pleasures'. The glorious voices of the four male soloists – countertenor Christophe Dumaux, baritone Marc Mauillon, bass-baritone Lisandro Abadie and Paul Agnew who doubled as tenor and conductor – together declared 'this musical assembly…to be the ark of universal harmony'.
Noted coloratura soprano Sandrine Piau's past roles at the Opéra de Paris have included the wicked Morgana in Handel's Alcina. Reprising the role on this occasion, she gave us a dramatically charged and vocally acrobatic account of 'Tornami a vagheggiar', after which Christophe Dumaux, in fine voice and thespian mode, crossed the dark waters of the Styx to act out the mad scene from Orlando – at one point braving the Furies of Hades on his knees. Providing a necessary contrast, a selection of sweetly bucolic arias from Handel's setting of the Milton poems L'Allegro, il Penseroso ed il Moderato included 'I'll to the well-trod stage anon' from the multi-tasking Agnew, and 'Or let the merry bells ring around', sung with great charm by chorus member Maud Gnidzaz.  Mezzo-soprano Lea Desandre is a young singer destined for greatness. She conveyed all the sadness and despair of a deceived lover in her moving account of Handel's famous aria 'Scherza Infida' from his opera Ariodante.
Tantalising extracts from Purcell's Fairy Queen and King Arthur concluded the first half of the concert. 'May the God of Wit inspire' did just that, with the four male soloists singing with impish merriment, while Piau's irrepressibly rhythmic 'Now join your warbling voices' and 'Sing while we trip' set the feet tapping. Piau sang Purcell's limpid aria 'Now the night is chased away' with what appeared to be effortless charm, complemented by the dulcet strains of Thomas Dunford's theorbo.
The second half of the concert took us from William and Mary's England to the court of Louis X1V and XV of France. Sandrine Piau took centre stage once more to sing some stately arias from the 17th-century opera Les Arts Florissants by Marc-Antoine Charpentier. It was intended by the composer as an allegory in which art and peace triumphs over discord – no doubt William Christie's guiding principle when he named his ensemble some 40 years ago.
After a gentle lullaby from Lully's Atys sung by the male quartet, there were some notable bonnes bouches to be savoured from the operas of Rameau. One in particular, Platée, featured the indomitable Agnew, once again singing and conducting from the podium, while Piau transformed convincingly from tragedienne to comedienne in a sparkling 'Formons les plus brilliant concerts'. An atmospheric finale comprising segments from Les Indes galantes, in which thunder sheet and timpani artfully evoked the earthquakes and volcanos of Inca Peru, brought the formal programme to a colourful conclusion. The one-night birthday celebration may have ended, but let us hope that Christie's Baroque Odyssey will continue for many years to come.
Chris Sallon
For more about Les Arts Florissants click here.