United Kingdom Schubert, Winterreise: Roderick Williams (baritone), Susie Allan (piano), The Oriental Club, London, 11.12.2019. (CS)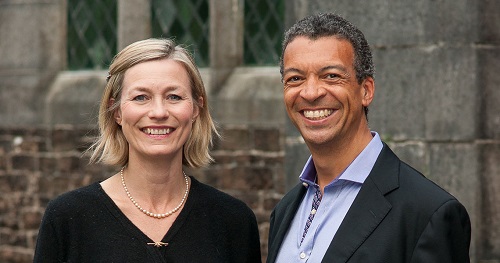 The Music Society of the Oriental Club hosts a monthly concert for its members and guests.  For its December recital, baritone Roderick Williams and pianist Susie Allan were invited to tell a winter tale.  But, this was not a 'sad tale … best for winter … of sprites and goblins', in the spirit of that story which Shakespeare's Mamillius relates to his mother Hermione in The Winter's Tale, and which is eventually superseded by reconciliation and regeneration.  This was Schubert's Winterreise: the 'Sistine Chapel' of Romantic lieder, or twenty-four songs of unremitting doom and gloom which we obsessively return to and love, as Roderick Williams put it in his engaging pre-concert introduction.
Williams suggested that Schubert's songs depict a protagonist "at the lowest point that head, heart and spirit can reach".  Certainly, the baritone is not the first to suggest that Wilhelm Müller's protagonist has mental health issues: in the 1950s literary critic Günther Baum suggested that the ever more isolated wanderer exhibits symptoms of schizophrenia, though others have focused more on the motif of hopeless love, or Sehnsucht; still others, such as Alan P. Cottrell, have seen the journey as a synthesis of psychological states which serve as a metaphor for man's tragic existence.
Williams also suggested, during some post-concert discussion, that there are no metaphors in Müller's poetry: that the imagery is entirely related to how the protagonist feels.  I'm not sure that I agree.  The wanderer's emotional world is certainly figuratively expressed through the landscape traversed and the natural phenomena encountered: by the howling dogs and tormenting wind; by the rustling branches of the linden tree and the imagined flowers of spring; by the will-o'-the-wisp and the circling crow.  But, more than this, mankind's tears are embodied in shifting, watery form in Müller's stanzas – ice, snow, dew, river, brook – just as death is ever-present, in the graves, wreaths, the inn in the cemetery and the ever longed-for 'rest'.
But, I think, know what Williams means: there are no philosophical conceits or artifice – though there is irony and passion.  And, there is immediacy and directness: the intimacy of the dialogue between singer and listener is the source of much of the cycle's emotional and psychological potency.  So, it was fitting to be in this small private room at the Oriental Club, amid forty or so listeners, whose experience replicated that of those whom Schubert invited to the house of his friend and soulmate, the poet Franz von Schober, to hear his new songs, almost 200 years ago.
Thirty years after the composer's death, a mutual close friend of Schubert and Schober, Joseph von Spaun, recalled this first private performance of Winterreise: 'For some time, Schubert appeared very upset and melancholy.  When I asked him what was troubling him, he would say only, "Soon you will hear and understand".  One day he said to me, "Come over to Schober's today and I will sing you a cycle of horrifying [schauerlicher] songs. I am anxious to know what you will say about them.  They have cost me more effort than any of my other songs."  So he sang the entire Winterreise through to us in a voice full of emotion.  We were utterly dumbfounded by the mournful, gloomy tone of these songs, and Schober said that only one of them, "Der Lindenbaum" (The Linden Tree), had appealed to him.  To this Schubert replied, "I like these songs more than all the rest, and you will come to like them as well".'
And, I think, too, that Williams' observations reflect his own manner of performance.  Several times during the recital I found myself reflecting on how accustomed I have become to 'literally' hearing the 'pain' in these poems and their musical settings: how much, as a listener, I draw from the existential bleakness, the paradoxical beauty of ugliness and suffering, the exquisite martyrdom if you like, of interpretations by, say, Ian Bostridge –  interpretations which, as regular readers of Seen and Heard and Opera Today will know that I deeply admire.  Williams, to put it rather bluntly, 'tells it straight'.  That's not to suggest that this performance was not informed by both sincere and insightful reflections; rather that Williams let the appealing tenderness of his beautiful light baritone draw the listener into the wanderer's psyche without undue mannerism or emotional manipulation.  Once I had let myself be seduced, I felt as if I was on familiar, but fresh, terrain.
Williams and Allan were firm of spirit in the opening song, 'Gute Nacht'; there was no languor or weariness in the tread, though the piano's retreat and Williams' easy switch to a sweet head voice – when he bade good night to his "sweetest love" (Fein Leibchen) – did foretell of the dreams and delusions to come.  The first few songs were quite forthright – in fact, I thought that greater rhythmic relaxation and flexibility might have more fully captured the folksiness of Müller's poetry, particularly in 'Der Lindenbaum' which felt a little four-square.  But, 'Erstarrung' (Numbness) had a troubling urgency, and in 'Wasserflut' (Flood) the voice's octave plummets at the start were hypnotically smooth, like a sleight of hand, conveying the poem's contrasting imagery of ice and fire.
In 'Auf dem Flusse' (On the river) Williams whispered, almost spookily, then burst forth in angry exclamation.  The low-lying line in 'Irrlicht' (Will-o'-the-wisp) created a sense of distance and isolation.  I'd have liked more word-painting in 'Einsamkeit' (Loneliness) – the dark clouds and dragging steps seem to invite more dramatic presentation – and the mail-coach in 'Die Post' went at a steady tempo, unlike the wanderer's wildly surging heart.  But, in 'Der greise Kopf' (The hoary head) Allan and Williams found telling eloquence and expressive weight, making the repetition at the close – "Auf dieser ganzen Reise!" (Throughout this whole journey), as the poet 'rejoices' that his hair has not after all turned grey – an eerie echo, disturbingly communicating the distortion of vision.  Then, in 'Die Krähe' (The crow), again the voice plummeted into darkness: Williams' technique was almost too suave here! – we need to feel the strangeness of the creature who haunts the traveller and seems to "seize my body as prey?"
As the journey continued so Allan and Williams subtly and inexorably tightened the screw.  The accents in the piano introduction to 'Letze Hoffnung' (Last Hope) almost stumbled over themselves as the music pressed forward; at the close of the song, the lyricism of the repetitions, "Wein' auf meiner Hoffnung Grab" (Weep on my hope's grave), intensified the suffering, with the paradoxical piquancy of a Renaissance conceit.  Energy – of a self-destructive kind – accrued: the vocal line of 'Der stürmsiche Morgen' (The stormy morning) was agile and powerful, and the momentum swept segue into 'Täuschung' (Delusion).  But, 'Der Wegweiser' (The signpost) restored the strange half-light, while 'Das Wirthaus' (The inn) was disconcertingly gentle as the performers used harmonic wrenches and timbre to intimate submission: "Bin matt zum Niedersinken/ Bin tödlich schwer verletzt." (I am weary, ready to sink/ Wounded unto death.)
Williams again used his head voice to wonderful effect in 'Die Nebensonnen', conveying both the surrealism of the image of "three suns in the sky", and the protagonist's own destructive interiority.  Allan interpreted the 'grace notes' that precede the hurdy-gurdy man's grinding, bare fifths in 'Der Leiermann' as rising appoggiaturas: not rapid ornaments but pained dissonances that reluctantly resolved, dragged upwards by a resilience which counters, but does not quell, despair.  The gentleness of Williams' baritone persuaded us not so much that we were being quietly spoken to, but that the wanderer was lost in his private thoughts and internal dialogue: "Wunderlicher Alter,/ Soll ich mit dir gehn?" (Strange old man!/ Shall I go with you?)  So, hypnotic was the wanderer's voice that he threatened to take us with him in the abyss.
Claire Seymour