Switzerland Mozart, Bruckner: Tonhalle-Orchester Zürich / Herbert Blomstedt (conductor), Tonhalle Maag, Zurich, 12.12.2019. (CCr)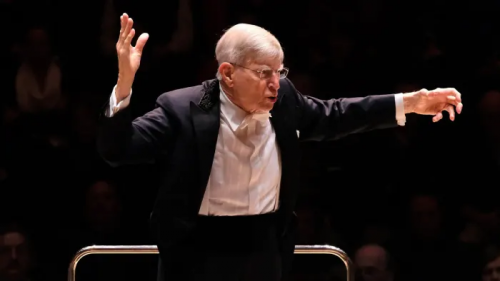 Mozart – Symphony No.34 in C major, KV 338
Bruckner – Symphony No.4 in E-flat major 'The Romantic' (2nd edition 1878/80, reissue 2018)
Very tricky, Bruckner is. If you underplay the rigidity of his symphonies, then their disparate themes sound soupy and recursive. But overdo it and the bombast smothers their enigma.
The horns make for probably the hardest work of all, seeing as they are already somewhat finicky in pitch and are not known within Austrian Romanticism to be a primarily legato instrument. The modern orchestra has massive forces at its disposal, and Bruckner set his Fourth Symphony for four French horns, three trumpets, three trombones, and a tuba. Good luck calibrating all of those Brucknerian escalations amongst lyrical stretches; that is enough brass to blow the roof off.
Enter Herbert Blomstedt, 92 years old but not looking a day over 89; he conducted standing and without a score. With so many elderly conductors dominating the great late Romantic repertoire in Europe (Christoph von Dohnányi says hello), I am beginning to wonder whether there are juvenescent powers hidden in tailcoats, cufflinks and batons. Blomstedt led the Tonhalle Orchester of Zurich this week through an exuberant three performances of Bruckner's Fourth. The fff's sounded not like they were blown from a warship but that they came geysering from the ground.
This was less true in the opening movement, which spans from dawn-of-time tremolo strings to the first crescendo-cum-fortissimo thematic discharge within the first two minutes of music. The monolith of horns was fully roaring by the finale but sounded as if it had had to chase its tail to get there. A slower tempo and lighter touch would have buttressed the logic of this wobbly music. (Not that measured lightness is always the answer; the evening's opener, Mozart's 34th Symphony, sounded shy and unsure in its sotto voce second movement, despite its eminent forcefulness in the finale.)
What a remarkable shift the second movement was – from E flat major to its relative minor in C, the horns and winds began twining around a delicate cello melody. Pizzicato passages kept their vulnerability, and in a moment of barest solemnity, solo instruments passed a simple melody amongst themselves. Principal horn player Ivo Gass guided the climax to religiosity before its final trickling away. If the words density and grace belong in a sentence together, it is because of Gass's and Blomstedt's sensitivity to Bruckner's sense of space.
The third movement's Scherzo featured an ebullient horn chorus that grew more welcome with each repetition, and the Trio it enclosed was a moment of prosaic sweetness; the always-excellent flautist Sabine Poyé Morel sounded both careful and bold. The fourth movement's deftly heavy winds sacrificed some of their mystery but gained force in return. You could hear the parts and feel the whole – an effect not classically 'transparent' but rather crystallised. The final tutti summits sounded wiser than the ones before, massive arches of strings playing to vaulted horns that barrel forth, until the exquisite ending blaze.
Since Blomstedt was signing CDs at the end of the performance I hazarded a word of Swedish or two and asked him how one gets Bruckner to sound 'mäktig men inte tung' – mighty but not heavy. He answered with a grin on his face that the musicians just need to listen to each other before they start blasting away. Maybe it really is that simple – for someone who's been doing it so long.
Casey Creel