United Kingdom Tchaikovsky, Nutcracker: Dancers of English National Ballet, English National Ballet Philharmonic / Gerry Cornelius (conductor), London Coliseum, 11.12.2019. (JO'D)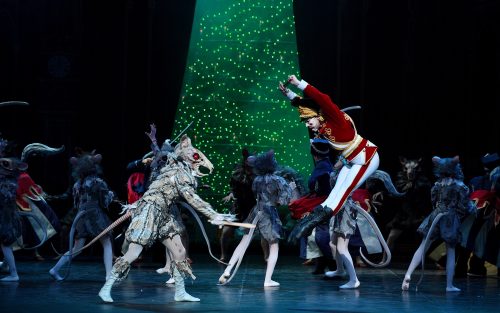 Production:
Choreography – Wayne Eagling
Music – Pyotr Ilyich Tchaikovsky
Design – Peter Farmer
Lighting – David Richardson
Cast:
Clara – Erina Takahashi
Nephew – Francesco Gabriele Frola
Nutcracker – Skyler Martin
Drosselmeyer – James Streeter
Mouse King – Daniel Kraus
Principals, Character Artists, First Soloists, Soloists, First Artists and Artists of English National Ballet; Students from English National Ballet School, Tring Park School for the Performing Arts, and Central School of Ballet
It might have been the tempi of Tchaikovsky's music as conducted by Gerry Cornelius, or the happy combination of Erina Takahashi and Francesco Gabriele Frola as Clara and Nephew, or the fact that all the other parts on this opening night seemed to be danced by the right dancers. For whatever reason, English National Ballet's Nutcracker returned to the London Coliseum in a performance as crisp as the snow that sparkles on the railings outside Clara's canal-side house at the start of Act I.
Sophie Carter (Clara as a child), Nicolas Pereira Da Silva (Freddie as a child), Jane Howarth (Mother), the unnamed boy at the party who dealt very well with some accidentally dropped Christmas presents, Isabelle Brouwers (a radiant Lead Snowflake): they all helped to catch you up and sweep you along.
Since the production premiered in 2010, James Streeter could be said to have made the role of Mouse King his own through a careful balance of playfulness and malevolence. On this occasion he was Drosselmeyer. 'Movement's secret truths' indicated that beneath the costume covering his face, the Mouse King dancer replacing Streeter was, in essence, similarly likeable, similarly benign. No surprise then, when that face was revealed – during a final curtain call – to be the smiling Daniel Kraus.
Nutcracker itself moves almost frenetically through the different worlds of the Act I party, the Snowflakes and the divertissements with music that seems to anticipate at the end of one century the music of the next. Music that is not always light and sparkling. In an article in The Guardian in 2011, critic Gavin Plumley pointed out its darker strains and the possible reasons for them. Commenting on the third movement of the composer's Sixth Symphony on BBC Radio 3 earlier this year, conductor Vladimir Jurowski said: 'I'm always thinking of the music Tchaikovsky wrote for the mice in The Nutcracker.'
This vivid, often spine-tingling production of the ballet acknowledges that dreams can sometimes come close to nightmares. It culminates, however, in a gold-and-white grand pas de deux for Clara and Nephew in which Erina Takahashi and Francesco Gabriele Frola focus only on happiness and love.
From his first battement retiré as the uniformed Nephew before the Act I party, Frola presents himself as a dancer who 'shows you the dance'. In the grand pas he is selflessly dedicated to his partner. Small and compact, Erina Takahashi has soft arms, a perfectly placed head, and a smile that is lovely at all times. Most remarkable perhaps, in the grand pas, are her moments of stillness, her intercalated pauses.
English National Ballet's Nutcracker ends with its coup de théâtre that remains a coup de théâtre however many times you see it. But, like James Streeter before him, Daniel Kraus goes on being Mouse King into the applause. As the curtain descends a second time on the line of gathered dancers, he bends down in character to look out from under it, displaying his own brand of playfulness until the very last moment.
John O'Dwyer
For more about English National Ballet click here.