United Kingdom Beethoven, Dvořák: Sir András Schiff (piano), Budapest Festival Orchestra / Iván Fischer (conductor), Barbican Hall,  29 and 30.11.2019. (AK)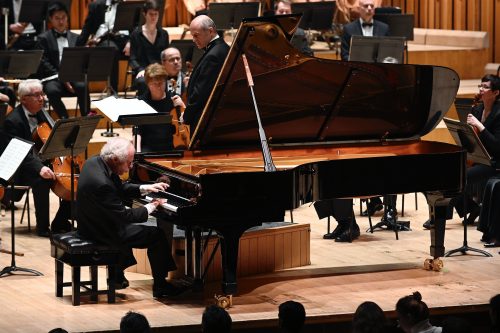 29.11.2019
Dvořák – Legends, Op.59 No.1; 'Nepovim' from Four Choruses, Op.29 No.3; Slavonic Dance, Op.46 No.2; Symphony No.8, Op.88
Beethoven – Piano Concerto No.4
30.11.2019
Dvořák – Legends, Op.59 No.5; 'Ukolebavka' from Four Choruses, Op.29 No.2; Slavonic Dance, Op.72 No.8; Symphony No.7, Op.70
Beethoven – Piano Concerto No.5, 'Emperor'
Sir András Schiff's performances of Beethoven piano concertos Nos. 4 and 5 within the two concerts given by the Budapest Festival Orchestra under the direction of Iván Fischer defy words. On his piano Schiff spoke the ultimate musical language which cannot be translated into English or any other language. While listening to these performances I could not help feeling that I had a glimpse of Heaven at its best.
Words are inadequate to convey this ultimate musical experience but some conclusions can be drawn. Schiff knows both concertos – as also an astonishingly large amount of music from Bach to Bartók (and possibly beyond) – intimately. Not only the piano part, but all orchestral parts. Intimacy is also the guide which governs Schiff's approach to his performances. This does not mean that passion and strength are missing – they were certainly there, for instance, in the fiery solo piano passages in the opening of the Fifth Piano Concerto – but one can be sure that Schiff will not trash the piano.
It is likely that Schiff had played Beethoven's piano concertos many times while conducting from the piano. This time the official conductor was Iván Fischer but – whether conductor and soloist were aware of it or not – Schiff still guided the orchestra with his clear focus on them. In turn, conductor Fischer provided music-making fully in line with what I would term the Schiff sound. Not only was there a full rapport between conductor, soloist and orchestra; all produced Schiff's world of phrasing. This applied also to the tutti sections without the piano, like in the breathtakingly beautiful introduction to the second movement of the Fifth Piano Concerto.  Musical conversations in Beethoven's dialogue between the solo piano and the orchestra were chamber music at its best in the Fourth Piano Concerto. The pianissimo seven-bar B Minor motive of the solo piano in the first movement of the Fifth was fully polyphonic, producing an unusually clear and beautiful presentation of the melody.
Schiff's encore after the Fifth was the Allegro con brio first movement of the Waldstein Sonata Op.53. With its ten-minute length or so, this is no mean feat immediately after the 'Emperor' Concerto. Schiff was fully committed, without any loss of strength or focus. With his experience of marathon performances of pieces like Bach's Goldberg Variations or the Well-Tempered Clavier, Schiff's energy is not surprising. But the generosity of this encore was a wonderful surprise and gift for the audience.
Schiff's encore after the Fourth Piano Concerto was also generous but in a different dimension and, for me, unwise. Instead of giving us a solo piano piece, the orchestra turned into a choir and performed Haydn's Die Beredsamkeit. This approximately three-minute piece is composed to a witty text by Gotthold Ephraim Lessing, praising wine and berating water. Haydn's score is for a four-part choir with continuo; he notated the continuo part as figured bass, but later editions changed the figured bass into piano accompaniment (largely playing the choral parts). I am not sure why we needed Sir András Schiff as an accompanist after his sublime performance of Beethoven's Fourth Piano Concerto. Perhaps this was a gesture to express his appreciation for the orchestra. However, in spite of conductor Iván Fischer's fondness of getting his orchestra sing, they are not a chorus. Yes, they sing in tune and with musicality, but theirs are not trained voices, thus they are limited in their tonal colours. I listened to the same work performed by the vocal ensemble of Collegium Musicum on YouTube; the interpretation by trained and experienced voices served Haydn well (which Fischer's choir did not).
I had the same problem with the two Dvořák choruses which Fischer included in his programme (the folksong inspired 'Nepovím', Op.29, No.3 and 'Ukolébavka' [Cradle Song] Op.29, No.2). Although the orchestra-turned chorus was musical and appropriately gentle, I failed to see the point of a Hungarian orchestra singing in Czech practically without any diction. For a more credible performance see the Jerusalem A-Cappella Singers for 'Nepovím' and the Prague Singers & Stanislav Mistr for 'Ukolébavka'.
Having criticised them as a chorus, I hasten to add that the orchestra consists of brilliant and highly disciplined players. All are highly competent, but I will single out the excellent clarinets and horns; furthermore, the sensitive pizzicato bass agogics (rubato in the bar) in the orchestral introduction to the second movement of the 'Emperor' Concerto.
Fischer framed the two Beethoven piano concertos with Dvořák. He knows and evidently loves these works, conducts them from memory and achieves impressive results. There is passion, drive and musical concept but, to my ears, true intimacy is lacking. Sometimes the orchestral tone sounds even harsh, perhaps because of the higher pitch they use (than their British colleagues). Much to my surprise, Schiff's piano had to be tuned up to match the orchestral pitch of A=442. This seems to me a contradiction in terms partly because we are used to portable instruments tuning to the piano and also because, arguably, Beethoven could benefit from lower pitch. Nevertheless, for whatever reason, Fischer is an imposing figure on the international music scene. These two concerts were attended by factual royalty (Duke of Kent) as well as musical royalty (Bernard Haitink). Whether they came for Schiff or Fischer, their seal of approval was evident.
In another life, very long time ago, I was a professional cellist. Some fifty years ago a Hungarian photographer in London called me to see if I would inspire his 15-year old nephew who was a cello student but not very diligent. How times changed: the 15-year old was Iván Fischer.
Agnes Kory
This concert was part of the Barbican's Beethoven 250 celebrations for further information click here.