United States J.S. Bach, Christmas Oratorio: Molly Netter (soprano), Daniel Moody (contralto), Steven Soph (tenor), Jesse Blumberg (baritone), Apollo's Fire / Julian Wachner (conductor). St. Paul's Episcopal Church, Akron, Ohio, 12.12.2019. (MSJ)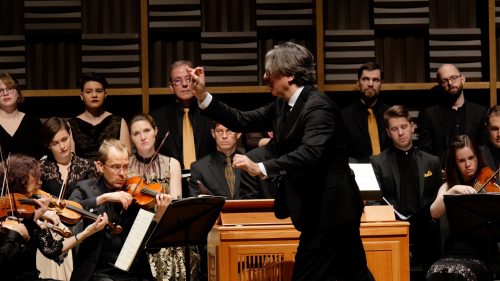 J.S. Bach – Christmas Oratorio (selections: BWV 248/1, 2, 5, 6)
Bach's Christmas Oratorio isn't really a single piece, but a compendium of six cantatas written for the holiday season. It makes sense to pick and choose between the cantatas to create a digestible concert version. On this occasion, guest conductor Julian Wachner selected the first, second, fifth, and sixth cantatas, combining some of the most festive parts of the cycle with the most dramatic.
Apollo's Fire is the creation of Jeannette Sorrell, but this was a relatively rare occasion to hear a guest conductor — and healthy for the orchestra, especially when in the sure hands of Julian Wachner, the director of music at New York's Trinity Church Wall Street. Unlike Sorrell's common practice, Wachner doesn't conduct from a keyboard, but remains on the podium throughout. His movements were vigorous but controlled to start with, yet by the end, Wachner seemed even more energized than he was at the beginning. His enthusiasm was contagious. After a strong start, his interpretation grew even more expressive and powerful as it progressed.
The soloists all impressed. Tenor Steven Soph was stylish and elegant in the recurrent role as the evangelist of the text's Biblical narratives. Jesse Blumberg brought a handsome baritone voice, though I am not sure he benefited from Wachner's placement of the soloists. At times he had some of them step up to the pulpits flanking either side of the performance area in St. Paul's Episcopal Church, which helped boost their voices out over the assembled orchestra and voices. Yet Blumberg always remained standing in the front of the choir stalls, where the heft of his voice was at times nearly swamped by Bach's large ensemble. Contrastingly, in the aria 'Erlaucht auch mein finstre Sinnen', where Blumberg was accompanied only by organ continuo and Deborah Nagy's exquisite oboe d'amore solo, the singer was free to spin out his tone to breathtaking effect.
One who didn't particularly need the pulpit was countertenor Daniel Moody, whose clear and imperious tone rang out dramatically in his solos, particularly in the call-and-response between chorus and soloist in 'Wo ist der neugeborne König'. Molly Netter was luxury casting for the relatively few soprano solos. She showed just as much commitment and involvement when heading the soprano section of the choir as when she stepped forward for solos. Her voice is gorgeously bright and clear, and capable of a wide range of nuance derived from the text. In 'Fürchtet euch nicht,' Netter was archly declamatory, yet brought out Bach's word painting in 'Nur ein Wink' with a chortling flourish on the word 'verlacht' ('laughable'). You'll never catch Netter just singing notes. She is always at a level of meaningful involvement that propels her colleagues onstage.
The soloists served as the leaders of each section of Apollo's Singers, who sounded joyfully crisp and vigorous throughout, with a militant edge where required, as in the sixth cantata's closing chorale. As concertmaster, Olivier Brault made a stirring soloist in 'Ach, wenn wird die Zeit erscheinen?' The numerous sections twining the oboe d'amores of Deborah Nagy and Kathryn Montoya were expressive highlights, as well as the trumpet passages, led by bright soloist Steve Marquardt.
The intermission also included a short feature by Apollo's Musettes, a treble youth choir directed by organization mainstay Amanda Powell, in liltingly lovely arrangements of Christmas favorites. They grabbed audience attention by marching in unannounced from the lobby, accompanied by the orchestra's percussionist Matthew Bassett. What a delightful way to summon the audience back to their seats!
Once again, Apollo's Fire proved their mastery of the all-encompassing concert experience. What a Christmas gift, indeed.
Mark Sebastian Jordan