United States Adam Guettel and Craig Lucas, The Light in the Piazza: Soloists, Orchestra, Lyric Opera of Chicago / Kimberly Grigsby (conductor), Civic Opera House, Chicago, 14.12.2019. (JLZ)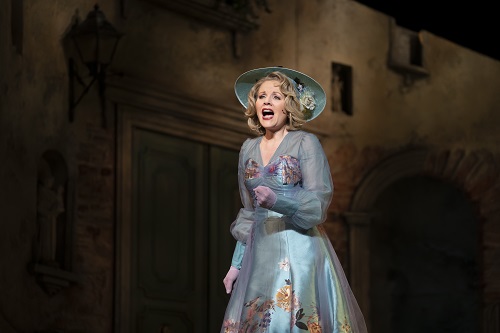 Production:
Director – Daniel Evans
Scenic designer – Robert Jones
Costume designer – Brigitte Reiffenstuel
Movement director – Lucy Hind
Lighting designer – Mark Henderson
Cast:
Margaret Johnson – Renée Fleming
Clara – Solea Pfeiffer
Roy Johnson – Malcolm Sinclair
Signor Naccarelli – Alex Jennings
Signora Naccarelli – Marie McLaughlin
Fabrizio Naccarelli – Rob Houchen
Giuseppe Naccarelli – Eric Sciotto
Franca Naccarelli – Suzanne Kantorski
The Priest/Pimp – Matthew Woodyatt
Noted for the Tony and Drama Desk awards it received in 2005, The Light in the Piazza remains strong in this revival with soprano Renée Fleming as Margaret Johnson, a role she has played in Los Angeles, London, and now at Lyric Opera of Chicago.
The score by Adam Guettel stands apart from other musicals for its extended lyrical passages, lush orchestrations, and intricate ensembles. The book by Craig Lucas is an adaptation of Elizabeth Spencer's 1960 novella, and stylishly conveys the narrative with lyrics that overlap meaningfully between the dialogue and the songs.
As Margaret Johnson, Fleming demonstrates her exceptional vocal talent and also her finesse as an actress. The demanding role of a domineering yet caring mother could be in a caricature in less experienced hands, but Fleming makes it much more. From the start, she was in fine voice, setting the tone in 'Statues and Stories,' which opens the first scene. Her signature style is apparent elsewhere, especially the second-act reprise of 'Beauty Is,' sung by Margaret's daughter Clara in the first act.
Fleming's strengths are not limited to her solos; she brings out her character's lines well in the ensembles. It is no wonder that the final scene belongs to her, as the 'Fable' at the show's conclusion is Margaret's, and Fleming gave it the apt phrasing it needed.
Solea Pfeiffer was laudable as Clara, Margaret's disabled daughter, and 'Beauty Is' was one of Act I's memorable moments. Her soaring voice elegantly captured Guettel's lines, her clear upper register complemented Fleming well, and Pfeiffer's ensembles with Rob Houchen (Fabrizio) were similarly strong. Houchen and Pfeiffer worked well together in the final scene of Act I, with their passionate and intense duet.
Houchen was similarly strong as Fabrizio, with his Italian intonation contributing to his character. His interpretation of 'Il mondo era vuoto' was striking for his phrasing nuances. Yet his acting stood out, since he made the idea of love at first sight believable. Of the other performers, Marie McLaughlin gave a strong and congenial portrayal of Signora Naccarelli, Fabrizio's mother. The octet in the second act worked well because McLaughlin's command of the stage, especially when her character stops the action to explore the characters' emotional state.
In its stunning new staging at the Civic Opera House, The Light in the Piazza brought the musical to an audience who clearly adored Fleming — a memorable evening.
James L. Zychowicz