United States Schubert, Winterreise: Joyce DiDonato (mezzo-soprano), Yannick Nézet-Séguin (piano). Carnegie Hall, New York, 15.12.2019. (RP)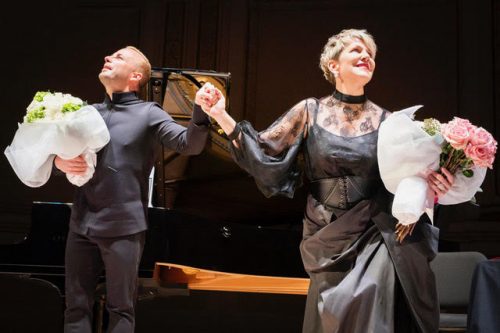 In the midst of the pre-holiday frenzy, with throngs of people all but overwhelming Midtown Manhattan as they vie for a glimpse of the Rockefeller Center Christmas Tree and gaze in awe at Saks Fifth Avenue ablaze in lights in a display worthy of Las Vegas, Carnegie Hall offered wintry fare of another sort: the musical power duo of mezzo-soprano Joyce DiDonato and Yannick Nézet-Séguin performing Schubert's Winterreise on the third Sunday in December.
DiDonato and Nézet-Séguin, along with conductor Sir John Eliot Gardiner and singer-songwriter Angélique Kidjo, are curating Carnegie Hall's Perspective series for the 2019-20 season. Now in its twenty-first season, the series is an artistic initiative in which musicians are invited to explore their musical individuality and create their own personal concert series through collaborations with other musicians and ensembles. DiDonato is one of the few artists to be invited to return for a second time.
The twenty-four poems by Wilhelm Müller that Schubert set to music in Winterreise depict the wanderings of a solitary man who has become unhinged after being jilted by a woman. His obsession with her gives way to expressions of absolute despair and, ultimately, resignation, which are mirrored in the piano part. There are few references to the young woman in the poems, and the tale, or rather the impact that this episode had on the male protagonist, is told solely from his point of view.
In the concert program, DiDonato wrote that Nézet-Séguin proposed the idea of performing Schubert's song cycle, but that she come up with the concept. Rather than submerging herself in the psyche of the tormented man on his solitary journey, she chose to perform the songs as excepts from journals that he sent to the woman. Her inspiration was the Letter Aria from Massenet's opera Werther, based upon The Sorrows of Young Werther by Goethe.
In Goethe's novel, the young man's story of a passionate and doomed infatuation for Charlotte, first betrothed and later married to Alfred, is revealed in a series of letters he wrote to a friend. A heart-wrenching scene in Massenet's opera finds Charlotte rereading Werther's letters on Christmas Eve, shortly before his despair will drive him to commit suicide. DiDonato has performed the role of Charlotte at the Royal Opera in London, and she will appear in it later this season at the Metropolitan Opera with Nézet-Séguin conducting.
With a desk, chair and lamp as her set, DiDonato proceeded to sing, sometimes seated and at other times standing. She brought all of her formidable dramatic skills to bear on creating a character who was at times fascinated and at others horrified by what she was reading. Lacking was the textural clarity or nuance that one would expect in a more conventional performance, but DiDonato gave an impassioned reading of the songs, infused with a fascinating palette of vocal colorings. Her perspective was more that of an opera star than a Lieder singer.
There was little of Nézet-Séguin's larger-than-life-persona and megawatt charisma on display as he accompanied DiDonato. Nézet-Séguin does not appear often as a pianist, and while there was nothing tentative about his playing, there was a certain reticence in his demeanor. His personal insights into the music and the drama were imparted solely through deliberate tempos, colorings and exquisite phrasings of the deceptively simple, often strophic, piano parts. His perspective on Winterreise was quite conventional, but his vivid playing of Schubert's accompaniments perfectly captured their emotional impact.
Perhaps because Schubert's depiction of loneliness and despair in Winterreise are so immediate and compelling, it seems to invite directors and singers to stage it. As eagerly as I anticipated baritone Matthias Goerne and pianist Markus Hinterhäuser's performance of the cycle a few years back, William Kentridge's staging and film footage were for me a distraction that undercut the superb performance of the musicians. I had much the same reaction to DiDonato's concept and yearned to experience her submerging herself into the world that Schubert created in these songs rather than having it imparted through the person of another character. If any work is strong enough to stand on its own, Schubert's Winterreise is it.
Elena Gerhardt, one of the twentieth century's great Lieder singers, said of Winterreise, 'You have to be haunted by this cycle to be able to sing it'. DiDonato was weeping after she sang the final notes of 'Der Leiermann', which concludes the cycle, and many in the audience were profoundly moved by her performance. Any foray into the world of song that prompts such a response is to be lauded, and I can only express gratitude that her personal perspective on Winterreise resounded so deeply with so many.
Rick Perdian