France Lully, Isis (1676, concert performance): Soloists, Namur Chamber Choir, Les Talens Lyriques / Christophe Rousset (conductor). Opéra Royal, Château de Versailles, Versailles, France 10.12.2019. (CC)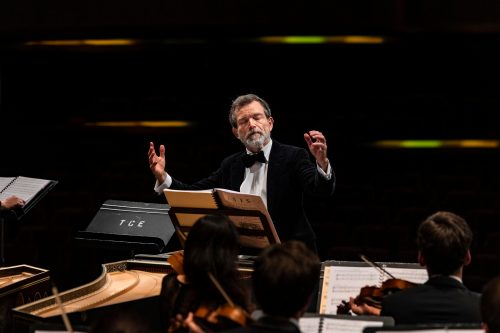 Cast:
Isis, Io, Thalie – Eve-Maud Hubeaux
La Renommée, Melpomène, Mycéne, Junon – Bénédicte Tauran
Calliope, Iris, Syrinx, Hébé – Ambroisine Bré
Apollon, Pirante, la Furie – Robert Getchell
Mercure – Fabien Hyon
Jupiter, Pan – Edwin Crosslet-Mercer
Argus, Neptune – Philippe Estèphe
Hiérax – Aimery Lefèvre
Nymphes – Julie Calbete, Barbara Ménier
Christophe Rousset and Les Talens Lyriques recorded Lully's 'tragédie de musique' Isis in Beaune in July this tear; the result was released on November 15 on the Aparté label in a limited, numbered run. This is the eighth Lully opera recorded by Les Talens Lyriques and the Versailles concert performance was one of three (the others being Paris's Théâtre des Champs-Élysées earlier this month and, a little bit further on, Vienna's Theater an der Wien on 22 February 2020.)
Lully's Isis was premiered at the Royal Court in Saint-Germain-en-Laye in January 1677 (and this predated the Opéra at Versailles). The nymph Io is the object of Jupiter's affections (memories resurface of Legrenzi's Il divisione del mondo, at Strasbourg, which included a philandering Jupiter,). Jupiter's wife, Juno, is understandably incensed; she imprisons and tortures Io, who begs Jupiter for death. When Jupiter swears fidelity to Juno, Io is raised to the ranks of the Immortals under the new name of Isis. Nymphs, shepherds and satyrs pepper the scenes. All this unfolds over five acts split into two parts of 1 hour 25 and 1 hour 15: a long evening, but one that flew by under the inspired leadership of Christophe Rousset.
Rousset's orchestra, Les Talens Lyriques, deserves first mention thanks to the sheer accuracy and cleanliness of delivery throughout. Each turn of phrase is impeccably coiffured and stylish, and yet, thanks to the combination of Lully's music, Philippe Quinault's libretto and Rousset's direction, there is a definite trajectory from first to last. At the time, Quinault's libretto alluded to the love affairs of Louis XIV (who is portrayed by Jupiter). It was a risky strategy that hardly paid off, as Quinault was expelled from court. Lully's score is split into a multiplicity of numbers, which cohere to make one infinitely memorable whole.
Rousset directed the piece with the utmost confidence, giving the music all the space it requires. Although it is designated as a tragedy, there are many lighter moments. Lully seems to celebrate the cleverness of this structure, and Rousset's players appeared to revel in the changes. Dance movements in each act's divertissement were a dream. This was a concert performance, so no-one physically danced, but the leanness of texture and the spring of rhythms was absolutely infectious. Recitatives were sensitively accompanied, sometimes by lute only. The rich string sound (one line of violins, three of violas) carried a particular sense of poignancy. The recorders of the 'Pleinte de Pan', the (perhaps first) use of bagpipes, all add to the colour. Rousset took the score as a starting point at various points, introducing percussion effects in the spirit of the situation.
The Namur Choir is a known, excellent, quantity, but how they relished the 'shivering' chorus in the fourth act, and how effectively realised was the use of echo by splitting the chorus into two. How exciting also was the hunting chorus in the third act with its hunting horns and its challenging vocal runs. Indeed, there were some other striking effects, not least a metal thunder sheet that perhaps needed a warning for the audience.
The grandeur of the Prologue was exemplified in the opening chorus with trumpets and drums, 'Publions en tous lieux'; in contrast, moments of intense expression result from Lully's paring down to the bare minimum.
The titular role was taken by Eve-Maud Hubeaux, a soprano of spectacular vocal purity and also the cleanest of vocal trills. She was matched by the superb bass-baritone of Edwin Crossley-Mercer's Jupiter and the incredibly imposing voice and presence of the Junon, soprano Bénédicte Tauran. Edwin Crossley-Mercer also took the role of Pan: that lament mentioned earlier in conjunction with the use of low recorders to emphasise the music's lachrymose aspect was a moment of heart-stopping beauty, Crossley-Mercer infinitely eloquent over the chromatically-descending bass ('Hélas! Quel bruit!').
The strong Hiérax was the superb baritone Aimery Lefèvre, and in terms of purity of voice, it was Ambroisine Bré who, as Calliope, Iris, Syrinx and Hébé gave Hubeaux a run for her money  – here is a singer ready for the limelight of a titular role (she has previously sang Thétis/Diane/Nymphe de la Marbe in Gluck's Alceste for Rousset at Beaune and Versailles).
Most of the singers in this performance are in the recording. However, the character of Apollon (who also sings several other roles) was taken here by the tenor Robert Getchell instead of Cyril Auvity on the disc. Getchell exuded confidence. The deliciously light tenor of Fabien Hyon illuminated the role of Mercure, while the young baritone Philippe Estèphe excelled as Argus and Neptune.
A duet for two Nymphs seemed to sum up the sweet gentilité of the core of this music; Julie Calbete, Barbara Ménier were superbly matched. This is an opera chock-full of 'highlights', the inspiration never flagging. To have experienced this performance was both a pleasure and a privilege; and if you can hear the Aparté discs, do (that recording is also available on Spotify).
Opera at Versailles in 2020 holds many delights, including Leclair's Scylla et Glaucus, Rameau's Platée (both staged) and Monteverdi's Orfeo, Rameau's Les Borèades, Locke's Psyché, Destouches's Sémeramis and Desmarest's Circé, all in concert performance.
Colin Clarke