United Kingdom Sophya Polevaya, Elgar, Bartók: Alisa Weilerstein (cello), London Symphony Chorus, London Symphony Orchestra / François-Xavier Roth (conductor). Barbican Hall, 19.12.2019. (AK)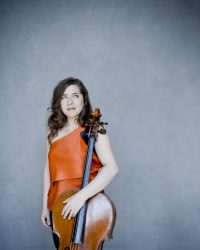 Sophya Polevaya – Spellbound Tableaux (2019, world premiere)
Elgar – Cello Concerto in E minor, Op.85
Bartók – The Miraculous Mandarin, Op.19 – Ballet
The concert opened with the world premiere of Spellbound Tableaux by British composer Sophya Polevaya. Commissioned by the LSO's Panufnik Composers Scheme, the five-movement composition has been inspired by Spellbound, the famed film of 1945 by Alfred Hitchcock. Jo Kirkbride tells us in the programme notes that 'the five intense scenes of Spellbound Tableaux capture Hitchcock's drama from several, seemingly disparate angles'.
Without such information and the actual title, I for one would have not associated the composition with the Hitchcock movie. And even with detailed explanations by Jo Kirkbride, as well as, with the interview with the composer in the programme notes, I do not necessarily hear Hitchcock in the music. I am afraid I am not persuaded about the connection between the film and Polevaya's score.
Polevaya's sound-scape is interesting, starting with an eerie image (of Lovers' Knot) with flageolet string notes and bells in the first tableau. Whether owing to compositional directions or practical reasons, the LSO used reduced strings but, nevertheless, also wind, brass, harp, two very busy percussionists and a busy celeste player. The second tableau (Hitchcock's Cameo: A Recitative) focused extensively on the solo violin part but contained also important contributions from the percussionists. In the fifth tableau (Memento Mori) a shorter but crucial trumpet solo carried the narrative. With excellent orchestral and solo playing all round and obvious commitment by conductor François-Xavier Roth, Polevaya's score had the best possible world premiere.
Elgar's Cello Concerto uses large symphonic forces (a pair of flutes, oboes, clarinets, bassoons, trumpets as well as four horns, three trombones, timpani and strings) but the solo cello line preserves its transparency. Alisa Weilerstein clearly understands and loves the score and is fully dedicated to it. Hers is a more introvert approach than that of many of other celebrated cellists. There is no self-indulgence in Weilerstein's interpretation; her concept and delivery are expressive, dreamy, tasteful and poetic.
In the third movement Elgar reduces the orchestral forces to two clarinets, two bassoons two horns and strings. Apart from a single fortissimo outburst, the movement is marked molto espressivo with dynamics of piano and pianissimo. Weilerstein was fully at home and deeply moving in this dark Adagio section. Her command of virtuosity, particularly essential for the second and fourth movements, also serves the concerto well. Her delivery in the extended semiquaver and semi-triplet passages was breath-taking.
Weilerstein does not superimpose on her instrument which she lets to speak for itself. Thus the solo cello's fortissimo sections – for instance at the opening of the first movement and then soon thereafter – were not as loud as conventionally performed. Elgar's numerous tempo changes suited Weilerstein's dreamy approach well but it seemed to have caught conductor and orchestra by a fraction of a split-second short at a few places.
Weilerstein self-effacing dedication to the emotions of Elgar's score produced a deeply moving performance. However, her pitch-world caused some discomfort to my pair of ears.
Without doubt, conductor François-Xavier Roth knows and treasures every single note of Bartók's The Miraculous Mandarin. Under his guidance, the LSO's delivery of the score was truly miraculous. Bartók prepared two versions simultaneously; both appear in the published score. (For those interested: the concert suite, containing about two thirds of the music, concludes on p.215. The full ballet version jumps from p.209 to p.216 and concludes on p.327.) Roth and the LSO treated us to the full ballet version, which therefore included the fifteen-bar choral contribution of wordless sighs (singing O-o to intervals of thirds, fourths and finally to long-held chords) to illustrate the Mandarin's struggle for life until he can finally hold the Girl in his arms.
The orchestral forces are very large: three flutes, three oboes, three clarinets, bass clarinet, three bassoons, four horns, three trumpets, three trombones, tuba, timpani, seven percussion instruments, xylophone, celeste, harp, piano, organ and five-part strings (plus the S-A-T-B choir). All solos – for instance the opening bass clarinet solo, then solos by oboe, clarinet – were exquisite; the cymbal 'solo' was powerful while the timpanist delivered amazing virtuosity, musicality, an impressive range of dynamics and rock-solid exactitude. Full credit to conductor Roth for his immense knowledge of the score and for his exciting but disciplined delivery: we were truly in Bartók's world. And full credit to the LSO for their magnificent performance, the memory of which I will treasure for long.
Agnes Kory