Spain Bellini, Il pirata: Teatro Real Chorus and Orchestra / Maurizio Benini (conductor), Teatro Real, Madrid, 3 & 4.12.2019. (JMI)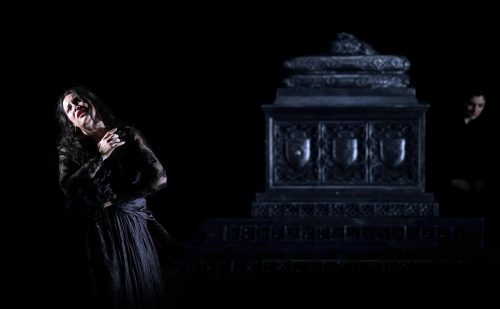 Production:
Director – Emilio Sagi
Sets – Daniel Bianco
Costumes – Pepa Ojanguren
Lighting – Albert Faura 
Casts:
Imogene – Sonya Yoncheva / Yolanda Auyanet
Gualtiero – Javier Camarena / Celso Albelo
Ernesto – George Petean / Simone Piazzola
Itulbo – Marin Yonchev
Goffredo – Felipe Bou
Adele – María Miró
While it features musical passages of great interest, Vincenzo Bellini's Il pirata is not in the basic opera repertoire, and the challenges presented for both soprano and tenor do not invite top singers to take it on. Only Maria Callas and Montserrat Caballé, among the most famous sopranos of the recent past, and the great tenor Franco Corelli dared to face such terrifying characters.
The opera has not often been performed in Spain. The most recent time was in A Coruña in September 2018, and before that at Barcelona's Liceu ​​where the main protagonists were Gregory Kunde and Mariella Devia. Then one must go back to Bilbao in 1993: an unfortunate performance, plagued with cancellations. As far as Madrid is concerned, this is the first time that Il pirata has been done at the Teatro Real, not only since its reopening in 1997 but throughout its history. It had been staged earlier in Madrid, but that was before Teatro Real was inaugurated in 1850.
This is a co-production of La Scala and Teatro Real which premiered in Milan in 2018. I reviewed it at the time, and found it very attractive (review click here).
Maurizio Benini offered a fairly flat reading in the first act, but it improved in the second part (I enjoyed the conducting more in Milan under Riccardo Frizza). Both the orchestra and chorus did well.
Two casts have been programmed in Madrid, and this was the second performance by the first cast. I had been told that the premiere was a tremendous success, but things did not go as smoothly on this occasion, although the last half hour was truly memorable.
The main protagonist, Imogene, was sung by Sonia Yoncheva; she also played the role at the La Scala premiere. She was totally convincing, as she had been in Milan, and shone in her great mad scene which ends the opera, where she perfectly transmitted emotion to the audience. Yoncheva is a lyric soprano with a dark timbre in the middle and thus is able to handle more challenging parts. There are not many sopranos who can succeed as Imogene, and she was superb.
The second Imogene was Yolanda Auyanet, who is a fine singer with a center well suited to the demands of the character, although her voice is somewhat light for my taste. Her biggest problem lies in the top notes which are invariably sung in forte and border on scream every time.
This was the debut of the excellent tenor Javier Camarena in the part of Gualtiero. He proved that his voice fits the role perfectly, singing expressively with that beautiful voice. He was not at his best in Act I but was splendid in the Act II duet with Imogene and in his great final scene, where he was outstanding.
Gualtiero was played in the other cast by Celso Albelo, and there is a kind of superficiality in his interpretation. His highest notes are easy, but there are always open sounds and, on more than one occasion, dubious tuning.
The third significant character in the opera is Ernesto, Imogene's husband, although his importance falls below that of the previous two. In the first cast, George Petean was correct but without any special brightness, while Simone Piazzola in the second cast was rather modest, especially in terms of volume.
Among the secondary characters, soprano María Miró was good in the part of Adele.
Teatro Real has dedicated the opera to the memory of Montserrat Caballé.
José M. Irurzun