Argentina Offenbach, Les contes d'Hoffmann: Soloists and Orchestra / Enrique Arturo Diemecke (conductor), Teatro Colón, Buenos Aires. 6.12.2019. (JSJ)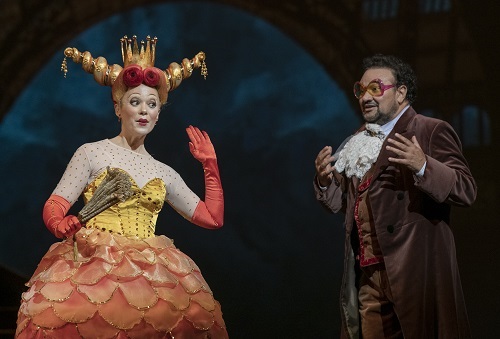 Production:
Direction/sets – Eugenio Zanetti
Lighting – Eli Sirlin
Costumes – Eugenio Zanetti and Sebastián Sabas
Chorus – Miguel Martínez
Cast:
Hoffmann – Ramón Vargas
Olympia – Rachel Gilmore
Antonia – Virginia Tola
Giulietta – Milijana Nikolic
Lindorf/Coppélius/Miracle/Dapertutto – Rubén Amoretti
Nicklausse – Sophie Koch
Frantz/Andrès/Cochenille/Pitticcinacchio – Osvaldo Peroni
Stella – Gabriela Ceaglio
Spalanzani – Omar Carrión
Crespel – Alejandro Spies
Nathanaël – Gabriel Renaud
Hermann – Ernesto Bauer
Schlemil – Emiliano Bulacios
Luther – Christian de Marco
Mother – María Luisa Merino Ronda
Offenbach's ever popular Tales of Hoffmann makes a good choice for an end of season work. With its fairy tale like association and lively music it has something for all ages and tastes and with the right production, as here, can come together to end on a high note.
That is not to say this production, lavish as it was with multimedia, many extras and even a 1920s car, was perfect. The portrayal of the work as a film with a bouncing cameraman at beginning and end and other key moments was simply a distraction for example, and the second act setting with a massive tree-lined mountain supposedly in the environs of Munich was somewhat fantastic. But otherwise the production, principals – a combination of visitors and locals – chorus and orchestra just 'gelled' in this last (first cast) performance of what was put on to mark the 200th anniversary of the composer's birth.
The cast was led by a sprightly Hoffmann in Ramón Vargas, who presented a solid characterisation, sound in voice and passionate in character. In contrast, French mezzo Sophie Koch was a reserved Nicklausse, arguably the perfect foil whether or not intended as such.
Of the three loves, American soprano Rachel Gilmore was the highlight as the mechanical Olympia and in contrast to the rather worn out wind up with a key in the back, this was done instead from a panel. Her mechanical movements too, so often exaggerated, were more subtly but still clearly demonstrated. Antonia, the delicate second love, was given a rounded performance from Virginia Tola while Milijana Nikolic was a seductive Giulietta.
Rubén Amoretti well played the four villains, Lindorf, Coppélius, Miracle and Dapertutto, injecting each with a different degree of cunning. Likewise, Osvaldo Peroni brought character to each of the four assistant roles, as did the those in the other minor roles.
Teatro Colón artistic and production director-general Enrique Arturo Diemecke was on the podium and while initially the music lacked some impetus this picked up during the evening.
The chorus was on good form and spirited in its various interventions, as also were the many participating extras.
All in all, a sparkling production to end a mixed year on a high note.
Jonathan Spencer Jones