Switzerland C.P.E. Bach, Mozart: Julia Fischer (violin), Nils Mönkemeyer (viola), Berliner Barock Solisten / Willi Zimmermann (concert master and first violinist). Tonhalle Maag, Zurich, 4.12.2019. (CCr)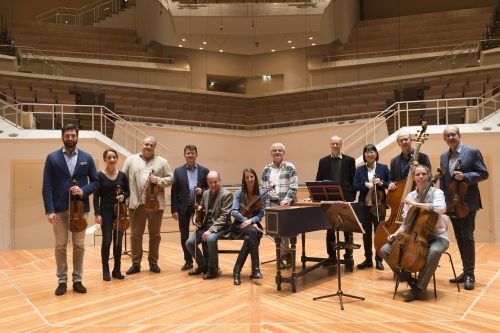 C.P.E. Bach – Symphony in E flat major, Wq.179 H.654; Cello Concerto in A minor, Wq.170 H.432 (transcribed for viola)
Mozart – Adagio and Fugue in C minor, K.546 for strings; Sinfonia Concertante for Violin, Viola and Orchestra, K.364
In this Beethoven year (250 years after his birth) and in a time when discussion of who's-who conductors seems even more fevered than usual, to be offered some conductor-less C.P.E. Bach from an air-tight ensemble is no small thing. For a medium-sized Zurich public this week, that ensemble was the Berliner Barock Solisten, a group that pulls many of its members from the Berliner Philharmoniker and that is only full of Solisten the way a world-cup winning football team is full of strikers – everyone plays their mechanical part, but bolts into bolder action when the right moment opens up.
Such gallant sound! Racy, broody arpeggiated themes were supported by punchy horns. Drastic, jittery first bars open to gambol, and the strings had a rainy shine as they scaled down. The A minor cello concerto, here in a viola rendition, afforded its soloist (Nils Mönkemeyer) such gritty digs into his strings that he becomes a percussionist. The gorgeously round middle register of his instrument tasted sweet for a moment before zip after thunderbolt zip. This is cosmopolitan music, dispatching with courtly sleepiness (the sappy-if-taut Andante notwithstanding) and embracing a new kind of opulence, a grace unafraid of storms, perpetually in a hurry.
Contrast this with Mozart's Adagio and Fugue in C minor, a musky, nine-minute work written when he was 32 and had long begun shedding some of the gallantry of his own style, here referring back to C.P.E. Bach's father in an attempt to see which elements of counterpoint sternness he could blend into his work. The unrelenting theme makes this a hard piece to balance, and paradoxically the ostinato playing of the celli was too modest. With jarringly little development, the theme's omnipresence makes for a pulsation that must be fully seized upon, lest the pallid contouring voices that are lurking about occupy too much of the centre. The ensemble practically wrestled it to an unexpected harmonic end.
The concert finished by circling back to gallantry but by staying with Mozart, with a work from nine years prior, his symphonic concert for viola and violin. Here as in the earlier C.P.E. Bach, concert master Willi Zimmermann stepped his fellow players through a mechanical tightness with the dynamics that was riveting given the context – contemporary instruments played by members of an elite orchestra and used towards early-classical lightness. All of the little rockets, rollers and other Mannheim school tricks were splendidly effected. And yet the work is notable for containing the first minor-key slow movement in Mozart's oeuvre. This Andante was played with a risky but gorgeous slowness. The excellent Julia Fischer switched from the dandified violin-viola courtship of the earlier movement to a most serene, almost inquisitive wistfulness. And a short Presto finale reminded us: triste Mozart would have to remain enjambed between coy and vigorous cheer until later on.
Casey Creel