United Kingdom Ravel, Chopin: Beatrice Rana (piano), Wigmore Hall, London, 1.12.2019. (JB)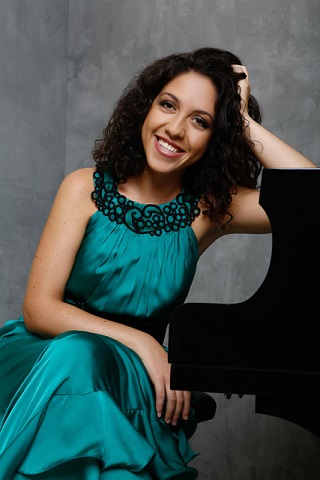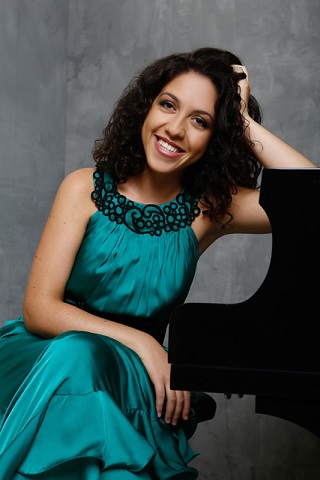 Ravel – Miroirs
Chopin – 12 Etudes, Op.25
It gladdens the heart when a young, unknown pianist causes us to hear something – in a supposedly familiar piece of music – which sounds as though we are hearing that music for the first time. Magic, pure and simple.
As magic must needs be if you stop to think about it. That happened to me in the summer of 2010 when Beatrice Rana was a participant in Eliso Virsaladze's Masterclass in the noble castle of Sermoneta – about an hour and a half's drive south of Rome. In 2012 I asked Eliso (she is the principal piano professor at the Moscow Conservatory) if that amazing young woman had signed up for that year's masterclass. She had replied Madame, but she won't be showing up. Last year she won the 2011 Montreal Prize which gave her a triumphant tour of North America and established her reputation there. 
Both Beatrice's parents are professional pianists and a younger sister is a professional cellist. I'm sure it must have all started in my mother's womb says Beatrice – not entirely joking. Her parents also secured lessons for her with Benedetto Lupo at the Monopoly Conservatory (the family are from the heel of Italy, Puglia in the south-east) – himself a fine, much admired pianist who had won bronze at the Van Cliburn Competition in 1989. Beatrice went on to win silver at the same competition in 2015.
This Sunday morning's Chopin Op.25 Etudes (Studies) were also her choice for her Carnegie Hall debut earlier this year. In 2018 she made an exclusive recording agreement with Warner Classics and was a Classic Brit's nominee for 'Best Female Artist of the Year' for her recording of Bach's Goldberg Variations. 
Has the world forgotten that the group of French composers led by Debussy and Ravel in the early years of the twentieth century, were once known as the Impressionists? Not so Beatrice Rana. She has steeped herself into exactly that. In French, Miroirs caries the English 'mirrors', as well as, 'reflections': there is a playfulness as well as some subtly placed obfuscation which has to sound as a newly discovered art form: Listen everybody, isn't the image, the shadow, the reflection of the original more real and more enticing than the original?
That is the Rana invitation. But once she has captured your ear – and she does that rather quickly – Rana also COMMANDS your attention. This may be the most subtle playing you ever heard but there are moments when it is the most powerfully commanding. The pianist is not just the gentlest nymph you ever encountered; she is also the most forceful goddess.
Some specific examples. Four of the five movements of Ravel's Miroirs are in minor keys: it is easier to ask questions in minor keys and to play on that intriguing paradox of hinting at a meaning while circumventing an actual question – all to get the audience on board without their realising they have been launched. And yes, that's a 'launched' which sometimes feels 'lynched'. I have never heard any other pianist that can do this. (Wittgenstein would have loved this play-out of avoiding answers in order to respond to them; Ravel wrote his Piano Concerto for the Left Hand for the philosopher's elder brother, Paul, who had lost his right hand in WWI.)
There are many moments where the right hand takes over musical hints from the left hand – and vice versa. Now this calls for magical timing. The pianist conducts herself in all this. In any other pianist this would be an affectation. In Ms Rana it is a masterstroke of creativity. There is a split second when the holding hand must descend to contact with the key. The music's life or death depends on this. Rana gets a life-score every time. The audience now has her permission to breathe again.
Ravel belonged to a group of artists called Les Apaches – 'the hooligans' – almost as exclusive and snobbish as London's Bloomsbury Group, except the Frenchmen had more self-deprecation and hence, more fun. French composers can never go very far without trying to sound Spanish. And my favourite movement of the five is Alborada del gracioso – 'The Jester's Aubade'. This is one of the two most technically demanding movements. But Rana knows that it is the poetry of virtuosity that makes it speak. It sounds like child's play when she delivers these pages with almost impudent ease. It was hard not to laugh aloud.
Another musical surprise: the sound is often cushioned. Lots of subtle echo effects from the Steinway's third pedal. Her playfulness here proves perfect for the longest and most demanding of the five movements – 'A Boat on the Ocean' (F sharp minor) where the ocean's rippling currents are both terrifying and noble  – Ocean thou mighty monster, as an earlier composer said in another context.
Ravel later orchestrated these last two aforementioned movements. Other composers orchestrated the remaining three movements: Percy Grainger in particular had some fun with this.
Chopin wrote two sets of Studies – Opus 10 and Opus 25. The second group are arguably the more technically demanding as well as the more poetic. Chopin went to some pains to combine the technical with the poetic, and so does Beatrice Rana. For her, the more demanding the technique, the greater the poetry. Neither takes second place in the Rana performance. Pure magic again, as mentioned in my opening remark.
It is always interesting to see how much space a pianist gives between the twelve studies of Opus 25. Sometimes it is attaca from one study to the next, shocking by the abruptness. But mostly there is a perfectly judged silence, though the Rana silences are played and measured without sounding as though they are measured. Another unique accomplishment.
If you have read this far you will be as delighted as me with the news which Beatrice gave me following her recital. She is programmed to play at Wigmore Hall on Friday 7 February at 7.30, the Bach Italian Concerto, Schumann Sonata in F minor, Albéniz Iberia (Book 3) and Stravinsky (3 Movements from Petrushka).  Booking is already open. But hurry, the hall is small and the demand great.
Jack Buckley
For more about what is on at the Wigmore Hall click here.