Austria Mozart, Die Zauberflöte: Soloists, Vienna State Opera Chorus (chorus director: Martin Schebesta), Orchestra of the Vienna State Opera / James Conlon (conductor). Vienna State Opera, Vienna, 10.12.2019. (MB)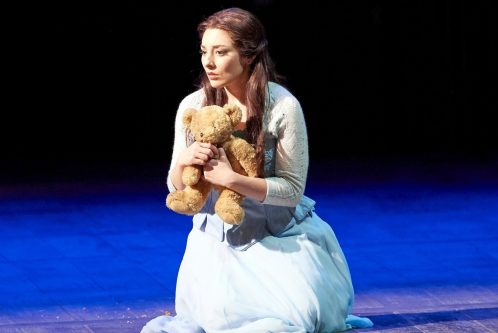 Production:
Directors – Moshe Leiser and Patrice Caurier
Set designs – Christian Fenouillat
Costumes – Agostino Cavalca
Lighting – Christophe Forey
Choreography – Beate Vollack
Cast:
Sarastro – Ain Anger
Tamino – Andreas Schager
Speaker, Second Priest – Adrian Eröd
First Priest – Peter Jelosits
Queen of the Night – Aleksandra Jovanović
Pamina – Andrea Carroll
Three Ladies – Fiona Jopson, Ulrike Helzel, Zoryana Kushpler
Papagena – Ileana Tonca
Papageno – Rafael Fingerlos
Monostatos – Benedikt Kobel
First Armoured Man – Herbert Lippert
Second Armoured Man – Ryan Speedo Green
Three Boys – Members of the Vienna Boys' Choir
Something new, Olga Neuwirth's Orlando, was followed by something old: that most Viennese of operas, Mozart's Magic Flute. It was premiered in 1791, not at a court theatre — today's State Opera today's equivalent — but at the suburban Freihaus-Theater auf der Wieden, which had opened in 1787 and had been under the management of Mozart's librettist, Emanuel Schikaneder, since 1789. Geographically, one should not make too much of that: the Wieden district is but a stone's throw away, today's Fourth District, incorporated in 1850. (It includes the Karlskirche, the Naschmarkt, and so on: landmarks many would think of as 'central'. Gluck lived there, as later would Brahms.) Nor should one necessarily overemphasise the 'popular' element: its repertoire was mixed, but it included plenty of Goethe and Schiller. Use of the vernacular was hardly unprecedented either: Joseph II's plan for a German National Theatre had given the world Die Entführung aus dem Serail, although that transformation of the Burgtheater came to an end shortly thereafter.
Nevertheless, the work's roots in popular theatre should not, cannot be denied any more than the opportunity afforded by relative freedom of genre: a synthesis of everything from Hanswurst to Bach and, incipiently, onwards to Beethoven. The genre of Singspiel permits that, but it is the element of musical magic, the fully achieved status of Zauberoper that extends beyond historical definition, binding together and sublimating the material both then and now. Successful performance and production need in some sense to further or at least to reflect that. Sadly, such a goal — hardly unreasonable — seems increasingly beyond the realms of possibility. Indeed, Mozart in general often seems to prosper better now at smaller theatres, often in conservatoire productions, rather than at the great houses and festivals of the world that for long did him proud. I wish I could account this evening an exception. Alas — and it saddens me greatly to say this — it often proved tedious, anything but a Zauberoper.
On the face of it, James Conlon's approach to the musical direction had much to be said for it. A reasonable sized orchestra — if hardly large, more's the pity — combined with judicious tempi and disinclination to follow 'period' fads augured well. How rare it is nowadays to hear 'Ach, ich fühl's' taken at something other than a breakneck tempo. Alas, there was barely a hint of magic, let alone of drama or enlightenment. The orchestra sounded cultivated enough, yet rarely committed, save for some truly euphonious — magical — wind playing. There were, moreover, quite a few false entries and disjunctures between pit and stage. Repertoire performances are or should be the lifeblood of a house such as Vienna: that does not mean, however little the time afforded for rehearsal, that they should descend to or below the level of the merely routine.
The cast fared better, though it was not a vintage evening on that score either. Andrea Carroll's sincere Pamina was probably the highlight for me: clean of line and winningly instrumental of tone, whilst equally at home with words and their implication. Rafael Fingerlos's Papageno also impressed, likewise as keenly communicative with words as with music and gesture. I was keen to hear Andreas Schager's Tamino. It is not every day, indeed barely any day, that one gets to hear a Heldentenor in this role, let alone the world's reigning Siegfried and Tristan. Alas, compared to, say, Siegfried Jerusalem — I think of Bernard Haitink's recording — this was a one-dimensional performance, largely lacking in variegation and verbal nuance; it was better heard in solo passages rather than ensembles, during which it could sometimes veer disconcertingly astray. Ain Anger's Sarastro was more consistent: intelligent and musical, if occasionally a little dry of tone. Aleksandra Jovanović's Queen of the Night did not quite scale the heights — literally, in her first aria — but nor did she really disappoint. One could not have asked for more from the three outstanding Vienna Boys' Choir soloists; their counterparts as Three Ladies also performed admirably.
As for Moshe Leiser and Patrice Caurier's production, it is difficult to know what to say. It barely seemed to be a production at all. There was the germ of something metatheatrical: what seemed to be a setting of a rehearsal room, the implication of a stage in front corresponding with the actual Vienna proscenium. That, however, was it. Moreover, the placing of action, such as it was, made a nonsense even of that germ of an idea. Otherwise, there was a melange of largely unattractive costumes, with the singers largely left to fend for themselves. Oh, and a Monastatos in blackface: yes, blackface, in 2019. Whatever reservations someone might have held concerning Neuwirth's Orlando, then, one realised all the more not only why it was necessary, but what laudable, magical effort had been expended on its advent. Something new, once again, would be welcome.
Mark Berry