United Kingdom Various composers, A Winter Birthday: Ailish Tynan (soprano), Anna Huntley (mezzo-soprano), Theodore Platt (baritone), Janet Suzman (readings), Graham Johnson (piano). Wigmore Hall, 21.12.2019. (AK)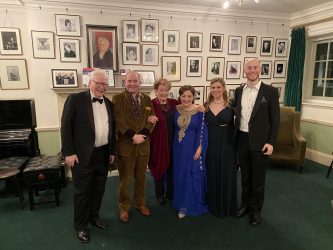 The Wigmore Hall, that is Graham Johnson's Songmakers' Almanac, provided an extraordinary event: entertaining, educational (whether intentionally or not) and, last but not least, at the highest artistic level. Furthermore, music and dramatic art were represented separately as well as in combination to perfection.
The programme consisted of twenty-one songs interspersed with readings by Janet Suzman. She recited a selection of fifteen dramatic excerpts, ranging from the Bible to modern-day writers. Suzman's readings provided appropriate links between the songs but her dramatic skills seemed to have influenced the staging as well as the theatrical aspects of the musical performances.
Although surely it was not intended as such but, nevertheless, in reality Suzman delivered a masterclass of how to downsize great dramatic art to a small hall and how to utilise a very small space to great effect. She had about four meters (or less) at her disposal: she either sat at her desk at the side of the stage or moved centre stage where she stood in front of the piano. All her movements – sitting down, standing up and moving across the stage – were carefully choreographed (or just stemmed from innate interpretative skills and considerable experience). The scale of Suzman's vocal delivery with varying dynamics, varying accents and crystal clear diction was a luxury to behold.
The attire of performers at a concert is not usually of any concern to me but on this occasion I noted with interest the attire of the ladies. Janet Suzman wore deep dark red, Ailish Tynan deep blue and Anna Huntley deep dark green. Their dresses were elegant and, with their contrasting colours, evoke the spirit of great many nativity paintings. Was this a coincidence or a deliberate nod to the Christmas spirit which was the focus of many songs and readings in the programme?
The innovative programme, presumably devised by Graham Johnson, was grouped in four sections (with a Prologue for the introduction) but the Christmas spirit was constant throughout. The twenty-one songs by nineteen composers were in groups titled as A Birth in Bethlehem, Christmas Giving, December's Children and Through the World Resounding. Composers from the 20th-century dominated; none of the customary Bach or Handel Christmas music was included.
The most unusual grouping was that of December's Children: the four composers in this group shared their birth-month and their probable misfortune of having their birthdays downgraded owing to their near proximity of Christmas. Thus Beethoven, César Franck, Zoltán Kodály and Noël Coward came to share a few minutes of their 'Winter Birthday'.
All twenty-one songs on the programme were composed for a solo voice and piano. However, the three excellent singers shared some of the songs. In Poulenc's hilarious 'Nous voulons une petite sœur' ('We want a little sister'), Anna Huntley sang the narrative while Ailish Tynan and Theodore Platt represented the large number of girls who wanted more sisters. The strophes in Hugo Wolf's 'Epiphanias' were distributed between the three singers, in reference to the three kings they represented. The Coward song 'Mrs Worthington' turned into a truly comic performance by Tynan's caricature of the daughter (or was she the ambitious mother?) and the very funny narration by Huntley and Platt. The final song, Humperdinck's 'Weinachten', started as Tynan's solo but all three singers sang together the last verse.
For me this concert was unique in that all three singers were spot on from every point of view: musicality, dramatic portrayal, humour, discipline, ensemble work and sheer beauty.
I have seen and heard soprano Ailish Tynan on various previous occasions and I don't recall any negative memories. However, this time she deeply impressed with her vocal and dramatic qualities which she blended into the common goal of the ensemble's artistic vision.
Mezzo-soprano Anna Huntley is also a name to watch, with considerable experience under her belt. Her self-effacing contribution to the beauty as well as to the joy of the evening's celebration was heartwarming.
Baritone Theodore Platt is the new kid on the block and what a newcomer he is. His voice and expressive qualities already combine into a winning combination; to these he adds stamina, courage (by standing his ground among more experienced performers) and linguistic flexibilities: he sang in several languages from memory, including Norwegian and Hungarian. I cannot be sure about his Norwegian accent but I can vouch for his Hungarian accent with undisputed authority.
Graham Johnson is the founder of his Songmaker's Almanac which appeared in a renewed formation at this concert. Johnson's exquisite musical direction, piano accompaniment and programme planning are of the highest artistic order. On this occasion he also displayed his dramatic skills: he delivered some of the readings and even shared one with Janet Suzman, the two of them creating a perfect ensemble.
Full credit is due to the Wigmore Hall for providing lighting which allowed visibility for reading the song texts as well as the feeling of communality between the stage and the auditorium. This was a true celebration of what is good, noble and deeply human.
Agnes Kory