United States Tchaikovsky, Eugene Onegin: Soloists and Chorus of the Seattle Opera, Seattle Symphony / Aleksandar Marković (conductor). Marion Oliver McCaw Hall, Seattle, Washington, 11.1.2020. (ZC)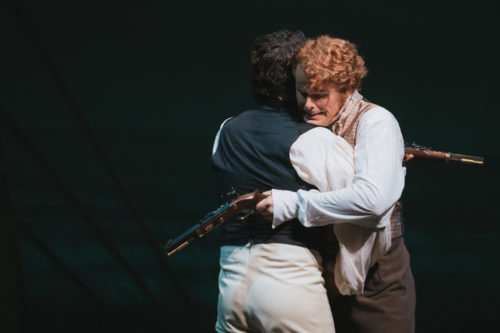 Production:
Stage director – Tomer Zvulun
Scenic designer – Erhard Rom
Costume designer – Isabella Bywater
Lighting designer – Robert Wierzel
Chorus master – John Keene
Cast:
Tatyana – Marjukka Tepponen
Olga – Melody Wilson
Madame Larina – Margaret Gawrysiak
Filipevna – Meredith Arwady
Eugene Onegin – John Moore
Lensky – Colin Ainsworth
Monsieur Triquet – Martin Bakari
Zaretsky/A Captain – Misha Myznikov
Prince Gremin – David Leigh
Tchaikovsky's struggles with love, marriage and his sexual orientation are widely known. Though gay, the composer married a woman. The marriage failed, leaving Tchaikovsky traumatized — from which the composer forged works of tangible, potent feelings. Few composers can imbue compositions with relatable sadness, amorous longing, hidden tragedy, or the myriad of other intense emotions at the forefront of his works, such as his most famous opera, Eugene Onegin.
Experiencing the Seattle Opera's current production, I was overcome with a feeling that we were witness to one of the composer's most personal, most authentic dramas. In Tatyana, Lensky, and even with Onegin we see Tchaikovsky at his most wounded. Tatyana is reserved, only to come undone when she meets the title character: suddenly, a woman who seemed incapable of love tumbles headlong into disappointment. Honor, naiveté, and jealousy sweep Lensky and Onegin into the fateful duel, though the two ignored plenty of opportunities that could have avoided Lensky's death and Onegin's self-imposed exile. Distant and dismissive, Onegin snuffs out Tatyana's love and Lensky's friendship, and when he realizes his mistake it is too late. Just like Tchaikovsky, each character wrestles with true feelings.
Onegin is filled with heart-on-sleeve moments, which play to Tchaikovsky's deft ability to turn emotions into perfectly expressive music. There is no better example than Tatyana's iconic letter scene. She pours out pent-up notions of love and devotion and aims them directly at Onegin — the object of her affection — through a letter she composes in the middle of the night.
Soprano Marjukka Tepponen brilliantly captured Tatyana's transformation. Through her powerful performance, you could hear Tatyana unburdening her emotions and falling in love, all while sensing that this ordeal would eventually end badly.
Another hallmark of Onegin is pervasive tragedy, felt at the close of each act. Happiness, when it comes, is thin and fleeting. None of the main characters is able to savor love or belonging. At the end of Act I, Onegin rejects Tatyana. At the close of Act II, Onegin shoots and kills Lensky in their ill-fated duel. And in Act III, it is Onegin's turn to be rejected, this time by Tatyana.
Arguably, Onegin is also a story of maleness gone wrong. I have always been drawn to the flaws personified by the two main characters. Lensky is passion run amok, while Onegin is coldness personified. Lensky also has an underlying naiveté, which is underscored by tenor Colin Ainsworth's passionate performance. He allows us to believe that Lensky cannot appreciate the consequences of his emotions. In the decisive Act II, Onegin flirts with Melody Wilson's cheery Olga — Lensky's betrothed — which stirs up Lensky's jealousy. Ainsworth skilfully steered his interpretation, making the ensuing duel feel like the tragic yet inevitable demise of a character who was driven too much by his heart, rather than his head.
Onegin, on the other hand, spends much of the opera deflecting or ignoring both his own feelings and those of the people around him. John Moore's Onegin is appropriately callous and indifferent in his dismissal of Tatyana's profession of love. He recklessly and thoughtlessly exploits Lensky's jealousy in Act II. Moore's Onegin only realizes what he has lost when it's too late — when Lensky lies dead. And in Act III, Onegin again meets Tatyana and sees the woman she has become as Prince Gremin's beloved wife. When it is Tatyana's turn to reject Onegin, Tepponen deftly infuses her refusal of his love with rekindled longing.
The production team helped in eloquently conveying this tragedy. Sets from the Lyric Opera of Kansas City were appropriately open and highbrow, but also downcast, grounding the work in a period aesthetic. Isabella Bywater's costumes, with their striking silhouettes, added welcome visual dimensions, while Robert Wierzel's lighting set the mood. And making his debut with the Seattle Opera, conductor Aleksandar Marković led a sharp reading of the score. If at times some heft was lacking, the crisp clarity came through in illuminating this all-too-human drama.
Zach Carstensen