United Kingdom Shor, Ter-Tatevosian, Bruch, Ravel: Maxim Vengerov (violin), Armenian State Symphony Orchestra / Sergey Smbatyan (conductor). Barbican Hall, London, 14.1.2020. (CC)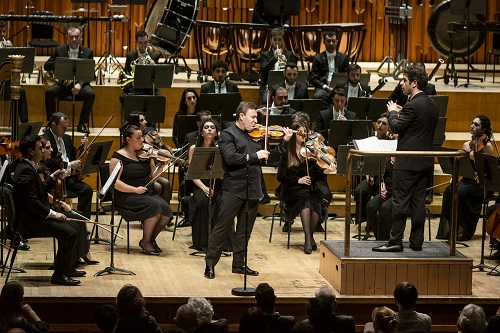 Shor – St. Elmo Barcarolle
Ter-Tatevosian – Symphony No.2, 'The Fate of a Man' (European premiere)
Bruch – Violin Concerto No.1 in G minor
Ravel – Tzigane
While on paper the pull here was clearly Maxim Vengerov, who starred in three of the four pieces (not to mention the encore), and the appeal of meeting the Armenian orchestra for the first time – this was is their Barbican debut – the real meat, and the true star of the show, was the Second Symphony by John Ter-Tatevosian (1926-1988).
Ter-Tatevosian (whose name also appears variously, thanks to the vagaries of transliteration, as Dzhon Ter-Tatevosyan, John Tadewosjan and Ter-T'adevosyan) had a powerful musical voice. His Second Symphony, 'The Fate of a Man', was written in 1959, inspired by the short story by Mikhail Sholokov (published 1956/7) that was also made into a film by Sergei Bondarchuk. Sholokov is perhaps best remembered for his epic novel Quiet Flows the Don; in The Fate of a Man, he explores the war experiences of a truck driver, Andrey Sokolov, in a German concentration camp. It's a grim tale in which, on returning from the front, he finds his wife and daughters have been killed. He returns to the front, but on the very last day of the war, his son is also killed. Later, he meets a little boy (Vanya) to whom he gives hope by adopting him.
Yerevan-born, John Ter-Tatevosian was an Armenian-Soviet composer and violinist; and indeed, there is are extended passages in his Second Symphony for solo violin, played here by the Armenian State Symphony Orchestra's leader, Erik Manukyan. This symphony is a complex score, so all credit to Sergey Smbatyan for conducting from memory. A five-minute Prologue begins with a whispered second violin melody that is eventually met by a second line – superb control here from the Armenian strings. Exposed, threadbare, the music takes its time to emerge from its chrysalis, silences implying a hesitancy that is banished by an aspirational melody on first violins that seeks to reach ever upwards. There is more than a tinge of local colour to the melodies in their intervallic make-up, particularly in the opening Prelude on oboe after the first climax of orchestral hammer blows. A Bartókian fugato (which put me in mind of that composer's Music for Strings, Percussion and Celesta) includes a manic passage for high woodwinds. There was terrific confidence to this performance, and perfect trust between orchestra and conductor. Discipline is a defining characteristic of the orchestra, particularly the strings. The third movement, an Andante cantabile, featuring a splendid bassoon as well as violin solos, contains Shostakovich-like shifts to the major within altogether more oppressive surroundings. The fourth section has the interesting indication Andante abandonamente juxtaposed with Furioso con colore e vigore, the latter a whirlwind of energy. The finale is a four-minute Epilogue launched by long, high violin lines, supremely together on this occasion – more of that discipline. Ter-Tatevosian's language is fascinating, sometimes revelling in long lines, sometimes creating direction through the manipulation of small cells. A prepared climax on a clear, loud consonance seems to be the end of the work; in fact, there follows a brief, quiet coda, ascending solo violin set against quietly pulsating wind chords. Unexpected and yet satisfying at the same time, it points perhaps to a mind that is individual and fascinating. Copies of the Armenian State SO's recording of this work, coupled with Azerbaijani-born Armenian composer Avet Tertarian's Third Symphony (again fascinating and notable for a percussion-obsessed opening) were available.
The entire concert will be available of the orchestra's YouTube channel later on this week, but in the meantime there are already performances of Ter-Tatevosian's symphonies and his dodecaphonic Second String Quartet up there to explore and enjoy.
So that's a long stretch without mentioning the name of Maxim Vengerov in this review, but the symphony – and the superb performance thereof – deserves the coverage. The evening opened with a performance of Alexey Shor's St Elmo Barcarolle (there is a YouTube video of a performance by him). Shor is the Armenian State SO's Composer-in-Residence. Born in Kiev in 1970, Shor left for Israel in 1991 and now spends most of his time in the USA. In 2018 he was awarded an honorary professorship at the Yerevan Komitas State Conservatory. He also holds a PhD in mathematics. His St Elmo Barcarolle is certainly easy on the ear, a harp opening leading to a long violin melody, effortlessly spun by Vengerov, whose upper register was particularly sweet and appealing. The work's title refers to Fort St Elmo in Malta, and indeed the theme came to the composer on a boat trip in Malta. The melancholic nature of the piece perhaps reflects the history of the fort, which was held siege in 1565, withstanding attack from the Turks for some 28 days. There was more Shor for the encore, too: his Elegy for violin and orchestra, similarly melodic and attractive, similarly beautifully played.
The post-interval works are much better known. First, Bruch's First Violin Concerto. It is worth noting, perhaps, that other works by Bruch are worth hearing and including in programmes, as Jack Liebeck's Hyperion recording proved, coupling the First Concerto with the extended Serenade in A minor, Op.75 (some ten minutes longer than the concerto) and the Romance in A minor, Op.42 (review). The Bruch First is central fodder to Vengerov, too; his 1993 Mendelssohn/Bruch coupling with the Leipzig Gewandhaus Orchestra and Masur is a well-loved and much-reissued classic. Here, Vengerov gave a fine performance. His lower register, those G string passages, have a core of steel, while the famous Adagio, while expressive, commendably moved forwards. The problem here was that the climactic brass peroration, arguably the emotional climax of the entire work, failed to make its cataclysmic effect. Plenty of energy, plenty of digging in from Vengerov, in the finale though.
The true strength of Vengerov's playing became apparent in Ravel's virtuoso Tzigane. Here, interestingly, it was the gossamer textures that truly made an effect, more than the overtly showy elements.
A fabulous evening. Founded some 14 years ago by Smbatyan, the Armenian State Symphony Orchestra is a fine ensemble with no weak sections, from brass through woodwind and onto percussion (including a fine pianist used in the symphony). The present concert is part of a major tour supported by the European Foundation for Support for Culture which had already taken in Munich (Gasteig), Salzburg (Großes Festspielhaus), Stuttgart (Beethoven-Saal, Liederhalle) and Berlin (Philharmonie) and goes on now to Vienna (Musikverein, January 17), Prague (Rudolfinum, January 19) and finally to Moscow (Zaryadye, January 21).
Colin Clarke