Germany Janáček, Jenůfa: Soloists, Chorus (chorus master: Jeremy Bines) and Orchestra of the Deutsche Oper Berlin / Donald Runnicles (conductor). Deutsche Oper Berlin, 17.1.2020. (MB)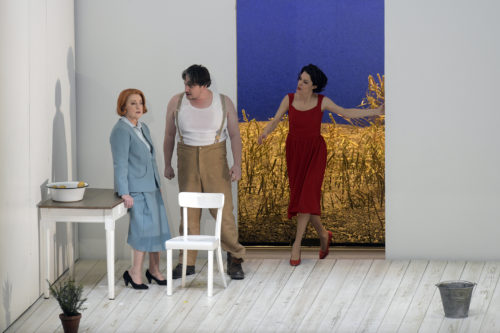 Production:
Director – Christof Loy
Set designs – Dirk Becker
Costumes – Judith Weihrauch
Lighting – Bernd Purkrabek
Spiellleitung – Eva-Maria Abelein
Choreographic assistance – Thomas Wilhelm
Dramaturgy – Christian Arseni
Cast:
Grandmother Buryja – Renate Behle
Kostelnička Buryja – Evelyn Herlitzius
Jenůfa – Rachel Harnisch
Laca Klemeň – Robert Watson
Števa Buryja – Ladislav Elgr
Foreman – Philipp Jekal
Mayor – Stephan Bronk
Jano – Meechet Marrero
Barena – Karis Tucker
Mayor's Wife – Nadine Secunde
Karolka – Jacquelyn Stucker
Shepherdess – Fionnuala McCarthy
If Jenůfa fails to move, something will have gone terribly wrong. That is not, however, to say that one should take for granted a performance as moving as this. It takes a good deal of musical work to present an opera with this degree of excellence. This, in short, was an evening that heard the Deutsche Oper at something close to its very best.
Guiding that excellent work throughout, whether on stage or in the pit, was the hand – perhaps better, were the hands – of Donald Runnicles. I have heard some distinguished conducting of this opera, from Bernard Haitink at Covent Garden (my first Jenůfa and, indeed, my first Janáček opera) to Jiří Bělohlávek in concert and, most recently, on the fateful night of 23 June 2016, Mark Wigglesworth for ENO. Each of those conductors brought something distinctive and valuable to the opera. Runnicles and his outstanding orchestra had nothing whatsoever to fear from comparisons. If I applaud his gifts of synthesis, that is not to say that the parts coming together to make their sum were insignificant: quite the contrary. An ear for detail, be it for specificity of timbre or rhythm, combination of instrumental and vocal line, the composer's singular method of motivic writing, and much else besides, was crucial here in capturing and holding not only the musical but also the dramatic attention. That coming together, however, was equally crucial. Not unlike Mozart – or Shakespeare, for that matter – Janáček does not judge. To be sure, we make our own judgements, yet the humanity informing the composer's mission involves understanding of why people do wrong, why they did not act otherwise. The conductor's task in communicating that is to balance detail and broader sweep, not unlike the composer himself does in his astonishing art. There was human wisdom here on both counts: aware, perhaps, of something beyond, something divine, yet knowing that the truths in which this drama would partake must also keep their distance. They have their roots in something specific, even folk-like, without ever being reducible to that. Once again, this seemed to be communicated instinctively, however great the preparation and skill in maintaining that fond, even dangerous illusion of the immediate.
In an instructive programme note, Runnicles spoke of Janáček following an aesthetic of Kargheit (which connotes both frugality and bleakness) when it comes to sonority, an aesthetic opposed by well-meaning, Straussian smoothing of the edges and rounding out by the conductor Karel Kovařovic for the first Prague performance. A comparison with Rimskified Mussorgsky is not, as Runnicles, suggests, so far from the mark (though I still think that deserves something, somewhere of a place). We no longer hear either as eccentric, let alone incompetent, and we are surely right to do so. But again, to hear the craft, the meaning, the art in such writing requires work: no music worthy of the name really plays or sings itself; nor, one might add, does it listen to itself. Orchestral musicians as much as the conductor, as much as the listener, need to respond to finely judged balances between fragment and melody, speech rhythm and musical rhythm, individual timbre and blend. They must also do so with a knife-edge appreciation of dramatic timing. That unforgettable xylophone solo here, a solo violin intervention there, the crucial difference between trombone (Janáček) and horn (Kovařovic) sonority, and so on: these were not only presented, but felt, believed in. There is no need to damn Kovařovic any more than there is Rimsky-Korsakov. They did what they did; it spoke to many. One could truly feel, however, that Janáček spoke on this occasion – and that one thereby felt the cruelty, the bleakness, and yet ultimately the humanity and redemption too that this opera requires us to feel.
That also requires the small matter of excellent singing and acting – and of excellent collaboration. Here again, I had no reservations. Rachel Harnisch led us surely down a tragic yet sorrowfully redemptive path with a Jenůfa whose initial youthful spirits rendered the inhumanity of her subsequent, consequent tribulations all the more harrowing. I cannot imagine any human being having failed to root for her. Robert Watson and Ladislav Elgr faced off splendidly as Laca and Števa, the former wounded and wounding, increasingly noble of spirit, the latter's cocky allure – seemingly the whole village, not only its girls, under its spell – undermined by a weakness of spirit that is always difficult to convey through song. (In a sense, it is the Don Ottavio problem, here skilfully surmounted.) Not the whole village, of course, for that would be to reckon without the Kostelnička – and without Evelyn Herlitzius's Kostelnička. If I say it was a typically astonishing performance, I do not mean to undermine its specificity. Herlitzius is one of those singing actors who somehow both remains quite herself and assumes, even transforms the character of the role she is playing. Initially hard, increasingly wild, always with good in her heart: one could hardly bear to look her in the face, or the aural equivalent, yet equally knew that one must. This was spellbinding artistry, in the truest sense. Yet wherever one looked and listened, there was necessary artistry, as much a crucial part of the musicodramatic synthesis: Renate Behle's Grandmother, wiser than her carefully prepared surface let on, in knowing that principle may also lie in surviving, in not succumbing to tragedy; Nadine Secunde's properly ghastly Mayor's Wife; Philipp Jekal's Foreman, wanting initially to be Števa, yet perhaps suggesting that all was not quite as it should be: these characters and more made Janáček's community and thus drama what they were. So too, of course, did the excellent Deutsche Oper Chorus.
I have left Christof Loy's production until last because it seemed – and this is not always a claim I should make for that director's work – more a framework in which the work and its performance could unfold than an interpretation. Aside from the conceit of having the imprisoned Kostelnička look back at the story that had led her to where she now found herself, there was not so much to report. Occasional dramatic pauses made their point too, having us collect our thoughts – and our emotions. I have seen more interventionist and, perhaps, more telling stagings; it is fair to say, for instance, that I learned more from and was challenged more by David Alden at the Coliseum. But that did not seem to be the point on this occasion. If a staging permitted, even gently led me to be moved by the drama that unfolded, then it may also be accounted successful.
Mark Berry