United Kingdom Various composers – Twilight People: Andreas Scholl (countertenor), Tamar Halperin (piano). Wigmore Hall, 24.1.2020. (AK)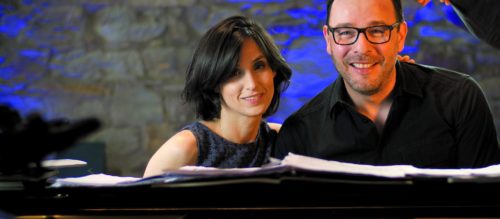 Berg – 'Wo der Goldregen steht'; 'Abschied'; 'Vielgeliebte schöne Frau'; 'Ferne Lieder'
Brahms –  'In stiller Nacht'
Britten – 'The Ash Grove'; 'Greensleeves'; 'The Salley Gardens'
Cage – 'Soliloquy'; 'Jazz Study'; 'In a Landscape'
Copland – 'The Little Horses'; 'At the river'; 'I Bought me a Cat'
Ari Frankel – 'The Rest'
Pärt – 'Es sang vor langen Jahren'; 'Vater unser'
Joseph Tawadros – 'Beauty is Life'
Vaughan Williams – 'In the Spring'; 'Silent Noon'; 'The Twilight People'; 'Tired'
Countertenor Andreas Scholl filled the Wigmore Hall to capacity and deservedly so. Accompanied by his pianist wife Tamar Halperin, Scholl did not disappoint and gave us his unbeatable best several times during the concert. Scholl's velvety countertenor voice, his musicality and sheer stamina showed why he has deserved to be on the top of the profession for so long.
The programme, titled as Twilight People, consisted of folksong arrangements, art songs inspired by folksongs, early songs by Berg, piano pieces by John Cage and compositions by contemporary composers. I am puzzled about the reference to twilight people as the bulk of the composers represented at this concert could hardly be regarded as such. The Berg songs may be little known, thus they may be in the twilight zone, but Berg was still a teenager at the time of writing these songs and later clearly specified that these songs should not be published. (The songs were, nevertheless, published in 1985 under the title Jugendlieder.)
The order of the programme also inspired speculation as to why the compositions were grouped as they were: one could come up with various explanations, none of which might be the correct answer. This is the order of the composers performed in the programme: Ari Frankel, Copland, Vaughan Williams, Berg, Vaughan Williams, John Cage, Copland, John Cage, Britten, Joseph Tawadros – interval – Arvo Pärt, Britten, Berg, Vaughan Williams, John Cage, Britten, John Tawadros. (In the event, the final planned song – 'A Truth', text by Khalil Gibran and music by Tawadros, was replaced by Brahms's 'In Stiller Nacht'.)
Listing the order of the nineteen songs may still leave puzzlement: for instance, one of Berg's early songs from 1901-04 was performed in the first half of the concert but three more songs from the same period followed in the second half. The three John Cage solo piano pieces were most probably intended to give the singer a bit of a vocal rest but there might have been other considerations at play.
One intention in the programming seemed clear to me – and even there I may be wrong – and this was the aim to combine art from the West and the Middle East. Thus Israeli-born composer Ari Frankel and Egyptian-born composer Joseph Tawadros provided the actual frame to the other composers. Furthermore, the texts to which Tawadros composed his songs were written by the famed Lebenese author Khalil Gibran. The first encore, 'Al Na Telech' ('Please don't go'), was a combination of Bach and the Israeli composer Shlomo Gronich: the latter added a pleasing vocal line to Bach's C major Prelude.
Most of the pieces followed each other without any break. It was good to have continuity between pieces as opposed to an enthusiastic applause after each short song. Sometimes it made even musical sense to keep continuity. For instance, the opening Ari Frankel song with its minimalism served as a good introduction to Copland's 'The little horses' and it was good to have Copland's 'At the river' immediately afterwards without any break. However, I am not so sure about creating one uninterrupted section from Vaughan Williams's 'In the Spring', Berg's 'Wo der Goldregen steht' ( Where the Laburnum grows') and Vaughan Williams's 'Silent noon'. Such uninterrupted sections were at play throughout not only between songs by the same composer but also between Britten and Berg, Britten and Tawadros, Britten and Brahms, and so on. Unifying the pieces made, arguably, for satisfying continuity but if one did not have programme notes (or if one did not know the songs), confusion between composers and songs could have occurred.
Tamar Halperin is an excellent pianist. Her performances of the three Cage piano pieces ('Soliloquy', 'Jazz Study' and 'In a landscape') demonstrated full focus to all details, technique, stamina and passion. Her playing was much appreciated and thus much applauded. She gave exemplary musical support as an accompanist to all songs.
Not all songs succeeded equally well. Copland's 'I bought me a cat' was hilarious and we all burst into a big applause (regardless whether or not there was meant to be immediate continuation into a Cage piano piece). Britten's 'The Ash Grove' concluded with a hushed pianissimo vocal line, leading into a mesmerising performance of Tawadros's 'Beauty is life': some sections required vocalising without words, Scholl delivered beautifully.
Scholl (as baritone singer) was also excellent in Berg's 'Abschied' ('Farewell'), again with spontaneous audience applause preventing an immediate continuation into another Berg song.
I am speculating that Scholl did not know all songs equally well; he sang mostly from music, with the exception of the last two songs (Britten's 'The Salley Gardens' and Brahms's 'In stiller Nacht') and the two encores. After the Brahms, a lady sitting next to me turned to me and said 'this was very beautiful': she was right, we shared utmost beauty.
The encores Bach Prelude (with added vocal line by Gronich) and the folksong 'O Waly, waly' ('The water is wide') gave us what is great in Scholl's art. Both him and his pianist wife Halperin performed from memory in absolute harmony; they performed to each other just as much as to the audience. Most probably Halperin was improvising to this English folksong; their performance sounded caring but spontaneous.
The four-year old daughter of Halperin and Scholl attended the concert; she was in the audience throughout. Stamina runs in the family.
Agnes Kory