Germany Mozart and Beethoven: Elena Stikhina (soprano), Marina Prudenskaya (mezzo-soprano), Andreas Schager (tenor), René Pape (bass), Staatsopernchor Berlin (chorus director: Martin Wright), Staatskapelle Berlin / Daniel Barenboim (piano & conductor). Staatsoper Unter den Linden, Berlin, 31.12.2019. (MB)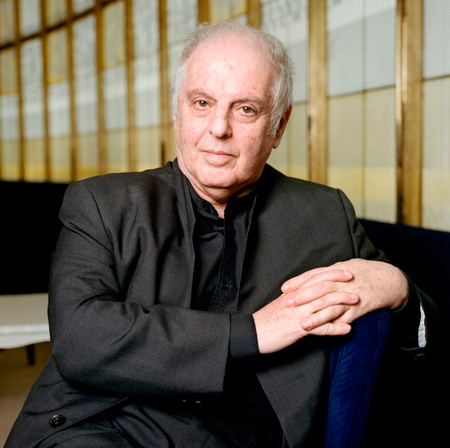 Mozart – Piano Concerto No.20 in D minor KV466
Beethoven – Symphony No.9 in D minor Op.125
It is difficult to imagine many people missing 2019, save for any comparisons drawn with 2020. Such is the basis on which many of us have been operating since 2016. Alas, civilisation's relentless downward slide, at least in the Anglosphere, still shows no sign whatsoever of being arrested; quite the contrary. We have music, though, and we have Beethoven in particular. Moreover, not only will 2020 be his anniversary year, it will be that of the Staatskapelle Berlin, celebrating its 450th anniversary. The orchestra's traditional New Year performances of Beethoven's Ninth Symphony thus seemed more than usually apt — and, dare I say, more than usually welcome too. On coming to the stage, Daniel Barenboim paid tribute to the recently departed souls of Peter Schreier and Harry Kupfer, to whose memory this New Year's Eve concert was dedicated.
Mozart's Piano Concerto in B-flat major, KV 450, had originally been advertised to precede the symphony. It would have had splendid numerical resonance and would surely have disappointed no one, but the D minor Concerto, KV 466, another journey from D minor to major, arguably made better sense still. The sound and spirit of the Staatskapelle Berlin, dark and cultivated in equal measure, spoke unmistakeably of tragedy, perhaps of anger and loss too. Balance, though, proved equally important, both in this first movement and throughout — as within the orchestra and between orchestra and piano. Versicle and response; chamber and orchestral music; Beethoven and beyond: such apparent oppositions turned out to be complementary, collaborative. Mozartian perfection ultimately brooks no dissent. Phrasing was exquisite in the best sense: quite without self-regard, presenting this extraordinarily developmental music 'as it is'. Beethoven's cadenza proved just the thing for this performance. What knowledge, experience, and drama Barenboim poured into it, without sacrifice to essential simplicity.
The slow movement opened in tones of balm, consolation, even forgiveness: unfathomably deep, without apparent effort. An unfortunate memory lapse at the onset of the G minor episode, Barenboim apparently lost in reverie, was recovered from, serving perhaps as a reminder that we are all human. At any rate, the finale opened as urgently as ever I have heard it, perhaps more so. On a knife-edge, frankly terrifying, this was music that spoke less of Figaro's forgiveness than of Don Giovanni's defiance and retribution. It was also, ultimately, as richly comedic — in the proper sense. Given another strange disjuncture between piano and orchestra, it was difficult to escape the conclusion that the preceding movement's mishap had continued to distress Barenboim as soloist. The cadenza's intensity, however, sounded all the greater for it.
The Ninth Symphony likewise opened in vehement, tragic mode, albeit more elemental. Motivic and harmonic insistence seemed both to do battle with motivic and harmonic development and to depend on each other: just as it should be. The suspended strangeness of the opening to the first movement development was little short of astounding, similarly the rawness of return. Tension held, indeed increased, to the end of the movement likewise had to be heard to be believed. Violas took us down to Hades; woodwind suggested an alternative, rendering Beethoven's final tragedy all the more awesome. A scherzo both ghostly and raucous, inexorable yet never unyielding, found contrast and complement in a haunted trio that tried to console yet knew it was too early. Incarnation and communion characterised the slow movement; mystery, the sweetest of mysteries, came down to and dwelled among us. Unfolding with all the time in the world, it seemed already to embrace those millions of whom we should hear more later. It flowed like the mightiest yet also the gentlest of rivers, its source still discernible in Haydn, yet leading us down to the metaphysical sea.
The urgency of Beethoven's search for the human voice seemed to recall the urgency of the opening of Mozart's finale. Horrors and hopes of the past year(s) flashed before us. The advent of the theme proved almost too much to take; Beethoven and these wonderful musicians offered succour. This was everything, or so it seemed. René Pape's cry of 'O Freunde, nicht diese Töne!', free yet perfectly judged, might have had one wish 'if only…'. For now, at least, though, one could and must believe. Impetus and line: these and more were in Barenboim's gift and were readily, hungrily received. There was something almost Mahlerian to the apparition of Heaven before us. There was no question, moreover, with these soloists and this choir of failing to hear the words and feel their meaning. Andreas Schager's proud delivery in the Turkish March was followed by a string-based battle royal, both human and divine. Trombones both rich and tender on 'Seid umschlungen' sounded, rightly, archaic, of then, of now, and perhaps also of a hope for a future. The company not only of heaven but of Europe and all humanity could resound and did. However fleetingly, alle Menschen wurden Brüder.
Mark Berry