United Kingdom English National Ballet's 70th Anniversary Gala Celebration: Dancers of English National Ballet, English National Ballet School and ENBYouthCo, English National Ballet Philharmonic / Gavin Sutherland (conductor). London Coliseum, 17.1.2020 (JPr)
Farruca (Three-Cornered Hat) performed by Sergio Bernal
Dust (choreographed by Akram Khan) Erina Takahashi, Fabian Reimair & Company
Swansong (Christopher Bruce) Jeffrey Cirio, James Streeter & Matthew Astley
…Of What's to Come (Richard Bermange) ENBYouthCo
Apollo (George Balanchine) Francesco Gabriele Frola
Romeo & Juliet (Rudolf Nureyev) Alison McWhinney (Juliet), Skyler Martin (Paris), Daniel Kraus (Tybalt), Jane Haworth (Lady Capulet), Dominic Hickie (Lord Capulet) & Laura Hussey (Nurse)
Giselle (Akram Khan) English National Ballet School
Broken Wings (Annabelle Lopez Ochoa) Tamara Rojo & Fabian Reimair
Who Cares? (George Balanchine) Precious Adams
La Sylphide (August Bournonville) Francesca Velicu, Joseph Caley, Joshua McSherry-Gray & English National Ballet School
The Sleeping Beauty (Kenneth MacMillan) Daniel McCormick, Alison McWhinney, Anjuli Hudson & Julia Conway
Three Preludes (Ben Stevenson) Fernanda Oliveira & Junor Souza
Carmen (Roland Petit) Tamara Rojo & Francesco Gabriele Frola
Coppélia (Ronald Hynd) Shiori Kase (Swanhilda), Brooklyn Mack (Franz), Adela Ramírez (Dawn), Isabelle Brouwers (Prayer), Michael Coleman (Innkeeper), Laura Hussey (Innkeeper's wife), James Streeter (Burgomaster)
Strictly Gershwin (Derek Deane) Erina Takahashi, Isaac Hernández
Playlist (Track 2) (William Forsythe) Jeffrey Cirio, Joseph Caley, Barry Drummond, William Yamada, Noam Durand, Daniel McCormick, Rhys Antoni Yeomans, Skyler Martin, Henry Dowden, Erik Woolhouse, Aitor Arrieta, Victor Prigent
Etudes (Harald Lander) (The female and male principal roles are shared by special permission of Lise Lander) Erina Takahashi, Shiori Kase, Fernanda Oliveira, Isaac Hernández, Joseph Caley, Jeffrey Cirio, Francesco Gabriele Frola, James Forbat & Company
Galas such as this are virtually criticproof and it was wonderful to celebrate the platinum anniversary of English National Ballet with an event that brought back so many happy memories of previous evenings at the London Coliseum, as well as, other venues in the capital where I have seen this company dance. For this sort of occasion everything went very smoothly from the introductory film to when the confetti and streamer cannons showered the audience in gold glitter and ribbons at the end. Even then it was followed by a gathering of the whole company on stage with their inspirational artistic director, Tamara Rojo, remembering the past and looking to the future.
In the first half there was a mix of filmed interviews and dancing and never a dull moment as we learnt about the fascinating history of the company which was interspersed with extracts – as the equivalent of opera's 'bleeding chunks' – from 16 ballets from the past seventy years.
Eve Pettinger, a former dancer, was there at the start when the company consisted of '13 girls and two boys'. ENB had its origins in the Festival Ballet that was founded in 1950 by two leading dancers, Alicia Markova and Anton Dolin, along with impresario Julian Braunsweg, it was then London Festival Ballet until June 1989 when Peter Schaufuss – its director at the time – encouraged the rebranding to English National Ballet. Along the way there was the founding of their Ballet School in 1988 – and some of the current students danced in this gala – and only last year the company's new state-of-the-art purpose-built new home in East London's Canning Town was opened and the future for ENB looks rosier than ever.
When did I first see London Festival Ballet? Well I suspect it was in April 1975 when I was at the first performance of Rudolf Nureyev's The Sleeping Beauty (a production I urge ENB to bring back sooner rather than later) which I subsequently saw many times, followed by his Romeo & Juliet – whose premiere I also saw – in June 1977. To this day they remain my favourite versions of both ballets. From Dame Beryl Grey (artistic director from 1968 to 1979) we heard how the influence of the legendary Russian dancer on the evolution of the company was immense, as well as, reminding us of his famously volcanic temper when he once hurled his flask during rehearsals and damaged a wall mirror that cost a fortune to replace.
For the actual performances most of the music – plus Ravel's Bolero as the audience exited – was performed live by the always reliable English National Ballet Philharmonic, conducted by their wonderful artistic director Gavin Sutherland, and together they never fail to impress with their virtuosity in every genre of music they play. A real joy over the four decades and more I have been to ballet performances has been the impressive improvement in the standards of the musical accompaniment. To be honest there were some tiny missteps in the choice of the extracts, how they were danced and how the whole evening was presented, but this was English National Ballet in celebratory mood and quite rightly so.
What we saw danced began with the Farruca, from The Three-Cornered Hat and the 'reflection' in the programme reminded us that 'As English National Ballet was very much conceived by Anton Dolin and Alicia Markova as a British version of the ground-breaking Ballet Russes, it felt appropriate to begin the programme with a work representing this aspect of our long-standing vision.' This 1973 solo saw guest dancer Sergio Bernal (from the National Ballet of Spain) kick proceedings off with some flamboyant cape twirling and a near-perfect blend of ballet and Spanish flamenco.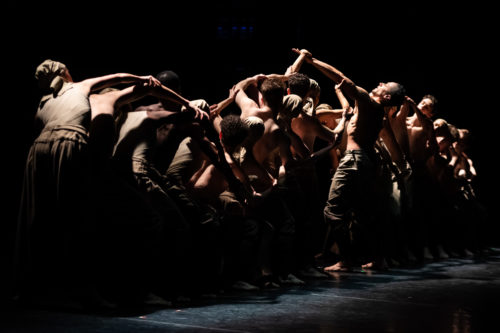 Thoughts of the past immediately gave way to the present (and the future?) and we saw some of Akram Khan's 2014 choreography for his mesmerising multi-layered Dust. Across the stage dancers held each other by their elbows and a rippling (Mexican Wave?) effect was created that was almost hypnotic. For the first time – as a biologist – this now reminded me of a DNA helix, though I suspect that is not what Khan had in mind.
I cannot mention everything but some highlights were the verve the ENBYouthCo brought to Richard Bermange's new work …Of What's to Come; of course, another was the Capulets Ball from Nureyev's Romeo & Juliet; new to me was a somewhat elegiac, somewhat romantic, pas de deux from Ben Stevenson's Three Preludes, beautifully danced by Fernanda Oliveira and Junior Souza to Rachmaninoff's music; Tamara Rojo reminded everyone of her still impeccable technique in Broken Wings and the pas de deux from Roland Petit's Carmen; and pure classical dancing was well served by the Reel from La Sylphide (with Francesca Velicu and Joseph Caley amongst the students from the English National Ballet School), Jewels from Kenneth MacMillan's The Sleeping Beauty, and the Mazurka from Ronald Hynd's Coppélia. There was a dreamily romantic The Man I Love – delightfully sung by Brittany Wells – from Erina Takahashi and Isaac Hernández, before the male dancers got the chance to strut their stuff and display their joie de vivre in the perpetual motion of William Forsythe's Playlist (Track 2).
Perhaps – in hindsight – more like this could have followed in the second half but that had only one extended work, Harald Lander's Etudes, first danced by ENB in 1955. By agreement the principal roles were being shared and in the programme we could read how: 'English National Ballet has had a long history or association with Danish choreographers and Etudes has been a constant in our repertoire for many decades. Showcasing great talent across all the ranks in the Company and the extraordinary work of our corps de ballet, and is the perfect conclusion for our 70th Anniversary Celebration.' Who am I to disagree with this, even though personally I wouldn't rush to see it again? With dancers basically in black or white it begins with their barre exercises before things get harder and harder as we encounter sequences of steps from the history of ballet, before it all concludes with the pyrotechnics of a grand allegro.
The joyful exuberance the entire ensemble showed as they leapt and spun round the stage during Etudes summed up where ENB's seventy-year journey has brought them thus far. I won't be around for all the next seventy but look forward to what the next decade – and more hopefully – will bring.
Jim Pritchard
For more about English National Ballet click here.