United States Beethoven, Nielsen, Dvořák: Camerata Pacifica (Jasmine Choi [flute], Nicholas Daniel and Claire Brazeau [oboe], Jose Franch-Ballester and Pascal Archer [clarinet], Judith Farmer and William Short [bassoon], William Wood [contrabassoon], Martin Owen, Steven Becknell and Amy Sanchez [French horn], Ani Aznavoorian [cello], Timothy Eckert [bass]), Zipper Concert Hall, The Colburn School, Los Angeles. 16.1.2020. (LV)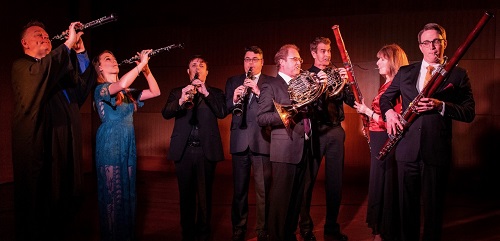 Beethoven – Octet for winds in E flat major Op.103; Quintet for oboe, three horns and bassoon, Hess 19
Nielsen – Wind Quintet Op.43
Dvořák – Serenade for Winds in D minor Op.44
In a year that promises Beethoven, Beethoven, Beethoven, Camerata Pacifica's founding artistic director Adrian Spence came up with a different, (mostly) woodwinds conceit. With some of the world's outstanding players at his disposal, he placed Beethoven's relatively well-known Octet Op.103 next to an obscure (even for the composer) early unfinished quintet for oboe, three French horns and bassoon (Hess number 19). To close came Carl Nielsen's richly inventive Wind Quintet Op.43, and the intoxicated flourishes of Dvořák's Op.44 Wind Serenade.
As it turned out, the contrasts were beneficial to each — even the Hess rarity — alternating like cheese and wine at tastings.
In fact, beyond the glories of Dvořák and Nielsen — and the highly entertaining Octet led by the Los Angeles Chamber Orchestra's principal oboist Claire Brazeau — the Hess quintet was the most striking, considering Beethoven never would have dreamed of it being played. It didn't hurt that the personnel included virtuosi such as Nicholas Daniel, one of the UK's premier oboists, and Martin Owen, principal horn of the Royal Philharmonic and the BBC Symphony Orchestra. Rather than matters of authentic performance practice or interpretation, came an inspiring voyage of discovery.
These days, likely topics of Beethoven conversation are a) whether we need so much of him and b) whether we should be pay any attention to the scholars and the original instrument crowd. Despite the simplicity of the work, with few distinguishing characteristics compared to what was being composed at the time, these great musicians seemed to recognize that the composer was sowing the seed for his future.
With the full panoply of cello, double bass, and double bassoon, these splendid musicians gave Dvořák's Wind Serenade rustic glee and cosmopolitan polish. And Owen opened with a wonderful solo in the Nielsen quintet, which is played far less by local radio stations — if at all — than more popular examples in the genre. In both the Nielsen and the Dvořák, Daniel combined liquid tone, brilliant intonation, and thrilling nuance to take advantage of every charming turn—a master class.
Laurence Vittes