United States Berlioz, Tilson Thomas, Mahler, Ravel: Sasha Cooke (mezzo-soprano), Ryan McKinny (bass-baritone), San Francisco Symphony / Michael Tilson Thomas (conductor). Davies Symphony Hall, San Francisco. 10.1.2020. (HS)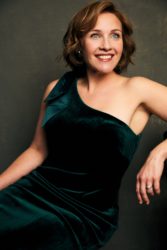 Berlioz — Overture to Benvenuto Cellini
Michael Tilson Thomas — Meditations on Rilke (world premiere)
Mahler — Selections from Das Knaben Wunderhorn
Ravel — La Valse
Michael Tilson Thomas's newest song cycle – and on first hearing most likely his best – uses a barroom scene in Wyoming and an out-of-tune piano to paint a picture and frame the six poems in Meditations on Rilke. He conducted its world premiere in four San Francisco Symphony subscription concerts.
Combining the Austrian poet Rainer Maria Rilke's fragrant poetry with a colloquial scene, which Tilson Thomas narrated briefly, reflects the nature of this 40-minute work. The scene, in which an itinerant classical pianist entertains a local crowd, perfectly matches the score's accessibility and its staunchly American flavor. Tilson Thomas even changed the title from Rilke Songs to Meditations on Rilke, a more apt description of the personal nature of the settings.
These performances were recorded to include in an album of Tilson Thomas's compositions to be released in June, alongside 2018's From the Diary of Anne Frank (with mezzo-soprano Isabel Leonard narrating) and 2017's Four Preludes on the Playthings of the Wind (with Measha Brueggergosman). Meditations on Rilke should emerge as the featured item.
In his 20-year tenure as conductor of this orchestra, Tilson Thomas got local audiences enthusiastic to hear a long list of modernist composers that once scared them off. But his affinities for the lyricism of Mahler, Schubert, Berg — and American romantics such as Barber, Bernstein, and Gershwin — are the touchstones for this new set.
Though Tilson Thomas seems to have absorbed their styles, his own personality has fashioned the tropes in tune with his own signature. These songs are not quite like anyone else's. For one thing, his melodies — and they are actual melodies that not only carry text aptly but actually lead to a satisfying destination — defy contemporary composers' usually restrained parlando. Some of these tunes are even hummed.
With soloists mezzo-soprano Sasha Cooke and bass-baritone Ryan McKinny, the orchestra relished the composer's generosity of spirit and delivered an arresting performance.
The first poem, 'Herbsttag' ('Autumn day'), opened the proceedings with an instrumental prelude redolent of honky-tonk as languid jazzy phrases wended their way through the orchestra. McKinny lavished polished phrasing, pristine pianissimos, and richness through his range in Rilke's picture of loneliness in advancing age — a nostalgic tone that permeated the entire work.
In 'Das Lied des Trinkers' ('The song of the drunkards'), McKinny's opera experience caught just the right level of tipsiness in the protagonist's confrontation with death.
Cooke found simple beauty in the sinuous lines of 'Ich Liebe mein Leben in wachsenden Ringen' ('I live my life in growing circles'), and found her most ravishing moments in the fourth song, 'Immer wieder' ('Again, Again'), its tune steeped in casual intimacy and surrounded by warm orchestral colors. The only up-tempo song was a duet, 'Immaginärer Lebenslauf' ('Imaginary biography'). It gradually lost momentum as the protagonist's youthful energy ebbed and the music became contemplative, only to finish in a rush on the final line, 'Then God explodes from His hiding place'.
The loneliness of Autumn returns in the final song, 'Herbst', as McKinny's voice floated like the falling leaves the poem describes.
Cooke returned after intermission to sing four of Mahler's songs from Das Knaben Wunderhorn. (Tilson Thomas has championed Mahler symphonies here, several of which rely on this same material.) The set opened with the one about fantasizing of a lover's ring reappearing in a fish, a perfect vehicle for the mezzo-soprano's puckish humor. After breathtakingly delicate orchestral playing in the song about beautiful trumpets, the set closed with a haunting rendition of 'Urlicht,' which found its way intact as the fourth movement of the Second Symphony. Cooke sang it with gorgeous color and suppleness.
The concert was infused with references to some of Tilson Thomas's best moments as a conductor here, including his affinity for French music. The evening opened with a riotous account of Berlioz's overture to Benvenuto Cellini, with its three timpanists shoulder-to-shoulder amid plenty of virtuosic playing elsewhere. To close came Ravel's La Valse, overflowing with nuance and lilting waltzes in the composer's surreal nightmare.
Harvey Steiman