United Kingdom English National Ballet's Le Corsaire: Dancers of English National Ballet, English National Ballet Philharmonic / Gavin Sutherland (conductor). London Coliseum, 8.1.2020. (JO'D)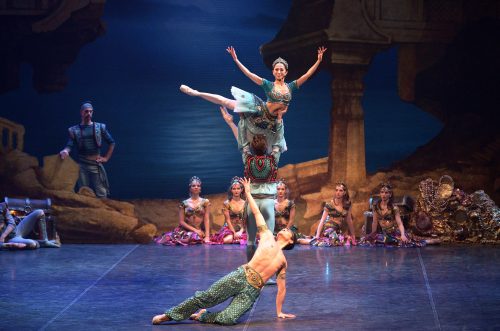 Production:
Staging – Anna-Marie Holmes after Marius Petipa and Konstantin Sergeyev
Music – Adolphe Adam, Cesare Pugni, Léo Delibes, Riccardo Drigo, Prince Pyotr van Oldenburg, Ludwig Minkus, Yuly Gerber, Baron Boris Fitinhof-Schnell, Albert Zabel and J. Zibin (edited by Lars Payne and Gavin Sutherland)
Sets and Costumes – Bob Ringwood
Lighting – Neil Austin
Cast:
Medora – Erina Takahashi
Conrad – Francesco Gabriele Frola
Gulnare – Shiori Kase
Lankendem – Brooklyn Mack
Ali – Jeffrey Cirio
Birbanto – Erik Woolhouse
Pasha – Michael Coleman
First Soloists, Soloists and Artists of English National Ballet
Based on Byron's poem, 'The Corsair', of 1814, Le Corsaire tells the story of a pirate captain who rescues his lover from a slave trader, loses her again through the treacherous actions of his second-in-command, then rescues her a second time only to die alongside her in a shipwreck.
In a programme note for this production by English National Ballet from 2013, the Victoria and Albert Museum's Curator of Dance, Jane Pritchard, charts the ballet's 'extremely complex' evolution. From 1826 onwards it was staged and restaged in London, Paris, Russia and America. Elsewhere in the programme, the conductor of the English National Ballet Philharmonic, Gavin Sutherland, mentions that Marius Petipa himself staged the ballet four times. This version is by Anna-Marie Holmes 'after' Petipa and Konstantin Sergeyev.
Whether or not it is due to the ballet's history, Le Corsaire often seems more like the echo of a thing than the thing itself. Not in terms of design. Bob Ringwood's Orientalist costumes and settings are vivid. Not in terms of dance. Jane Pritchard describes Le Corsaire as 'a useful reminder that men did have a place in 19th century ballet'. Francesco Gabriele Frola (the pirate captain), Brooklyn Mack (the slave trader), Erik Woolhouse (the treacherous second-in-command) and Jeffrey Cirio (the pirate captain's slave) perform their roles, to a man, with brio and vim.
It is in terms of the narrative detail and the music that you begin to wonder, like Barbra Streisand in 'On a Clear Day You Can See Forever', what this ballet might have had that it doesn't have. One thing it had, as Anna-Marie Holmes herself explains in the programme, was a Pasha who was 'a serious character'. Here he (Michael Coleman) is merely 'a doddery, old, fat, fool!'. According to Gavin Sutherland, it also had (in its different stagings) music by Grieg, Chopin, Tchaikovsky 'and even Dvořák'. For this production the music of ten other composers is used. Adams, Minkus and Delibes are among them, but there is no consistent musical thread.
When describing a production of Le Corsaire at the beginning of the 20th century in her book of reminiscences, 'Theatre Street', the dancer Tamara Karsavina refers to the Act III vision scene (Le Jardin Animé) as 'the choreographic climax' of the ballet. In English National Ballet's version it seems sparse; sparser even than it did in 2013 when children danced alongside the English National Ballet women. Where the children were is now empty space.
The women still raise and lower their garlands in perfect unison. They still pass white flowers in a line to the pirate captain's lover (Erina Takahashi) as ballerina at the centre of the stage. But this scene is no longer the climax to the ballet. It does not receive the applause of a climax. That comes in an Act II solo by Jeffrey Cirio which 'electrifies' the audience.
In one sense, then, this production of Le Corsaire, proves Sergei Diaghilev's vision of the future of ballet, as Tamara Karsavina records it in 'Theatre Street', to be the right one: it would 'find better expression through the incisive, virile element than through that of feminine grace'.
John O'Dwyer
For more about English National Ballet click here.