Hui He had a great success recently on her return to New York's Metropolitan Opera as Madama Butterfly (review click here) and answers Seen and Heard International's questions about her life and her career. Read on for more about her 'journey in the world of opera' from China's Shaanxi province to Verona and the world's greatest concert halls and opera houses.
Where were you born?
I was born in Ankang, in the north of Shaanxi province.
Do you come from a musical family?
No, my mum was a teacher, while my dad was a doctor, so they are really far from the music world and show business. I come from a true Chinese traditional family. Despite early initial doubts, today they are my best supporters and they're happy and proud for my career.
What music did you listen to at home as a child?
I listened and sang popular music. I remember that when I was a child I loved to go in the nature around my house to sing the melodies that I loved.
What was the first opera you saw? Have you always liked opera?
Opera has arrived rather late in my life because it's very far from my culture. The first time I listened to opera I was at the conservatory and I had the possibility to listen a recording of La bohème with Mirella Freni. I couldn't understand one word, but I started to cry with the emotion … I felt that this music moves me and is part of my soul. So, in that moment I decided I would be an opera singer.
Do you play any musical instruments?
Unfortunately not.
When did you first start singing and how did it progress from there?
I always sang in my life, but the decisive moment in my career was a ceremony at my school when I sang a little Chinese song and my maths teacher noticed me and brought me to his neighbour who was a voice teacher and he prepared me for the conservatory.
Who do you credit for telling you that you had a voice and encouraging you as a singer?
I can say my maths teacher … but the list is really long: I'm thankful to all the people that supported me and encouraged me in my journey in the world of opera.
Please tell us more about your musical and vocal studies.
I studied one month before entering the Xi'an Conservatory of Music. There I studied first with bass Zhoujiangpin, and then tenor Wangzhen. When I was 22 years old I started to teach in Xi'an Conservatory while I was still studying. During summer holidays I went to Shanghai for a short time to study with Maestro Rao Yuijan, who lived in Milan for a long time. After that I had success in 2000 in the Plácido Domingo World Competition Operalia in Los Angeles and then my international career began. For 20 years now I study with my coach Maestro Cristina Orsolato, and also with Maestro Alessandro Vitellio, as well as, different coaches in different theatres. I'm really grateful to them all.
What roles do you particularly remember from your early years?
The very first role I played as a mezzo-soprano was Dorabella in Mozart's Così fan tutte in Xi'an Conservatory of Music, but my debuting role as a soprano was Aida in 1998 in Shanghai, where I recently sang Turandot for the 21st anniversary of opening of the Grand Theatre.
How good was winning first prize at Voci Verdiane in Bussetto in 2002 in helping your career?
It helped me a lot because on the jury there was the great Turkish soprano Leyla Gencer and after my performance of 'O patria mia' from Aida she stood up breaking the impartiality of her role. Hers was one of the most iconic Aidas; she was really full of enthusiasm for my voice and has spoken about me in many theatres. I'm really grateful to her.
Do you consider competitions like this in general are a good thing for a young singer?
I think that they can be an important occasion to challenge yourself in public and to be heard by many opera houses managers, even if you don't win. I had also won 2nd prize at the Operalia Competition 2000 in Los Angeles, and that prize was really important for me and my career.
You sang Tosca at Teatro Regio in Parma in 2002, so was that your first important performances in Europe, if not what were they?
Yes, my first role in Italy and in Europe was as Tosca at Teatro Regio di Parma, and it was incredible singing that role in probably the most famous Italian opera, in the most difficult opera house in Italy, where the audience show if they appreciate you or not. I was in the second cast and I went to see the performance before mine and I have been shocked with the behaviour of the audience: they talked during the opera and clearly showed their contrariness. When it was my turn I was a little bit scared, but I started to think 'Who is my favorite Tosca? Maria Callas, so I'm not Hui He anymore, I'm Callas'. I went on stage and the performance was a success, during 'Vissi d'arte' the audience was so quiet and at the end they applauded enthusiastically. I want to also thank the great Bulgarian singer Raina Kabaivanska, who during that occasion said 'goodbye' to the role of Tosca, and she taught me all the secrets of the role. I'm really grateful to her and I'm happy that last summer she was at my Tosca in Arena di Verona and told me: 'You didn't forget anything! Brava!'.
Your signature roles have become Aida, Tosca and Madama Butterfly and you sang of all these early in your career, where did you sing them first?
I debuted Aida in 1998 in Shanghai where I reprised it also in 2017, whilst I debuted Tosca at Regio di Parma in 2002 and Madama Butterfly in Bordeaux in 2003.
What are the particular demands of these roles?
They have specific difficulties. Aida is maybe the most difficult from a technical point of view because Verdi needs a perfect technique to sustain the vocal line and to give sense to all his expressive requests. Madama Butterfly is psychologically hard for the dramatic events that she lives and also because you're on the stage practically for three hours without breaks. Tosca is a diva, so you have to act consequently: she is an actress, she is passionate, she lives every emotion with all her heart. I'm really lucky I can get to embody these beautiful roles on stage.
I suspect much has changed in the way you approach these roles since you first sang them?
I think that rather than in the interpretative way, my approach is changed from a technical point of view, because now I'm obviously more mature and I sing other roles beside these. For this motivation this year I was really happy to add some difficult roles to my repertory such as Adriana Lecouvreur and Turandot.
You recently had a wonderful success returning to the Met as Butterfly and was this the best time you have had at the Met since your debut there, if not were the performances you have even happier memories of?
I have loved every time that I sang on the legendary Met stage since my debut as Aida in 2010. This time was special because I took part in my first Met Live in HD broadcast and I had the possibility to work with Maestro Pier Giorgio Morandi and wonderful colleagues. It was also my third time in the beautiful staging by Anthony Minghella, one of the most amazing production of Madama Butterfly I ever did … a dream! I hope to return soon also with some of my new roles!
Obviously, the Arena di Verona has become a special place for you to sing at, when did you first sing there?
I sang for the first time there in 2005 as Liù in Turandot alongside great colleagues like José Cura and conducted by Maestro Lü Jia. My Arena debut had been planned for 2003 with the same role but I was ill. From 2005 I have sung there every year: last summer I celebrated the 15th anniversary of Arena debut, celebrating with three special performances (two as Tosca and one as Aida, the role that I have performed every year since 2006).
Fifteen continuous years singing at Verona is a wonderful achievement and why do you enjoy going back each year?
Every performance at the Arena is a challenge because singing for 15,000 is unusual for us opera singers, and because it gives you a huge emotion every time. For me it's also a technical check because the Arena never lies: in that huge place you can sing pianissimo and that is probably the most exciting thing, because you feel these huge audiences completely quiet and your voice just flows from the stage over to the very last step high up … it's incredible. I'm the first female singer in their history to sing at Arena di Verona for 15 years non-stop, it's a record and I'm absolutely proud of myself. The audience is so passionate and they sing with you … it's really amazing.
Apart from Verona what have been your other favourite opera houses to perform in?
Every theatre where I sing is the most important theatre and my favourite at that moment. I want to sing good even if I'm in the smallest theatre in the world … I don't to be famous, I just want to be a good singer.
What fellow singers or conductors have you most enjoyed working with over your career?
There so many that I can name only a couple: I want to remember Maestro Lorin Maazel with whom I made my debut at La Scala in 2006 with Tosca. He invited me to sing this role also in New York at the Avery Fisher Hall with the New York Philharmonic in 2008; I want to remember the great Franco Zeffirelli with whom I worked on several occasions … I remember our last meeting in 2014 at the Arena in Verona where he came to attend my performance as Amelia in Un ballo in maschera.
Where do you call home?
Verona is the city where I decided to live 20 years ago, I love it and I have many friends there. Otherwise I could say the world … because us artists we are globetrotters. I feel as much at home in Xi'an where my parents still live or Verona, the city that adopted me. I'm part-Chinese and part-Italian now.
Do you enjoy all the travelling a singer's life entails?
I can't lie, it's not an easy life: we're mostly alone and we do daily sacrifices for our voice, and our health, but the moment when we receive the applause it pays us back for all that in a certain way. We sing for the audience and to give them all our emotions.
If you have to learn a new role how do you prepare for it?
I start by studying the libretto, every word and their meaning. After that I begin to work on the music score and I develop my vision of the role with my wonderful pianists, Orsolato and Vitellio. It's a specific and detailed process but I feel really lucky because my voice is really flexible and I just follow the music and most of the work is done.
You sing a number of Puccini and Verdi roles, what is special about their music?
They're two wonderful, different worlds. Puccini is really emotional, you have to be really gifted in giving emotion to audience: all the Puccini heroines are so fragile yet often strong at the same time, such as, Turandot. Verdi is the last master of bel canto, so you must have a perfect technique because he stretches you to your limits: I think of Aida, Trovatore or Ernani, operas where you must sing coloratura, beautiful legato with high notes in pianissimo. I consider my voice suitable equally for Verdi and Puccini, and I hope to add more roles from these two composers to my repertoire in the near future … I will debut Verdi's Alzira at Opéra Royale de Wallonie in Liège … I love challenges!
What other composers do you particularly admire?
I love Francesco Cilea, Umberto Giordano, Richard Strauss (I sang Ariadne in Athens some years ago … I would love to reprise it or to sing other Strauss roles). I love Richard Wagner too and sang Isolde's Liebestod in one or two concerts and would like to sing the entire role. I love Vincenzo Bellini and I hope to sing Norma one day!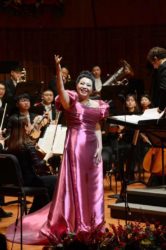 Do you do much concert work and if so, what do you most enjoy singing?
I love concerts because you can show all your personality and its different sides. Just recently I have been touring around China in the most beautiful and biggest concert halls of the country and I enjoyed it so much. In concerts I love to sing huge and various programmes; for these particular concerts I sang Verdi arias (Vespri siciliani, Trovatore, Don Carlo), Puccini (Liù, Turandot, Mimì, Butterfly) and verismo arias such as from La Wally and Adriana Lecouvreur, as well as, some Chinese songs. I was happy to share these beautiful concerts with pianist Roberto Corlianò and for the special concerts in Xi'an and Shenzhen with the Xi'an Symphony Orchestra conducted by Maestro Pietro Rizzi and the Ukrainian Radio Symphony Orchestra under the baton of Maestro Vladimir Sheiko. I was also really glad to have the participation of my great friend and colleague tenor Gianluca Terranova.
That recent return to sing in China must have been very special for you and please tell us more about it.
I'm always happy to sing in my country because I'm really proud of my origins and people show me their happiness by welcoming me back. I feel really proud of what I have achieved in my career and coming back home and singing for my compatriots was really exciting for me. This year I was also especially excited to sing in my home city, Xi'an for my parents and my friends that have seen nearly all my journey in the opera world. I hope to come back there soon!
What actually is your favourite role and why?
It's a difficult question because all my roles are my favourite, but maybe in this moment there are some roles that have a special place in my heart and they're Adriana, Turandot and Mimì … my latest role debuts. Adriana is special because it is an incredibly theatrical role … she's an actress, you have to possess all the diva skills (more than Tosca) and you have to capture the audience in every sentence. I debuted it in Verona in 2019 and it brought me also to Salzburg where I made my debut last summer with this role and with amazing colleagues, Yusif Eyvazov, Anita Rachvelishvili and Nicola Alaimo and under the baton of the great Maestro Marco Armiliato. Turandot is a role that I had turned down for all my career so far but now I am mature enough to sing her in in the right way with my voice (obviously) and sensibility. I debuted it in Bologna in May 2019 and I sang it also in Dubai (my house debut there) and in Shanghai.
If it has, how has your voice changed over the years?
I think that my voice has not changed in any substantial way; for sure now it is more mature and it has acquired a mature dark tone, but it maintains its natural flexibilty and brightness.
Where have you not sung yet that you would still like to?
I don't know … the music world is like the sea so let's see where the future brings my vessel!
What roles are you hoping to be invited to sing in the future that you do not sing now?
I hope to debut Elisabetta in Don Carlo, Suor Angelica, Fedora, Norma and many others!
That there has been a recent book and a documentary film about you and your career is fascinating and please tell us more about them.
The book was born from an idea by Chinese journalist and writer Melanie Ho after my Butterfly at Dallas Opera. She made a wonderful work focused on the emotional sensations of my voice and on my journey in the world of Italian opera as a Chinese woman and artist. I'm really grateful to her. The idea of the documentary film instead was born during the realization of 'MagicArena', a documentary about Aida at Arena di Verona in 2013 (the production by La Fura dels Baus that celebrated the centenary of the Opera Festival). The director Andrea Prandstraller and the producer Agnese Fontana were fascinated by my personal story as a Chinese artist who has achieved a career in the major opera houses around the world. From 2014 to 2016 they followed me all around the world and they filmed my daily life, showing my point of view about work and life. 'Hui He: the soprano from the Silk Road' is directed by Andrea Prandstraller and Niccolò Bruna, produced by Agnese Fontana, Rosario Di Girolamo, Dean Peng, Fan Weidong with the collaboration of RAI Cinema. We presented it at the Venice Film Festival, at the Bologna Biografilm Festival and at Cinema d'IDea Festival in Rome.
Has anything funny happened to you on stage you can tell us about?
There are so many funny episodes that it is really difficult to tell one in particular … despite that we play tragic stories on the stage, the backstage life is really funny, although we have to be really concentrated.
Finally, if there is anything in particular you want to tell us about that we have missed?
I want only to invite you and all readers to my next performances such as Alzira in Liége on April (house and role debut), Madama Butterfly at Deutsche Oper Berlin in May, Aida at Teatro San Carlo di Napoli in June (my house debut) and many others … you can follow me on social pages (Facebook, Instagram, Twitter, and YouTube)! I want to thank you for the beautiful thoughtful questions that were a pleasure to answer and for the attention you have dedicated to me!