Netherlands Various composers, Nederlands Vioolconcours [1] (curated by Emmy Storms): Emmy Storms, Lenneke van Staalen (violins), Cynthia Liem (piano), Heiko Dijker (tabla). Podium Hoge Woerd, Utrecht, 29.1.2020. (LV)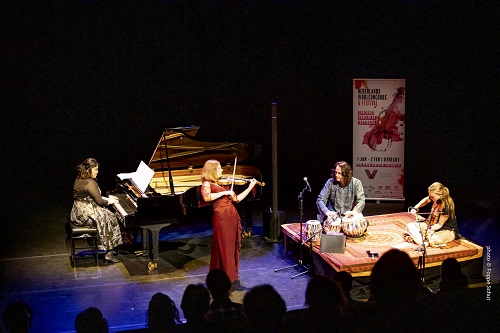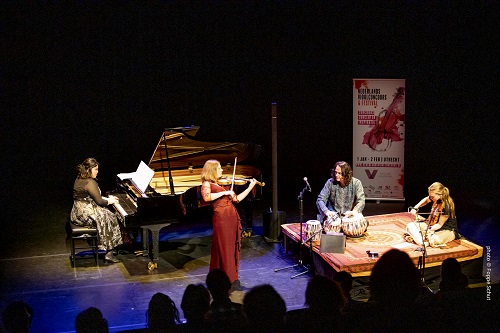 Enescu – Violin Sonata No.3, Allegro
Anon – Classic Indian raga
Jacob ter Veldhuis – Serendipity; Ragas (arrangements by Marien van Staalen)
Simeon ten Holt – Capriccio for solo violin
Falla – Suite Populaire Espagnole: 'Nana'
Heiko Dijker – For her
As part of the 27th Netherlands Violin Competition, a series of four concerts, curated by young Dutch violinists and performed in venues around Utrecht, has enlivened an enterprising initiative by the Competition's new director, Aart-Jan van de Pol, to demonstrate just how wide-ranging the violin can be when it is not performing the traditional music the Competition demands.
On Tuesday night it was Diamanda La Berge Dramm embracing music from Purcell and Telemann to Cindy Walker and Garth Knox, alongside four participants in the Competition's Davina van Wely section for violinists aged 14-17 and ten young non-career path violinists from a local school program.
On Wednesday night it was the turn of Emmy Storms, prize winner at the Oskar Back violin competitions in 2009 and 2011, who chose to present an intoxicating mix of Indian and Western music performed on both Indian and Western musical instruments.
While the program curlicued around familiar music by Enescu and Falla and the exhilarating, hypnotic five minutes of Simeon ten Holt's Capriccio, it was the two pieces by Dutch composer Jacob ter Veldhuis (also known as JacobTV) that really captured the audience's attention. Originally scored for Indian violin and tabla with string quartet (Serendipity) or string orchestra (Ragas), Marien van Staalen's transcriptions for piano, violin, Indian violin and tabla were in strong contrast to the original and much gentler shimmering scoring for strings only.
Still, with the classical parts played by Storms and Cynthia Liem according to a fixed score, and the Indian parts mostly improvised by Lenneke van Staalen and Heiko Dijker, the effect was less like dueling violins and more a meditative dialogue between two fascinating fiddlers energized by tabla riffs.
The evening had begun with the insinuating and seductive third movement of Enescu's Violin Sonata No.3, with pianist Liem making like a cymbalom and synching perfectly with her colleague. It was striking how Enescu was able to notate his rhapsodic fantasy without losing the sense of improvisation, and how naturally Storms let herself fall under its intoxicating spell.
As classical music competitions in other lands continue on their traditional paths, the curated concerts offered by the Nederlands Vioolconcours are staking out new, genuinely twenty-first-century territory: a tribute not only to the Nederlands Vioolconcours itself but also to the two powerful postwar Dutch streams of new and early music.
The evening was a reminder of how conventionally programmed critics can be, used to knowing everything on a program even if the lights are dark. But with most of the music here either obscure or entirely out of a particular critic's realm of experience, it was a pleasure to relax into the almost unbroken flow of discrete musical events that held the enthusiastic audience enthralled the whole night.
Laurence Vittes