United Kingdom Humperdinck, Tchaikovsky, Dvořák: Aleksey Semenenko (violin), BBC Philharmonic Orchestra / Holly Mathieson (conductor). King George's Hall, Blackburn, 10.1.2020. (MC)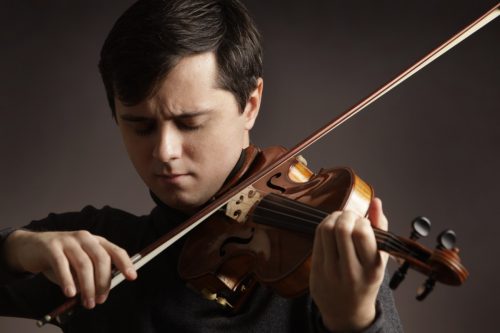 Humperdinck – Hansel and Gretel Overture
Tchaikovsky – Violin Concerto
Dvořák – Symphony No.8 in G major
This BBC Philharmonic Orchestra concert of works by three late-Romantic era composers at King George's Hall, Blackburn proved to be the ideal winter warmer. Opening the concert was Humperdinck's overture from Hansel and Gretel the 'fairy tale opera' which shot the composer to overnight fame. Humperdinck worked for a time as Wagner's musical assistant and the opera has been described as flagrantly Wagnerian for its harmonic language but what stands out is the general appeal of the music  with the overture so appositely introducing the melodic delights to come later in the opera. At the opening with the horn chorale soon joined by the strings the result was a penetrating, yet quite stunning sound which conductor Holly Mathieson strove to successfully maintain to the final bars.
Ukrainian soloist Aleksey Semenenko, a BBC New Generation Artist, displayed his substantial talent with a stunning performance of the Tchaikovsky Violin Concerto. This powerful and dramatic work from the period straight after Tchaikovsky had flown from his disastrous marriage could be said to serve as a window into the composer's personal struggles including his fragile emotional state. Showing a maturity beyond his years, Semenenko made light work of the intrinsic difficulties of the score which had precluded both soloists Joseph Kotek and Leopold Auer at Tchaikovsky's invitation from premièring the work. This was a passionate account by Semenenko, as good as I have heard, of great expressive intensity of penetrating warmth melded with such highly charged orchestral passages. My highlight was the deeply affecting outpouring of emotion that Semenenko afforded to the Andante which could easily have been emitting tears and melancholy. Bolstered by the notable acoustic of the King George's Hall Semenenko's violin made by Carlo Ferdinando Landolfi (1760s) with its impressive depth of tone emitted a gorgeous sound.
After the interval we heard the Dvořák Symphony No.8 which is standard repertoire but for me a welcome reacquaintance with a work that I have not heard in concert for some years. Although written at Dvořák's holiday retreat in the Bohemian countryside and drawing on folk music of the region the publisher Novello of London curiously promoted the name of the Symphony as the 'English'. Described by maestro Manfred Honeck as 'a special jewel' of the repertoire Mathieson clearly revelled in this pastoral and idyllic score a fine showpiece work and ideal for the BBC Philharmonic. Especially enjoyable throughout under Mathieson was the fresh, exuberant quality of the playing and the vivid orchestral colour produced which brought the score to life. Reminding me of a miniature tone poem, the flowing rhythms of the standout Adagio persuasively evokes a river journey with its constantly shifting landscape and weather patterns, in the manner of his older compatriot Smetana with Vltava from Má Vlast. With its opening trumpet fanfare the final movement was rather less successful with Mathieson not holding everything together quite as tightly, whilst speeding boisterously to the work's conclusion.
Michael Cookson