United Kingdom Tchaikovsky, The Sleeping Beauty: Dancers of the Royal Ballet, Royal Opera House Orchestra / Simon Hewett (conductor). Directed for the screen by Ross MacGibbon and broadcast live (introduced by Dame Darcey Bussell and Anita Rani) from the Royal Opera House, Covent Garden, to Cineworld Basildon, Essex. 16.1.2020. (JPr)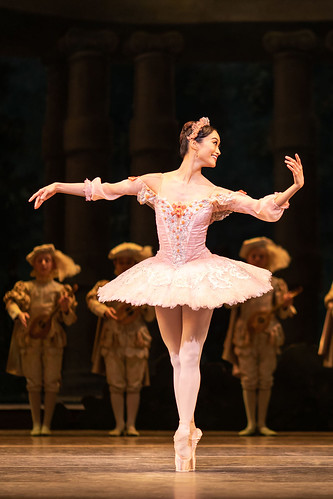 Production:
Choreography – Marius Petipa
Additional choreography – Anthony Dowell, Frederick Ashton and Christopher Wheeldon
Production – Monica Mason and Christopher Newton (after Ninette de Valois and Nicholas Sergeyev)
Music – Pyotr Il'yich Tchaikovsky
Original designer – Oliver Messel
Additional designs – Peter Farmer
Lighting designer – Mark Jonathan
Staging – Christopher Carr
Cast included:
Princess Aurora – Fumi Kaneko
Prince Florimund – Federico Bonelli
Carabosse – Kristen McNally
Lilac Fairy – Gina Storm-Jensen
Princess Florine – Yasmine Naghdi
The Bluebird – Matthew Ball
There was a sense of 'school's out' for this The Sleeping Beauty – which was the last in an extended run of performances this season – making it one of the most enjoyable of the many evenings I have spent watching this ballet since I first saw it at Covent Garden in 1973. Indeed, The Sleeping Beauty was also the first ballet my mother – who came to England from Austria in the late 1930s – also saw at the Royal Opera House as life began to regain some normality after the war years in 1946.
We heard Francesca Franchi, former Head of ROH Collections, talking about – in a film shown previously about this production – how the 2006 staging by Dame Monica Mason, the former director of The Royal Ballet, 'is a recreation of the production that reopened the opera house after the end of the Second World War … The aim of this is to recreate that atmosphere of that production of 1946.' Dame Monica herself said that it had been 'closed as a theatre and became a dance hall [and was leased by Mecca Cafés Ltd and used by the troops on leave] … After the war the [Sadler's Wells] company was invited to be resident here in the Royal Opera House and that is what came to the 1946 reopening and the first performance of The Sleeping Beauty.' Franchi added how this seemed very appropriate as the ballet involves 'reawakening of the Princess after her 100-year sleep and it was the reawakening of the opera house'. From Dame Monica we heard how 'After the gloom and the devastation of the war years, suddenly the curtains opened on something that was so grand and a fairy tale. The audience was just captivated by the magnificence of it.' Once again in 2020 it had the ability to entrance all those filling two screens in Basildon, Essex, as well as, everyone watching in the 1028 cinemas in 24 different countries it was shown in.
That 1946 production – with its designs by Oliver Messel – is the stuff of ballet legend and sixty years later it was the intention to adhere as closely as possible to Messel's original intentions, with a great deal of effort taken to recreate Oliver Messel's original sets and costumes. The latter are generally muted pastel shades for the Prince Florimund, Princess Aurora, fairies and most of those actually dancing, but – harking back to Russian Imperial grandeur – are very flamboyant for the various courtiers who sometimes do little more than just stand about.
As a cinema experience the sets are quaintly two-dimensional and redolent of a toy theatre in their very appealing baroque prettiness. They provide a handsome background to the dancing and do not overpower it. Ross MacGibbon's direction for the cinema was an ideal mix of scene-setting long shots and captivating close-ups. The latter gives no room to hide when it comes to the synchronicity of movement during the ensemble moments which on this occasion was impeccable. Whilst presenter Dame Darcey Bussell said that this allows everyone to 'actually see the sweat and the effort' of the dancers, I was mightily impressed how totally engaged the whole company was with what was going on and no one ever appeared to 'switch off'. Even more remarkably I never saw anyone visibly anticipating their next step, so natural and easy was the movement of the whole ensemble.
The basis – as it should be – of any Beauty are Petipa's near-sacrosanct steps that were passed down to the company by Nicholas Sergeyev, régisseur of Russia's Imperial Mariinsky Theatre. These have accreted some additional choreography over the years including Frederick Ashton's Act II variations for Aurora and the Prince; Anthony Dowell's interpretation of Carabosse and her rats, as well as, Christopher Wheeldon's – somewhat superfluous – Act I Garland Dance.
The whole company were on their very best form and danced with great dynamism. The Sleeping Beauty has so many soloist roles it is impossible to mention everybody, or many at all for that matter. In their roles I have seen them in before: Elizabeth McGorian's Queen was again regal, caring, and compassionate as the mother of Aurora – the fairy tales' familiar heroine – whose pricked finger triggers the court's century-long sleep. Kristen McNally was also Carabosse once again and my eyes were drawn to her whenever she was on stage. Everything McNally did was in the tradition of the best fairy tale villains and, of course, she was booed – panto-style – at her curtain call by many in the Covent Garden audience. If anything, McNally's Carabosse seems too striking looking to be truly wicked! On this occasion Thomas Whitehead was Cattalabutte, and he was the quintessence of an over-officious master of ceremonies, whose failure to invite Carabosse to Princess Aurora's christening 'spells' disaster for her parents.
Over the years I have continued to wonder whether these broadcasts are as live as they say they are or whether some of what we see – danced or sung – has been pre-recorded. It is nights like this that suggests my doubts have always been unfounded. The announced Aurora, Lauren Cuthbertson, had been injured during her previous performance and was now replaced by First Soloist Fumi Kaneko who was originally to have danced the Lilac Fairy. Kaneko had made her debut as Aurora last November and intriguingly had been coached in the role by Dame Darcey who was the epitome of a proud teacher throughout the evening.
After Kaneko's scampering entrance only the merest muscle twitch in the camera's cruel close-up betrayed her nerves at the start of the Rose Adagio, though even then her irresistible smile never left her open face. Conductor Simon Hewett could be forgiven for rushing this pas d'action in sympathy for his ballerina because of its infamous balances. Subsequently, Kaneko visibly relaxed and revealed the full breath of her assured musical sensibility, the lightness and loveliness of her dancing with its airy jump, effortless turns and feminine grace.
The ballet's 'hero' does not appear until after the second interval and requires someone with matinée idol looks and the pristine technique of a true danseur noble. Veteran Federico Bonelli still makes a convincing Prince Florimund and his melancholic Act II solo perfectly expressed all the Prince's loneliness and longing for true affection. Bonelli then showed the love burgeoning for Aurora as she appears – Giselle-like – as an otherworldly presence during the Vision scene pas de deux and Kaneko could trust in his secure partnering skills as Aurora launched herself with élan into the famous Act III trio of fish dives.
Gina Storm-Jensen was an impressive Lilac Fairy – the power for good who empathetically lifts Carabosse's curse – and she radiated beneficence, as well as, danced delightfully. Mayara Magri and Anna Rose O'Sullivan caught the eye in their charming fairy variations. Matthew Ball was sensational as the soaring Bluebird and there was technical virtuosity and a 'wow' factor to his performance I had not anticipated. As was to be expected, Yasmine Naghdi fluttered enchantingly as Princess Florine.
Final word of praise must go to Simon Hewett and the wonderful Orchestra of the Royal Opera House. In his backstage interview the conductor described how what they were playing was 'Incredibly virtuosic, every instrument has to play with extraordinary precision … and they all need to come together to create all those colours' in Tchaikovsky's magnificent score. In fact – albeit heard through cinema loudspeakers – it was possibly the best account of The Sleeping Beauty score that I have ever heard accompany a ballet performance. Hewett never for one moment indulged his dancers and there certainly were no musical longueurs during a long evening.
Jim Pritchard
To view the full list of productions for the remainder of this season and find a cinema near you visit click here.