United Kingdom The Strange Tale of Charlie Chaplin and Stan Laurel (created by Told by an idiot with Theatre Royal Plymouth, from an idea by Irene Cotton and written and directed by Paul Hunter): Wilton's Music Hall, London, 15.1.2020. (JB)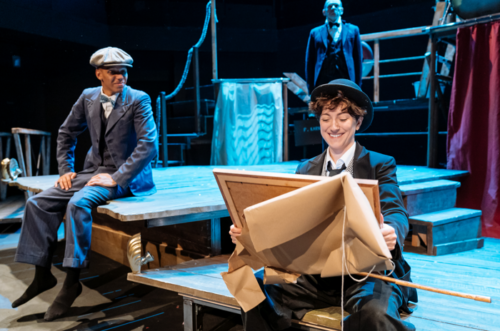 Production:
Written and Directed by Paul Hunter
Composer – Zoe Rahman
Song arrangement – Sophie Cotton
Designer – Ioana Curelia
Lighting designer – Aideen Malone
Physical comedy consultant – Jos Houben
Dance choreography – Nuna Sandy
Video designer – Dom Baker
Assistant director – Andrea Cabrera Luna
Cast:
Sara Alexander – Pianist and Hannah Chaplin
Nick Haverson – Fred Karno / Charlie's Dad / Arthur/ Savoy Guest / Oliver Hardy / Charlie's Butler
Jerone Marsh-Reid – Stan Laurel / Bell Boy / Doctor / Landlord
Amalia Vitale – Charlie Chaplin
If there is one certainty about stars of the music halls it is that less is more. The least obvious quality of their great art is its intensity. It appears to have the ease of spontaneity. Sleight of hand is the most used term. It's the art of a very subtle double take – don't look now, this is not me doing this. Artifice is the very soul of the performer but you must promise not to notice. That's the unwritten agreement between artists and audience. But give  notice (which is what I'm somewhat perversely doing here by way of explanation) and the art can easily be stone dead. Kennedy Scott taught his Music Analysis students at Trinity College, to remember that when they analysed, they destroyed.
Both parents of both Charlie Chaplin and Stan Laurel were music hall stars: it was in their DNA. But this art is not just hereditary. It's infectious. And the beautifully restored (Victorian) Wilton's Music Hall is the perfect venue for such stagings. The all-together-now (enthusiastically embraced by the English pantomime) is part of the fun. Chaplin and Laurel travelled on the same boat together to America, where both made their greatest fame on the silver screen, at first – let it never be forgotten – in silent movies. Both quickly established a unique, distinctive screen persona.
Chaplin has a life-story of rags to riches to cancel out all other life-stories of rags to riches. His father was a drunkard and his mother struggled to give birth to Charlie, teaching him how to tap dance as soon as he could stand, then sending him out into the East London streets to earn money doing this. That was truly his start.
Irene Cotton, whose idea it was to present this black comic drama, writes in the programme, The events in this play are fictional. The events in this play are not endorsed by the estate of Charlie Chaplin, Stan Laurel or anyone else for that matter!
Well dear Irene, I have to admire your tongue in cheek! The birth of Charlie brings laughter with stomach-wrenching vomiting. Never was an audience so successfully manipulated/entertained/shocked, without being aware of how this was done. The Dracula story fades into insignificance against this. Director, Paul Hunter gives realism a new name.
Rhythms pulsate like never before in this story-telling. Not least thanks to Sara Alexander's superb piano playing. The instrument is an upright with its front removed. Composer, Zoe Rahman is a jazz specialist with a classical background, with both arts blazing through the show from start to finish. Once Sara has given birth to Charlie, as his mum, she never leaves the piano stool. Nor should she. Extraordinary talent.
There are a mere four players in this troupe. But they are totally involved in creating fourteen contrasting characters. The acting is superb. And even better the dancing. The only words are those sung. I would have liked more singing. The silent movie era is evoked throughout, even to point of making the piano sound like a honky-tonk. That itself is mysterious, somewhat frightening and threatening. Paul Hunter's inventiveness has no limits.
Wayne Sleep once told me that the boys at the Royal Ballet School are not taught tapdancing, so when it was called for in his shows, he had to fake it. Well if this is faked, you could have fooled me. But luckily none of the boys were from the RBS. Nuna Sandy's tapdancing routines come across with incomparable freshness. All through the one hour, forty-five minutes of the performance without interval. Here comes a problem: the show would have benefitted by being cut by fifteen minutes. There are a few moments when its energy sags. But this would present us with the problem of which scenes to cut. And frankly, I would have not wanted to miss one minute of what I saw. I'm sure Mr Hunter has considered a cut. And at the end of the day, rejected the idea.
Amalia Vitale is small and wiry, and her Charlie Chaplin is a supreme contortionist of breath-taking virtuosity – just like the real Charlie. Jerone Marsh-Reid is tall and slender, but also a contortionist who appears to be made of rubber as Stan Laurel, the Bell Boy, the Doctor and the Landlord. How does he morph so convincingly from one personage to another?
Nick Haverson as Fred Karno – the actor-manager who took his troupe to America to seek their fortunes: tough, cigar-smoking, no bullshit, himself the actor's actor. At this point the set morphs into a ship, complete with rough seas. These scenes are not in any chronological order. Not so much storytelling as attempts to invoke episodes from these astonishing lives. An invocation which is at the core of the show's magic. Nick also plays Charlie's Dad, Oliver Hardy (with his belly stuffed with a pillow) and appearing pickled in alcohol. And also Charlie's (later-life) Butler.
The Strange Tale of Charlie Chaplin and Stan Laurel is on at Wilton's Music Hall (click here) until January 18th with daily performances at 7.45pm and matinees on Thursday and Sunday, as part of London International Mime Festival. Don't miss it.
Jack Buckley