Colombia Martinus, Pinzón, Victoria: Santiago Cañón–Valencia (cello), Orquesta de Cámara de Colombia / Federico Hoyos (conductor), Julio Victoria Live Band. Auditorio Getsemaní, Cartagena, Columbia, 11.1.2020. (LV)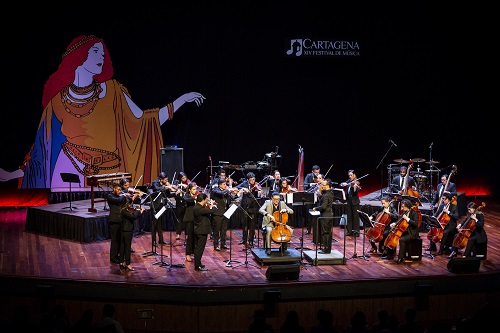 Ludsen Martinus (b. 1999) – Paisajes caribeños
Jorge Pinzón (b. 1968) – Rapsodia de los cuatro elementos para chelo (world premiere)
Julio Victoria (b. 1982) – Ciel, Indigo, Separate Ways, Tc 4, Haze
Towards the end of the 14th Cartagena Music Festival, dedicated largely to works by Haydn, Mozart, Beethoven, and Schubert, artistic director Antonio Miscena unleashed an all-Colombian line-up last Saturday night at the Auditorio Getsemaní, with the theme 'la búsqueda del sonido' – 'searching for sound.'
With the Orquesta de Cámara de Colombia, the best of the three was the world premiere of an exciting new cello concerto by Jorge Pinzón which the Festival commissioned, played in spectacular fashion by Santiago Cañón–Valencia, Second Prize and Audience Favorite winner at the 2019 International Tchaikovsky Competition. The 24-year-old proved to be a soloist of immense power and command, for whom many composers will undoubtedly want to write. (An added, special touch: from age 7 to age 12, the young virtuoso studied piano and theory with Pinzón.)
Like Shostakovich's First Cello Concerto, Pinzón's Rapsodia de la cuatros elementos (in four movements, not about seasons but about larger forms like constellations) immediately challenges the soloist in the brisk brusque rhythmic department, but then goes further with elaborate crossing of strings in the cello's higher reaches — one of the most difficult things the instrument can be asked to do.
Cañón–Valencia strode through the concerto's 20-minute length as if the work had been written for him — which of course it had. Residing much of the time in the thumb position, he executed elaborate fingerings with Spider-Man dexterity. In the orchestral haze of 'Agua', he sang a long-limbed, contemplative melody. In 'Aire', he scaled arpeggios in fast triplets leading to a lyrical outpouring in the cello's stratosphere, similar to Schumann's Cello Concerto and the segue into the third movement. And in 'Fuego,' against rich chords in divided cellos and bass with pizzicato in the violas, the cellist ripped exuberantly, gave more song, and then, with the orchestra building momentum, reached the theatrical ending — a slide up the cello's A string ending at the bridge.
The audience went wild for their hometown hero, for Cañón–Valencia is not only a classical artist, but a genre-busting superstar of the highest calibre (not to mention, a charismatic fashionista).
The concert opened with Ludsen Martinus's Paisajes caribeños ('Caribbean landscapes') teeming appropriately with dance rhythms led by the champeta, and flavored with European models — Bartók came to mind. After a flurry of snapped strings, a tune starting in the violas is taken to dizzying heights by the violins, until a hymn in thirds — with divided cellos and haunted by violin harmonic — settles into another cello interlude, this time unison and radiant, until the lonely, mysterious conclusion.
The evening ended with Julio Victoria's Live Band and their takes on traditional indigenous Colombian sounds and textures, using instruments like the marimba de chonta and the arpa llanera alongside the orchestra's conventional instruments, all pulsing with the composer's Detroit, Chicago, and Berlin-inspired electronic beats.
As the relentlessly kinetic energy peppered by solo riffs poured out from the musicians, visual images flashed on screens at either side of the stage about the relationships with our roots and the natural world we are fighting to reclaim: An owl, sine waves on a radar scope, octopi in flight across a globe, exotic symbolist drawings — even a brief reference to actress and animal rights activist Brigitte Bardot.
Laurence Vittes