Germany Puccini, Turandot: Bayerische Staatsoper Chorus and Orchestra / Giacomo Sagripanti (conductor). National Theater, Munich, 3.2.2020. (JMI)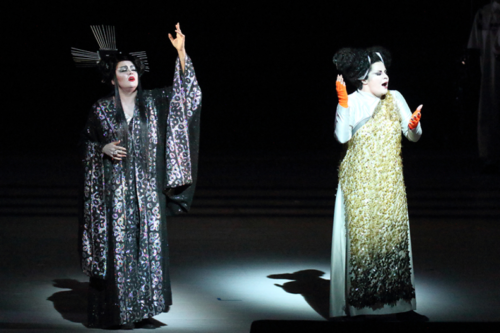 Production:
Director – Carlus Padrissa / La Fura dels Baus
Sets – Roland Olbeter
Costumes – Chu Uroz
Lighting – Urs Schönebaum
Cast:
Turandot – Anna Netrebko
Calaf – Yusif Eyvazov
Liù – Selene Zanetti
Timur – Alexander Tsymbalyuk
Ping – Boris Prýgl
Pang – Manuel Günther
Pong – Andres Agudelo
Mandarin – Bálint Szabó
Emporer Altoum – Ulrich Ress
One of the most noteworthy events in this opera season is Anna Netrebko's debut in the role of Turandot; she had appeared as Tosca for the first time a month earlier at Milan's La Scala. Undoubtedly, the diva carefully chooses the theaters where she sings, and there is no doubt that the Bayerische Staatsoper has done well to host this debut. It was, overall, a splendid Turandot, with a strong vocal cast and excellent orchestra and chorus.
Anna Netrebko has proved again that she knows what she is doing. If anyone had doubts about the suitability of her voice in a role like Turandot, her performance here showed she was right. Her voice has an unquestionable beauty and spectacular homogeneity, to which should be added exemplary projection since it runs without the slightest problem thorough the entire tessitura. Her interpretation of 'In questa reggia' was striking, she sang powerfully, easily hitting the high notes, and is also able to produce piani which few singers can do in this or other roles. She is probably the finest Turandot today and – while I cannot yet say she is the greatest ever interpreter of the role – she does a terrific job. I was sorry that in this production the Franco Alfano ending is eliminated, and Turandot thus sings less than in more traditional versions.
Netrebko's Calaf was indeed hers since her husband, Yusif Eyvazov, sang the part. He handled it well, although in Act II, after solving the riddles, he was practically inaudible when facing his Turandot. He had no problems maintaining the high C in 'Ti voglio ardente d'amor!', but his 'Nessun dorma' was no more than correct.
Selene Zanetti in the part of Liù made quite an impression. Her voice is remarkably beautiful and very well-handled, and the piani in her two arias were excellent. Bass Alexander Tsymbalyuk with his wide and sonorous voice did a good job in the role of Timur.
The three ministers were played by Boris Prýgl (Ping), Manuel Günther (Pang) and Andrés Agudelo (Pong), and all did nicely, as did Ulrich Ress as Altoum. Bálint Szabó's Mandarin was somewhat modest.
The musical direction on this occasion was entrusted to Giacomo Sagripanti, who gave a reading that was always at the service of the singers. The tempos were somewhat erratic, but that may have been due to the singers' wishes.
The production by Carlus Padrissa and La Fura dels Baus premiered in December 2011, and I have had the opportunity to see it before this occasion (review). My impression remains the same: it is an exaggerated staging that does not do justice to the opera. The original version of Turandot was used here, which does not make much sense today, and particularly given this cast. It is very well if Padrissa wants to be respectful towards Puccini who, as is well known, didn't finish the opera, but it is surprising that he is being particular about that aspect given what he does with the staging.
José M. Irurzun