United Kingdom Mendelssohn, Elijah: Elizabeth Watts (soprano), Claudia Huckle (contralto), Allan Clayton (tenor), Johan Reuter (bass-baritone), Toby Davies (treble). BBC Symphony Chorus and Orchestra / Sakari Oramo (conductor). Barbican Hall, 7.2.2020. (AK)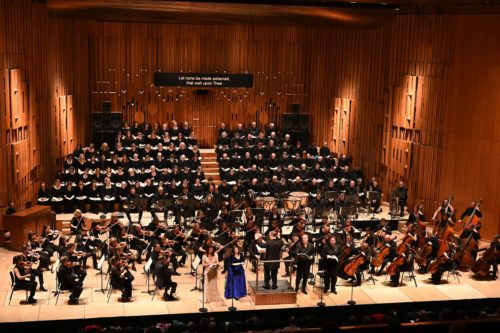 Mendessohn's oratorio Elijah was commissioned by the Birmingham Festival Committee and was premiered in Birmingham Town Hall on 26 August 1846, conducted by the composer. The premier performance was enthusiastically received, praised by critics and audience alike. However, Mendelssohn was not satisfied with the composition and, subsequently, made extensive changes. The final version was performed four times in April 1847 in London, again under the composer's baton. Queen Victoria and Prince Albert attended the second of these London performances and, by all accounts, were very impressed with the music.
I confess that I do not know for sure whether the magnificent performance by the excellent solo singers and BBC ensembles under conductor Sakari Oramo was that of the original first version or the later re-write. It is logical to assume that we heard Mendelssohn's revision from 1847 but, with original versions of many compositions surfacing in concert halls and recordings from time to time, logic cannot be taken for granted.
I also confess that, in spite of being of a certain age and in spite of Elijah being a great favourite with many choral societies, I heard it for the first time at this concert. I was fortunate to have such an introduction.
The chorus is the essence in Elijah. Out of forty-two numbers, twenty-one are choral pieces. The BBC Symphony Chorus (chorus master Neil Ferris) were simply magnificent throughout, including the twelve ladies who sang 'Lift thine eyes' a capella with truly angelic voices and perfect intonation. Achieving uniform pitching is harder for twelve a capella singers than for three solo singers (which was possibly intended by Mendelssohn and is indicated by notation as well as the title 'Terzetto' in the critical edition, ed. Christian Martin Schmidt, 2009).
The BBC presented luxury casting for the five nominated solo parts. The most taxing part is that of the title role Elijah. According to the Bible, Elijah stood up against worshipping Baal who was supposedly the God of fertility, rain and dew. However, according to other interpretations – including that of the prophet Elijah – Baal was equated with corruption and sin, definitely not to be worshipped by the people of Israel. The role of Elijah incorporates heroism, determination, suffering, and a very great deal of singing. Danish bass-baritone Johan Reuter took the role to his heart and invested it with his extensive operatic experience which includes the great Wagner roles as well as other heavy-duty repertoire.
The other four solo singers have less to sing (than Elijah) and affiliated more with Baroque elements from the oratorio. I hasten to add that, arguably, the music which Mendelssohn gives them is more related to earlier times than some of Elijah's music. It was Mendelssohn who brought back to life Bach's St Matthew Passion almost eighty years after Bach's death. And he also worked on editions of Handel oratorios. If Mendelssohn's Elijah is modelled on Bach and Handel, Baroque style of singing – in addition to Romantic characteristics – fits well.
Treble Toby Davies (Youth) has altogether thirty-six bars to sing but those bars are distributed in seven sections – as dialogues with Elijah and the chorus respectively – which require proper adult work to be well integrated. Master Davies's concentration was amazing beyond call; he even followed the score (after his own part concluded) for a big chunk of 158 bars, until the end of the first part of the oratorio. His cathedral boy singing style was perfect for the part, and so was his whole-hearted dedication.
Tenor Allan Clayton (Obadiah/Ahab), also originally from cathedral school singing, has it all: voice, natural stage presence, musicality and thorough knowledge of the material he is engaged with. His final aria 'Then shall the righteous shine forth' brought a glimmer of hope even for outside the concert hall.
Soprano Elizabeth Watts (Widow/Angel) gave us both Baroque style and operatic drama; nobly suffering as a Widow but also commanding attention to each of her notes in her dramatically important, extended aria 'Hear ye, Israel'.
Contralto Claudia Huckle (Angel/Queen) has the most beautiful velvety voice and uses it to perfection. Her aria 'O rest in the Lord' – with BBC SO principal flautist Daniel Pailthorpe  accompanying her with utmost musicality on his wooden flute – did indeed feel comforting in many dimensions.
Conductor Sakari Oramo should teach conducting, if he does not yet do so. His evidently relaxed posture is a joy to watch – how anybody can stand without any support for an hour or longer in one spot is a marvel on its own – and so is his communication with his performers without the use of conducting baton. Oramo's conducting technique is organic, clearly stems from his interpretation of music on hand. He is very economical with his arm movements – pointing at various times to east, west, north and south – and is all the more effective with large gestures at musical climaxes. Oramo's expressive arm movements beautifully shaped the choral inner voices as well as orchestral polyphony. Notably, Oramo's orchestra produced unexpected sound effects and a mixture of styles by dividing the musical material between front and back desks, by using smaller ensembles (for the recitatives) as well as full orchestral forces, by imitating Baroque style for recitatives but giving us also the romantic aspects of Mendelssohn's score.
The orchestra was excellent. However, in spite of my appreciation for such playing, I cannot help sticking to the dictum according to which there are no good orchestras or bad orchestras, only good conductors and bad conductors. Sakari Oramo is better than good, hence so was this performance of Elijah.
Agnes Kory