United Kingdom Dances at a Gathering / The Cellist: Dancers of The Royal Ballet, Robert Clark (piano), Hetty Snell (cello), Orchestra of the Royal Opera House / Andrea Molino (conductor – The Cellist). Directed for the screen by Ross MacGibbon and broadcast live from the Royal Opera House, Covent Garden, to Cineworld Basildon, Essex, 25.2.2020. (JPr)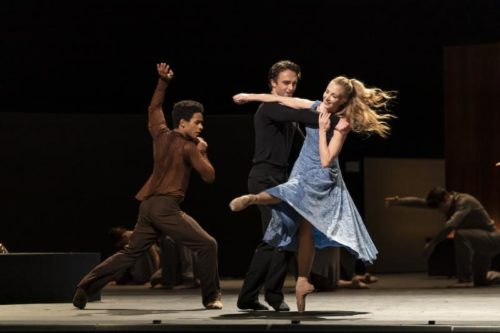 Dances at a Gathering
Choreography – Jerome Robbins
Music – Fryderyk Chopin
Solo Piano – Robert Clark
Costume design – Joe Eula
Lighting designer – Jennifer Tipton
Staging – Ben Huys
Dancers: Marienela Núñez (Pink), Francesca Hayward (Mauve), Yasmine Naghdi (Apricot), Laura Morera (Green), Fumi Kaneko (Blue), Alexander Campbell (Brown), Federico Bonelli (Purple), William Bracewell (Green), Luca Acri (Brick) and Valentino Zucchetti (Blue)
The Cellist
Choreography – Cathy Marston
Scenario – Cathy Marston and Edward Kemp
Music – Philip Feeney
Solo Cello – Hetty Snell
Set designer – Hildegard Bechtler
Costume designer – Bregje Van Balen
Lighting designer – Jon Clark
Dramaturgy – Edward Kemp
Choreographic collaborator – Jenny Tattersall
Cast included:
The Cellist – Lauren Cuthbertson
The Instrument – Marcellino Sambé
The Conductor – Matthew Ball
The Cellist (as a Young Girl) – Emma Lucano
Her Mother – Kristen McNally
Her Father – Thomas Whitehead
Her Cello Teachers – Gary Avis, Nicol Edmonds, Benjamin Ella
Jerome Robbins once apparently sent a faux telegram to a ballet magazine explaining about his 1969 Dances at a Gathering and how 'THERE ARE NO STORIES TO ANY OF THE DANCES IN DANCES AT A GATHERING. THERE ARE NO PLOTS AND NO ROLES. THE DANCERS ARE THEMSELVES DANCING WITH EACH OTHER TO THAT MUSIC IN THAT PLACE'. The ballet itself lasts a little over one hour and is a pure-dance work for various solos, duets, and larger groupings, though never more than six until the very end. It was created to a unique anthology of 18 of Chopin's piano works – mazurkas, waltzes, and études – rooted in the Slavic character of the composer's Polish homeland, yet still conveying the chic Parisian joie de vivre and elegance of where they were composed.
Nevertheless, I suspect Robbins doth protest too much and probably Dances at a Gathering is a more complex work than the choreographer would wish to admit. We all know what happened in Poland during the war years and Robbins's ballet is possibly a remembrance of what was in the understanding of all what happened. To begin there is a male solo which evidently is about remembering and at the end the dancer even taps his head, shrugs, and appears to suggest 'Well, that is how I remember it anyway'. Then about halfway there are more solo reminisces from a girl we have not seen before to a dance-like étude (Op.25, No.4). Just as some of the other dances we had seen – and some that would follow – there were obvious folk inflections. During all the encounters these are clearly people who all know each other and what Robbins creates is a sense of community with its friendships, and perhaps even more meaningful relationships. There was stillness and palpably a deep poignancy to the closing Nocturne (Op.15, No.1) when time seemed to standstill, allowing a moment of refection on all that had gone before.
In the pit Robert Clark was the virtuosic solo pianist and his considerable experience in accompanying dancers was shown by his perfect grasp of musical phrasing that ideally complemented what we saw onstage. There were ten of The Royal Ballet's leading dancers in this performance and all shone, and I am loath not to name them all. However, Marienela Núñez, Francesca Hayward and, the increasingly impressive, Fumi Kaneko were particularly radiant; Alexander Campbell danced with energy, brio and wit; and Federico Bonelli's proved a consummate partner throughout, and especially in a languid duet with Núñez near the end of this undoubtedly multi-layered ballet. It was the first time I had seen Dances at a Gathering and as good as it was, for me, it was overlong and after a while I was wanting to hear something other than the piano.
The main attraction of this double bill was The Cellist, Cathy Marston's first work for the main stage at the Royal Opera House. On the cast sheet available to me there was a quote from William Butler Yeats's Among School Children:
'O body swayed to music, O brightening glance,
How can we know the dancer from the dance?'
Marston takes this one step(!) forward and posits 'How can we know the musician from their instrument?' and her ballet about the legendary Jacqueline du Pré (a remarkably affecting portrayal by Lauren Cuthbertson) relates her metaphorical love for her cello. Hildegard Bechtler's spare wooden set had just a hint of the instrument's curves to it and a dancer (The Royal Ballet's rising star Marcelino Sambé) embodied the spirit of du Pré's cello – her true soulmate – through his posture or rhythmical movement. Sambé was recently presented with this year's National Dance Award for Best Male Dancer from the Critics' Circle and his jutting chest was the cello's 'body' and his arm mimicked the fingerboard. This 'cello' responded to being played and could suffer rejection when being cast aside. During intimate duets Sambé was embraced by, or embraced and lifted, Cuthbertson's driven – and often typically swaying – du Pré with her passion for love, life and, above all, for making music.
Philip Feeney's score is a remarkable achievement and is an eloquent and seamless mashup of his own original music with excerpts from du Pré's repertoire with particularly emphasis, of course, on her signature piece, the Elgar Cello Concerto (superbly played by Hetty Snell). We see du Pré as a young girl (the precociously talented Emma Lucano) fall in love with cello music through Paul Tortelier's famous Elgar recording, then with the instrument itself, as well as, her early lessons from her doting mother (Kristen McNally). Du Pré's father (Thomas Whitehead) appears a stern, disapproving presence and soon her mother is superseded by a succession of teachers as du Pré's talent burgeons. She encounters the pianist Daniel Barenboim and increasing fame and celebrity status follows for them both as classical music's 'golden couple' of their generation. Although Barenboim gave Marston his blessing for her project, he doesn't come over well and the choreography shows Barenboim overworking du Pré while she was fit and able, but seemingly casting her aside when their lifestyle began to take its toll on her. As Barenboim, Matthew Ball is plausibly handsome, ardent and controlling and brought an appropriate combination of insouciance and self-belief to his accomplished dancing.
As du Pré's health began to fail at 26 due to multiple sclerosis it is treated very sensitively and at first there is merely a trembling hand and some evident physical weakness. Ultimately, we see the heart-wrenching occasion when she appears to be in remission and well enough for a concert but still finds it impossible to play.
The Cellist is at its best when it is not over-populated with the need to apparently give the corps de ballet something to do as 'A Chorus of Narrators'. I can appreciate they are there as a kind of Greek chorus, becoming everything from a record player, music notes, children in a school room, fellow music students, audiences, adoring fans and other hangers-on, to, most memorably, instrumentalists in a full orchestra. At times, however, it all looks a little too messy and the simplicity of the final moments are telling as Sambé evocatively spins like a vinyl LP to remind us that while du Pré – the musician – may have died, the recordings and memories she left live on.
Jim Pritchard
For more about what is at the Royal Opera House and in the cinema click here.