United States Prokofiev, Bridge, Dukas: Cleveland Orchestra / Franz Welser-Möst (conductor). Severance Hall, Cleveland, Ohio, 30.1.2020. (MSJ)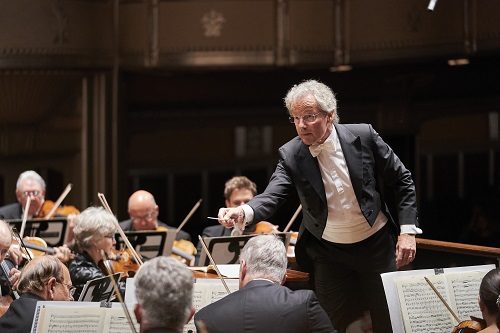 Prokofiev – Symphony No.6 in E-flat Minor Op.111
Bridge – The Sea
Dukas – The Sorcerer's Apprentice
Franz Welser-Möst doesn't pause to speak directly to the audience very often, so the fact that he did before the opening of this concert sparked listeners' attention. He said that he wanted to make sure that everyone understood the context in which Sergei Prokofiev's Sixth Symphony was written, under the totalitarian fist of Soviet dictator Joseph Stalin. As Welser-Möst put it, 'It's almost like Stalin put a gun to Prokofiev's head in the finale and said "Write happy music"'.
The performance absolutely delivered on the implied tensions. In the first movement, Welser-Möst balanced the tiered tempo structure ideally, never straying to extremes, so that a coherent through-line was always in place. But the conductor also kept the music aptly bleak and strange. Prokofiev's familiar textures were there, but in a newly sparse and harsh landscape. The numerous instrumental solos throughout are ideal for this virtuoso orchestra, but the added impact of the meaning behind the notes made it riveting.
The second movement Largo was an emotional roller coaster, opening — and what a rare way to open a slow movement! — with a fortissimo blast before revealing tender fragility. Welser-Möst has always shown a great deal of interest in the nuances possible with hushed dynamics, and the quiet passages of this movement were devastating. The finale had a suitably frantic edge to its forced celebration, with moments of hesitation poignantly underlining the despair that lies at the heart of this masterful symphony, Prokofiev's greatest.
Happily, the Sixth has been performed a number of times over the years in Cleveland (and recorded with Vladimir Ashkenazy), but this occasion was outstanding — part of a gradual exploration by Welser-Möst of Prokofiev's major works. It is becoming clear that Welser-Möst shows a special affinity for the composer, alongside Richard Strauss and Bruckner. Perhaps someday the Music Arts Association will make the conductor's Prokofiev readings commercially available.
It is also worth noting that this evening somewhat inverted the traditional American all-orchestral shape of 'familiar short piece, less familiar medium-length piece, intermission, substantial closer'. After the Prokofiev, the second half of the show had a delightfully relaxed feel. Frank Bridge's 'less familiar medium-length' The Sea is an orchestral suite that clearly influenced Bridge's student, Benjamin Britten, when creating his Four Sea Interludes from Peter Grimes. Happily, the Bridge was presented by itself here, not forcing his evocative but modest composition into direct competition with Britten's blazing genius. Its deployment after the intense first half was perfect.
Perhaps best described as romantic with a touch of impressionism, The Sea is in four movements: a broad introduction ('Seascape'), a scherzo ('Sea Foam'), a slow movement ('Moonlight'), and a dramatic finale ('Storm'). Where Britten's similar quasi-symphony tends toward the psychological, Bridge goes for unashamed nature painting, and the orchestra clearly relished the chance to shine in this rare but charming repertory. Amazingly enough, though, this wasn't the work's first appearance here. Way back in 1923, founding music director Nikolai Sokoloff presented the suite in its United States premiere. This time around, the sometimes rigorous Welser-Möst was particularly notable for his flexibility and freedom.
To close came a treat, The Sorcerer's Apprentice by Paul Dukas, which is gradually working its way back into regular rotation after having been damned to 'pops' repertory for decades, following Walt Disney's Fantasia. Mickey Mouse or no, the score is a nugget of flat-out genius, and Welser-Möst led it with the care it deserves, while still relishing its wit. The main scherzo was buoyant — never hard-pressed — and the soft dynamics in the opening and closing pages were spellbinding.
Mark Sebastian Jordan