United Kingdom Verdi, Luisa Miller: Soloists, Chorus and Orchestra of English National Opera / Alexander Joel (conductor). London Coliseum, 19.2.2020 (JPr)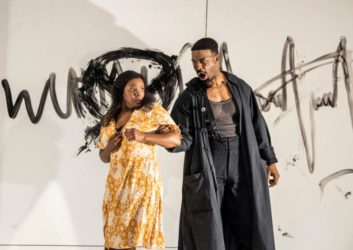 Production:
Director – Barbora Horáková
Set designer – Andrew Lieberman
Costume designer – Eva-Maria Van Acker
Lighting designer – Michael Bauer
Choreographer – James Rosental
Translation – Martin Fitzpatrick
Cast:
Count Walter – James Creswell
Rodolfo – David Junghoon Kim
Federica – Christine Rice
Wurm – Soloman Howard
Miller – Olafur Sigurdarson
Luisa – Elizabeth Llewellyn
Laura – Nadine Benjamin
A Citizen – Adam Sullivan
Dancers – Stephanie Bentley, Sam Ford, Anna Holmes, John William Watson
Verdian specialist Susan Rutherford discusses in the English National Opera's programme that when Luisa Miller was premiered in 1849 it 'marked a subtle change in direction for Verdi, initiating what became known as his "middle period": a departure from epic subjects of war and nationhood in favour of an emphasis on domestic narratives'. The best of these were, of course, Rigoletto, La traviata and Il trovatore, and Luisa Miller often sounds as if Verdi was trying things out for those operas – and others – he was yet to compose. Nevertheless, there is still some wonderful music for Miller, a retired soldier, Luisa, his daughter, and Rodolfo, her love interest. Apart from this principal trio Verdi and his librettist, Salvadore Cammarano, created some other believable characters such as Count Walter, Rodolfo's father, and the perfectly named Wurm, his steward.
Luisa Miller is based on Schiller's play Kabale und Liebe (Intrigue and Love). The setting now is (supposedly) an early seventeenth century Tyrolean village and not a prince's court about a century later. It is less about Schiller's princely intrigues (Kabale) and more concerned with the love aspect of the source material. The plot of Luisa Miller – whilst still interesting for its themes of thwarted love – is somewhat implausible and not as affecting as La traviata, nor as complex as Don Carlo(s), nor as perfect as Otello.
In years to come Verdi tended to balance overt sentimentalism with even more politics and/or religion, but not in 1849. I overheard behind me – someone who was new to opera – succinctly describing the plot as 'Boy loves girl, boy isn't who he says he is, and his father is a really nasty piece of work.' When Rodolfo – who was initially in disguise – reveals who he loves to his father, Count Walter, he is forbidden from seeing the lowly-born Luisa and told to marry Federica, a widowed duchess. In order to save her father's life Luisa is tricked into declaring her love for the duplicitous Wurm. There is much deceit and betrayal, a threatened suicide (with connotations to the recent news of the sad death of a TV personality), a poisoned drink, and it all ends in tears with a drawn-out death scene. What Verdi lacks in dramaturgy, he makes up for through his imaginatively constructed aria and scene structure, as well as, some intriguing orchestration for his typically romantic melodrama, including some atmospheric off-stage Tyrolean horns which sound rather out-of-place in Barbora Horáková's updated staging.
This was only my third ever Luisa Miller which must go to show it is possibly an operatic rarity, at least in the UK. That other performances were at Covent Garden was in 1981 with Katia Ricciarelli, Carlo Bergonzi and Leo Nucci in the leading roles and more recently, a 2018 Met broadcast with Sonya Yoncheva, Piotr Beczała and Plácido Domingo. What hard acts to follow! It was one of the glories of this Luisa Miller to see and hear the leading trio of ENO's singers – Elizabeth Llewellyn, David Junghoon Kim and James Creswell – proving as outstanding in their roles as these other stellar names were and there was no weak link in the entire cast. The chorus were their usual resounding selves and Alexander Joel's conducting of the excellent ENO orchestra was strong on detail and had all the dramatic sweep you would wish for. Moreover, for such a tricky opera, the ensemble was flawless.
If only director Barbora Horáková had believed in Verdi more than she seems to have done. We certainly were no longer in the Tyrol, and although I am not averse to modern dress productions, I prefer them to be thought-through rather more than this was. Interviewed in the programme Horáková suggested how 'The costumes may take us somewhere like Latin America, where business as well as poverty often seem hand-in-hand with strong violence.'
Andrew Lieberman's set designs were very stark, basically a pentagonal framework and white walls. During the overture two children – representing throughout the opera the lost innocence of the young Luisa and Rodolfo – start to graffiti some panels with 'Amore'. From then on more and more black paint got liberally smeared on those previously pristine walls and on some of the cast. We see the chorus initially as some raucous masked clowns – mostly in black and white – from which I got a Mexican Día de los Muertos (Day of the Dead) vibe though they eventually become more 'normal' as the opera progresses. Four dancers are frequently seen at the fringes of the action and they reminded me strongly of the four scrambling fate figures in Rudolf Nureyev's version of the ballet Romeo and Juliet about another pair of doomed lovers. Almost everything else you might expect to see from a 'modern' production could be ticked off, including – something increasingly current – balloons! There was also much quirky movement, random gesticulating, guns for swords, a teddy bear, and a St Sebastian-like figure – here a red-haired clown – shot with arrows. Something new were the oil drums and into one of those it was hinted that Count Walter might dispatch, at one point, a quivering youth in his underpants who emerged from some plastic sheeting. For Horáková Wurm is even more evil incarnate than Verdi possibly envisaged, and I felt a strong connection in the way he was oleaginously portrayed with Baron Samedi, the master of the dead in Haitian Voodoo.
The production worked best when the singers were left alone on stage to simply convey the story solely by their acting and singing. Apart from the individual arias, there were wonderful duets, trios and – as a highlight of all we heard – a mostly a cappella Act II quartet.
If Elizabeth Llewellyn has done anything better than this Luisa, then I regret not being there. Llewellyn's singing had secure coloratura, fearless top notes, as well as, much vocal elan and her acting had both energy and passion. However well she started she finished even more strongly with a heart-wrenching Act III 'Death is a pillow scattered with flowers' and the poignancy of her closing duets with Miller and Rodolfo. As Rodolfo, David Junghoon Kim proved himself less a lyric-dramatic tenor and more of a potential heldentenor and his role's showpiece aria 'Stars sparkled in the evening air' was another highpoint of the evening. Kim brought nuance, expression and vibrant tone to all he sang, and he acted credibly. I suspect that there will be Wagner roles for Kim in the future and Lohengrin would be a good one for him to begin studying, if he isn't already.
Olafur Sigurdarson was a more stolid presence as Miller whose only concern is the happiness of his daughter and his voice took a while to warm up. After some initially choppy phrasing it was nearer the end of the opera when everything came together vocally for Sigurdarson and he brought great depth of feeling to 'I feel the earth crumble beneath me' as he read Luisa's farewell letter to Rodolfo. As Count Walter, James Cresswell's singing had his customary strength and resonance. He brought to Walter the understated villainy of some mafia bosses or drug lords. Christine Rice was Luisa's rival, the high-born Federica, and she sang with her usual refined, dark-toned, yet flexible, mezzo voice and acted assuredly as someone eager to rekindle a lost love. Rice has a wonderful career, but it remains a great pity we do not hear her sing Wagner. Nadine Benjamin was suitably sympathetic as Luisa's friend, Laura.
As the – albeit slightly one-dimensionally – villainous Wurm, the tall, lean, muscular, Soloman Howard was undoubtedly the breakout star of this Luisa Miller and his authoritative, sonorous, sepulchral bass was mightily impressive. Howard is yet another in this superb cast I look forward to seeing and hearing more from in the future.
Jim Pritchard
For more about ENO click here.