Finland Richard Strauss, Ariadne auf Naxos: Soloists, Finnish National Opera Orchestra / Hannu Lintu (conductor). Finnish National Opera, Helsinki, 29.1.2020. (GF)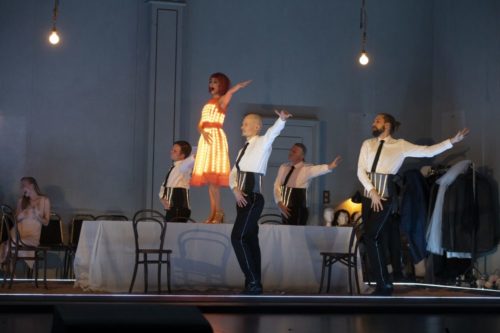 Production:
Director – Katie Mitchell
Sets – Chloe Lamford
Costumes – Sarah Blenkinsop
Lighting design – James Farncombe
Choreography – Joseph Alford
Co-revival director and re-choreographer – Heather Fairbairn, Lily McLeish
Cast:
Primadonna (Ariadne) – Miina-Liisa Värelä
Der Tenor (Bacchus) – Mika Pohjonen
Zerbinetta – Danae Kontora
Der Komponist – Jenny Carlstedt
Ein Musiklehrer – Michael Kraus
Ein Tanzmeister – Lasse Penttinen
Harlekin – Ville Rusanen
Brighella – Simo Mäkinen
Scaramouche – Roland Liiv
Truffaldin – Visa Kohva
Najade – Johanna Lehesvuori
Dryade – Elli Vallinoja
Echo – Hanna Rantala
Ein Offizier – Petri Vesa
Ein Perückenmacher – Tiitus Ylipää
Ein Lakei – Koit Soasepp
Der Haushofmeister – Karl Menrad
The Richest Man in Vienna – Jorma Uotinen
His Wife – Merja Mäkelä
Extras – Verna Laine, Pauliina Pakarinen, Slava Dugin, Jesse Liskola, Antti Nieminen
This production of Ariadne auf Naxos originally emanated from the Festival d'Aix-en-Provence and is a coproduction with several other opera houses, including the Royal Danish Opera and the Finnish National Opera. Financially this is sound policy, provided the concept suits the houses involved. Factors such as size of stage and technical capacity may of course differ and necessitate adjustments, and here in Helsinki a co-revival director and a co-revival choreographer are listed – but to what degree they have changed the original concept is of course beyond my power to judge. I must admit, though, that I have always been in two minds about this particular opera. I certainly like the music and in many ways, this is perhaps the most spirited of Strauss's operas but I have never come to terms with the plot, this absurd idea of mixing serious story with a commedia dell'arte farce. I share the opinion of The Richest Man in Vienna, the person who paid for the whole show, who at the end of the performance said something like 'this was an interesting experiment but I don't think it is something for the future of opera'. This is not in the original libretto and it was possibly added to for this production. I must modify my personal opinion somewhat: Hugo von Hofmannsthal, who wrote the libretto, is a witty author and reading the text without the music to 'interfere' – which I have done – is truly amusing. But when the music is added, and the action, it becomes a mess, and the text is relegated to the background. Having surtitles is little help – at the Finnish National Opera these are in Finnish, Swedish and English – no matter how good the translations are. I have come to the conclusion that the best way to enjoy Ariadne auf Naxos for me, personally, is to pick the juiciest pieces from a good CD-recording – and there are several – and just wallow in the music.
I still admired the many clever details in the production, and the acting of the many role characters – main characters as well as the comprimarios – was worth admiration for their professionalism and wholehearted involvement. The prologue is rather tedious, but musically the Composer stands out and Jenny Carlstedt was superb in every respect, both for her convincing acting and her wonderful singing. The other leading characters were given little chance to become profiles. In the opera proper, after the interval, they could do themselves justice.
True highlights were naturally Zerbinetta's coloratura aria, lasting for nearly a quarter of an hour, and Ariadne's solos, including the fiery final duet with Bacchus. Greek soprano Danae Kontora as Zerbinetta was terrific in the aria, with technical brilliance in the coloratura and effortless top notes. A splendid actress as well, she did much to heighten the dramatic temperature. Miina-Liisa Värelä had all the requisite dramatic power as well as the beauty of tone to make Ariadne a worthy primadonna. Mika Pohjonen, the former Tango King of Finland, has gradually conquered the dramatic tenor roles, from a good Dick Johnson in La fanciulla del West in 2008 to a strong Walther in Die Meistersinger von Nürnberg two years ago. His Bacchus was impressive with steely top notes. Michael Kraus, a regular guest at the Finnish National Opera, was an omnipresent Music Master, brilliant actor and with an expressive baritone voice. Karl Menrad in the speaking role of Haushofmeister should also be mentioned.
In all the Strauss operas the orchestra is maybe the most essential ingredient, and the Orchestra of the Finnish National Opera have excellent credentials as a Strauss orchestra, most recently with a magnificent Elektra three years ago. Under the inspirational Hannu Lintu they made Strauss's score glow and glitter in a way that, for me, almost made me forget the less inspiring portions of the work. Readers with less prejudice against the opera should enjoy this production wholeheartedly.
Göran Forsling