United States Marcos Balter, Mario Diaz de Leon, Missy Mazzoli, Meredith Monk, John Luther Adams: Missy Mazzoli (curator and synthesizer), Marnie Breckenridge (soprano), Mario Diaz de Leon (synthesizer), Lorna Dune (DJ and synthesizer), members of the San Francisco Symphony / Edwin Outwater (conductor). Soundbox at Davies Symphony Hall, San Francisco, 7.2.2020. (HS)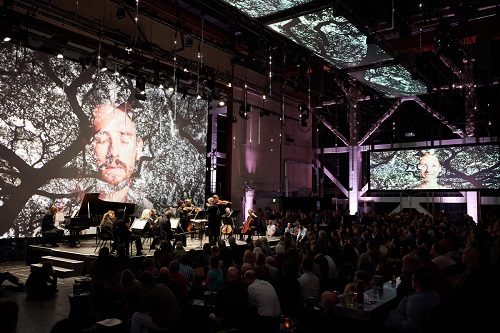 Act I
Marcos Balter — Ut
Mario Diaz de Leon — Sanctuary
Missy Mazzoli — New Dark Age, from Vespers for a New Dark Age
Meredith Monk — Passage / What Does It Mean?
Act II
Diaz de Leon — Sacrament
Mazzoli — Vespers for Violin
John Luther Adams — The Light Within
Act III
Arvo Pärt — II. 'Silentium', from Tabula Rasa 
Production:
Seth Reiser – lighting designer
Adam Larsen — video designer
Luke Kritzeck — production manager
Composer Missy Mazzoli, who has emerged as one of today's original voices in classical music, put together a lineup called 'Sanctuary' for San Francisco Symphony's casual and offbeat Soundbox series. Her two pieces on the three-part program — all from living composers — referenced 'vespers' in their titles, a clue that her intent was not to shake up listeners but to soothe souls.
Soundbox, in its sixth season, takes place in a separate area in the back of Davies Symphony Hall — in a space wired for amplified sound and surrounded by video screens to enhance the experience. Each program is put together by a different composer or performer.
No doubt the wellspring for all this — and the climax of the two-hour program (while the main orchestra was playing Beethoven and Brahms under the orchestra's former maestro Herbert Blomstedt) — was the simplicity and spirituality of Arvo Pärt's revolutionary music. After finishing Brahms upstairs, a small number of musicians — including concertmaster Alexander Barantschik, associate concertmaster Nadya Tichman, and principal viola  Jonathan Vinocour — conjured up a welcoming oasis with 'Silentium', the second movement of the composer's Tabula Rasa.
The Estonian composer's 1977 piece marked a sea change for himself as a composer and a tectonic moment in twentieth-century music. As a devotee of the twelve-tone system and harsh dissonances, Pärt took almost a decade off to rethink what his music should be and emerged with everything pared to a diatonic essence. The result resonated with listeners and fit closely with what minimalists were doing elsewhere. Ear-pleasing melodies and harmonies were back in style, and audiences found unexpected depth in Pärt's simplicity.
'Silentium' travels in open fifths and slow-moving melodic lines, each section demarcated by a rising seven-note gesture on piano. Harmonies get richer until the sustained notes gradually step down in a drawn-out diatonic scale that spans several octaves, moving through the orchestra until finally disappearing into a resolution that is felt rather that heard. The performance, conducted by the orchestra's onetime resident conductor Edwin Outwater, hovered tantalizingly in a space between richness and transparency.
The program opened with Vinocour, standing among the audience in a white spotlight to play Marcos Balter's unaccompanied Ut, with wisps of melodic gestures emerging from silence and finishing as vapor. Mario Diaz de Leon's Sanctuary, a vocalise, started with soprano Marnie Breckenridge at the top of her range and fashioned phrases that glissandoed smoothly against the composer's spare accompaniment on synthesizer. Breckenridge also voiced New Dark Age — an excerpt from Mazzoli's 2015 Vespers for a New Dark Age — with the composer joining the ensemble on piano. She also brought her energy to her medley of Meredith Monk's typically strange Passage (1970) and What Does It Mean? (2006), though the latter work's glossiness fit the rest of the program better.
In Part II, harmonies got more complex, first in De Leon's hypnotic 2017 Sacraments, which threatens to jump the rails between oases of thrumming bass. Polina Sedukh played Mazzoli's 2014 Vespers, on a violin fitted out with delay that layered the results into emotionally resonant dissonances. A prerecorded soundtrack supported it sparingly. Outwater completed the second part conducting an ad hoc ensemble in a stately, introspective reading of John Luther Adams' The Light Within.
If Pärt's music was indeed the touchstone for everything that preceded it on this program, it gave us a sanctuary filled with original voices. It couldn't have come at a better time, a refuge from the tumult surrounding us in the news — a threatening pandemic, turmoil in Europe over Brexit, and political uproar in America.
Harvey Steiman