Spain Mozart, Die Zauberflöte: Teatro Real Chorus and Orchestra / Kornilios Michailidis (conductor), Teatro Real, Madrid, 13.2.2020. (JMI)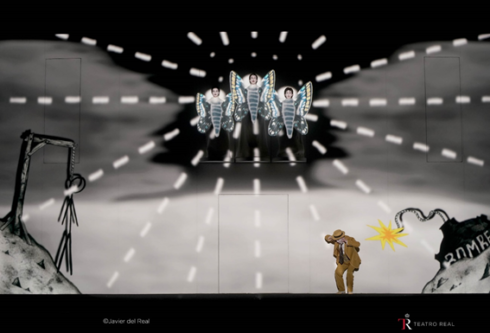 Production:
Directors – Suzanne Andrade and Barrie Kosky
Sets and Costumes – Esther Bialas
Lighting – Diego Leetz
Images – Paul Barritt
Cast:
Tamino – Stanislas de Barbeyrac
Pamina – Anett Fritsch
Papageno – Andreas Wolf
Sarastro/Narrator – Andrea Mastroni
Queen of the Night – Aleksandra Olczyk
Monostatos – Mikeldi Atxalandabaso
Papagena – Ruth Rosique
Three Ladies – Elena Copons, Gemma Coma-Alabert, Marie-Luise Dressen
Armed Men – Antonio Lozano, Felipe Bou
This highly praised production of The Magic Flute by Suzanne Andrade and Barrie Kosky has returned to the Teatro Real where it is enjoying the same success that it did when last performed here four years ago. It is a prodigiously imaginative work that treats the opera as if it were a silent movie, with the dialogues replaced by written summaries projected on a screen. The production is a true tribute to silent films with a constant stream of highly original images, some of which are spectacular. Obviously, it was not quite the same as experiencing it for the first time: the surprise factor disappears, but that does not prevent one from delighting in this unique staging.
At the podium was Kornilios Michailidis, the assistant to Ivor Bolton (who is conducting the other Madrid performances). Michailidis's reading had two somewhat different parts. In the first act his conducting was rather monotonous, but it clearly improved in Act II where things worked much better from every angle. The orchestra gave a fine showing, as did the chorus, though they were troubled in the first part by having to sing from the boxes on the sides.
Tamino was sung by tenor Stanislas de Barbeyrac, who was making his debut at the Teatro Real. His voice is wider than is usual in this character and works well in the middle range, but it gets narrows and he had some problems in the high notes. Soprano Anett Fritsch, who has appeared before in this theatre, did well in the role of Pamina. She is a good interpreter with a voice that suits the part. Papageno was played by baritone Andreas Wolf, who did a proper job, although in this staging he had fewer opportunities to show off his acting skills.
The best performance in the cast came from soprano Aleksandra Olczyk as the Queen of the Night. She has an attractive voice and had no problems with the stratospheric notes. We will be hearing more of her.
Bass Andrea Mastroni sang with gusto in the part of Sarastro, and doubled as the Narrator from offstage. Mikeldi Atxalandabaso was an excellent Monostatos – he is always a real guarantee in these characters – and Ruth Rosique was convincing as Papagena.
Teatro Real was completely sold out, and the biggest applause at the final bows was for Aleksandra Olczyk.
José M. Irurzun