United States Grieg, Shostakovich, Nielsen: Patricia Kopatchinskaja (violin), Seattle Symphony Orchestra / Thomas Dausgaard (conductor). Benaroya Hall, Seattle, 1.2.2020. (ZC)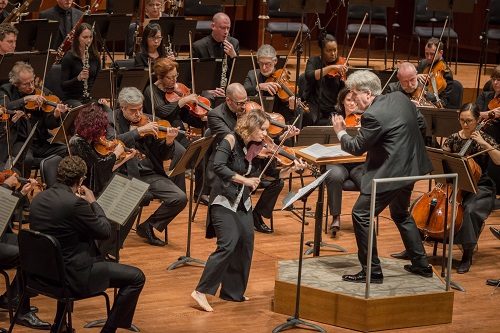 Grieg – Peer Gynt Suite No.1 Op.46
Shostakovich – Violin Concerto No.1 in A minor Op.77
Nielsen – Symphony No.1 in G Minor Op.7
Would Shostakovich be considered a great composer today without his compelling biography? I have wrestled with this question a lot over the last decade. Shostakovich was one of the first composers to grab my attention.  I fell first for his harrowing Symphony No.11 and then his jaunty First Cello Concerto, and the twists and turns of both spun sorrowful tales of life in the Soviet Union. And the sadness he evoked was tied closely to his own identity. Everyone knows how Stalin stifled the composer's career, and apocryphal stories abound that Shostakovich inserted subversive messages in his scores.
But each new encounter with Shostakovich, either on CD or the concert stage, also bore a certain telltale 'sameness' — thematic and instrumental qualities shared by nearly all of his works. Even casual listeners of the composer can pick up on these properties and — very often — musicians can lose themselves in them.
In truth, only a few artists have been able to plumb beneath the superficial, and Patricia Kopatchinskaja — who recently performed Shostakovich's monumental First Violin Concerto with the Seattle Symphony — is one of them. She finds the genius in every piece she plays. If you have seen Kopatchinskaja, she oozes physicality. She also regularly performs barefoot and has been known to play through injury. Yet, these trademarks don't tell the whole story. Watching her perform is a riveting and intense experience.
This concerto lends itself to the violinist's style, and reflects not only the composer's tortured personality, but his status as underappreciated narrator of a particular time in a particular place. In the opening nocturne, the soloist is the focus. Kopatchinskaja exuded consolation while harboring the barely concealed sadness so common with Shostakovich. Phrases drifted over the orchestra's subdued support. Even if the overall mood was of mournful impermanence the violinist demonstrated technical mastery.
In the subsequent scherzo, Kopatchinskaja effortlessly dashed through the score, drawing from traditional and folk influences. But this jaunty interlude gave way to more familiar expressive terrain in the famous third movement, a passacaglia. In the complex interplay between soloist and orchestra, the violinist brimmed with confidence, leading to the concerto's cadenza and finale, and in all, showed tremendous virtuosity, with welcome twists. As a rousing encore, the orchestra's principal cellist, Efe Baltacigil, joined her for the second movement of Ravel's high-strung Sonata for Violin and Cello.
Two Scandinavian masterworks served as bookends. In the opening, Grieg's evergreen first suite from Peer Gynt, conductor Thomas Dausgaard paid loving care to each of its four movements. The orchestra responded in kind, earning an early standing ovation. To close came Carl Nielsen's First Symphony, continuing a cycle through his six symphonies that Dausgaard and the Seattle players have been working through over the past few years.
The First exudes youthful vigor. With a taut structure and the bubbling momentum, it is similar to Bizet's early outing in the same genre. Dausgaard led the musicians in an electric reading, making an effective case for ranking this early Nielsen work a masterpiece.
Zach Carstensen