United Kingdom Various Composers: Lucie Horsch (recorder), Thomas Dunford (lute). Wigmore Hall, London, 11.1.2020. (CS)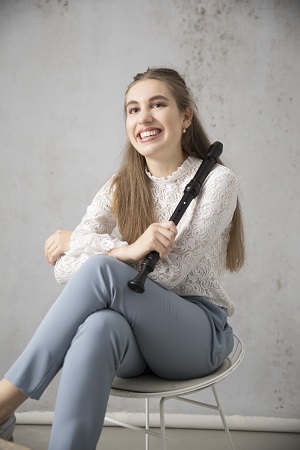 Dario Castello – Sonata Seconda in stil moderno
John Dowland – Preludium, 'Flow my tears'
Charles Dieupart – Suite No.5 in F
Claude Debussy – Syrinx
Anne Danican Philidor – Sonata in D minor
Marin Marais – Les Voix Humaines
François Couperin – Le rossignol-en-amour
Jacob van Eyck – Lavolette
Diego Ortiz – Recercadas
Joan Ambrosio Dalza – Calate ala spagnola
Marin Marais – 'Couplets de folies' (Les folies d'Espagne)
From the opening notes of Dario Castello's Sonata Seconda in stil moderno (pub. 1629), twenty-year-old Dutch recorder player Lucie Horsch totally captivated her audience at Wigmore Hall.  Her tone is pure and sweet but also full of life.  She seemed to me like a balladeer, her song subtly, skilfully, naturally drawing the listener into the story.  It didn't matter whether that 'story' was charmingly simple, as in Jacob van Eyck's 'Lavolette' (pub. 1646) or elaborately virtuosic, as in Castello's sonata, the musical tales that Horsch and her accompanist, French lutenist Thomas Dunford, told were magical.  Dunford's own playing blends an understated elegance with astonishing precision and ornate intricacy: there's a certain unpredictability, an innate dynamism, in the way the material unfolds, which might be mystery or maybe mischief.
The duo's programme was a beautiful compilation of diverse works, mostly composed in Europe during the seventeenth and early eighteenth centuries.  Many were arrangements, of a Couperin harpsichord piece, or, in the case of a suite and a sonata by Charles Dieupart and Anne Danican Philidor respectively, of instrumental works for treble voice and harpsichord/continuo.  Elsewhere music for the viol was transferred to the strings of Dunsford's lute.  The items unfolded in a relaxed sequence, sometimes seeming to blossom forth from the closing echoes of the preceding work.  Solo items were interspersed between the works which saw Horsch and Dunsford form a seemingly instinctive partnership, sometimes warmly complementary or poetically expressive, elsewhere playfully teasing or alert and challenging.
Above all, there was a sense of spontaneity, of music being created for us before our ears and eyes.  The first half of the recital was dominated by sonatas and suites.  There was a lovely improvisatory quality to Thomas Dunford's poetic support in Castello's Sonata seconda, as Horsch ran fleetly through the spinning runs and cascades.  The sound of her descant recorder really shone.  There was a lovely balance between effervescence and lyricism: here, surely, was Shelley's skylark.  Dunford's lute, at times jaunty and lively, tempted the recorder with hints and insinuations, and together the players pushed towards the wild-spirited close, Horsch phrasing confidently and with freedom above Dunford's strumming richness.  Their harmonic arguments at the close were thrilling.
In 1701, Charles Dieupart, then resident in London, published in Amsterdam a collection of six harpsichord suites; he included two extra parts, for 'violin and flute' and for 'bass viola da gamba and archlute'.  Bach knew these suites and made a handwritten copy of one of the harpsichord versions.  What better invitation to explore this music could there be?  Horsch's ornamentation of the Overture was extravagant, with trills glistening like taut, trembling wire.  Then, the dances tumbled easily one after the other – Allemande, Courante, Sarabande, Gavotte, Menuet en rondeau, Gigue.  The Courante's asymmetries and irregularities were enjoyed by the duo: one could almost imagine the dancers being caught wrong-footed by Dieupart's rhythmic playfulness.  The Sarabande had a lovely 'truthfulness', the Gavotte a robust swing in its step.  The Menuet was enlivened by the quasi-dotting of the paired quavers – authentic or not it was a perfect prelude to the toe-tapping Gigue.
Anne Danican Philidor published his Sonata in D minor for 'Flute Traversiere, Flute à bec, Violins et Haut-bois' in 1712.  Horsch and Dunford created an exciting contrast between the rhetoric and decorum of the slower movements – Horsch's phrasing and ornamentation were exquisite in the episode titled 'Les notes égales et détachez' – and the lively exuberance of the fugato passages.
The suites and sonatas were interspersed with more philosophical reflections.  In Dowland's Preludium, Dunford seemed in danger of figuratively extemporising himself into 'other worlds', before Horsch's entry at the start of 'Flow my tears', like a troubadour's song, drew him back to the present.  Horsch entered her own mysterious places in Debussy's Syrinx which she performed on a tenor recorder (Fiona Talkington gave more information about the instruments on which Horsch performed during her presentation of the live BBC Radio 3 broadcast, which can he enjoyed on BBC Sounds for the next month).  The way Horsch's escalating exotic fervour then sank into languor was totally compelling, and her control of tone, colour and dynamic remarkable.
The final sequence of short items was initiated by Dunford's rendition of Les Voix Humaines by Marin Marais, a wonderfully contemplative delicacy transporting us, to recall the words of Robert Devereux Earl of Essex, to 'some unhaunted desert, where, obscure from all society, from love and hate of worldly folk, then might he sleep secure'.  But, Horsch's ivory sopranino nightingale again pulled us back, with the sweet simplicity of Couperin's air; her recorder fluttered like a butterfly through Jacob Van Eyck's Lavolette, the last bars of which Dunford bewitched into the opening of Diego Ortiz's Recercadas, with its ornamental games and folky rhythmic persuasiveness.  Horsch's assertive melodising was more than matched by the lute's dancing stamps and flourishes, and there was more Spanish colour in Joan Ambrosio Dalza's Calate ala Spagnola for lute.
The richness of these closing items seemed to encourage a warm musical intimacy between Horsch and Dunsford.  It was Marais who brought things to a close, courtesy of an arrangement by Horsch herself of the composer's 'Couplets de folies' (pub. 1701).  She seemed to have set out to push herself to expressive and technical boundaries and she had absolutely no trouble in reaching them, as the duo whipped up a whirl of virtuosic variation-building.  Wonderful.
Claire Seymour